Spotlight: Peerless Handcuff Company Introduces new handcuff that's half the weight of standard chain link cuff
Designed to meet the demands of law enforcement professionals while making the job a little easier
---
Company Name: Peerless Handcuff Company
Headquarters: Springfield, MA
Signature Product: Superlite Chain Link Handcuff - Model 730C
Website:  http://www.peerless.net/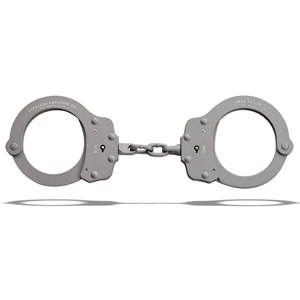 Intro: Setting the standard since 1914, Peerless offers a full line of restraining devices including standard handcuffs, hinged handcuffs, oversize handcuffs, leg irons, and waist chains. Other products also include color-plated restraints and high-security restraints. All products feature all steel construction and are designed to meet or exceed federal and military requirements including the NIJ Standard 0307.01. Peerless restraints come with a lifetime warranty for manufacture defects.
Where did your company name originate from?
This is a bit of a mystery for the Peerless Handcuff Company. Unfortunately there is no written or spoken record of how the name was chosen.  At the time "Peerless" was a more commonly used product or company descriptor,  implying "without peer" or "no equal."
What was the inspiration behind starting your company?
A better mouse trap. Back at the turn of the century a billy club and a set of "nippers" were the common tools used to restrain an individual under arrest. The swing-through handcuff design, introduced by Peerless, was easier to carry and more efficient and effective piece of equipment. The Peerless cuff was rapidly and widely adopted by the law enforcement community.
Why do you believe your products are essential to the police community?
Handcuffs are one of the most fundamental pieces of police duty gear. Peerless is one of the most recognizable names in the restraint industry.
What has been the biggest challenge your company has faced?
Handcuffs are not a complex product. But over the years the company has had to adapt to changing manufacturing pressures.
What makes your company unique?
Our roots. 100 years is a huge milestone for any company to be in business. Peerless Handcuff Company celebrated its 100th Anniversary in 2014. Now in its 4th generation, Peerless remains a small family-managed company with nearly all products made in the USA.
What do your customers like best about you and your products?
Peerless has an excellent reputation for quality and taking care of end-users if there are any issues. The fact that we are a small company allows our customers and industry professionals to access our company in meaningful ways.
What is the most rewarding part of serving the first responder community? 
It is an honor to have individuals and agencies select Peerless products for a critical piece of equipment. It is gratifying to hear veteran officers comment on the number of years they carried their Peerless and how many arrests they have made with them.
Is there any fun fact or trivia that you'd like to share with our users about you or your company? Peerless sold its 6th millionth restraint in 2011. 
What's next for your company? Any upcoming new projects or initiatives?
Peerless just introduced a new Model 730 Superlite handcuff. The Superlite is nearly half the weight of a traditional metallic handcuff. The Superlite is designed to handle the rigors demanded of an important piece of duty gear but makes the job easier by cutting down on the weight.