How police and the hospitality industry can work together to promote public safety
Reach out to hotels and event venues in your jurisdiction to help them develop screening protocols to catch weapons and thwart mass casualty incidents
---
Sponsored by Smiths Detection
By Police1 BrandFocus Staff
The October 2017 mass shooting in Las Vegas – in which 59 attendees of the Route 91 Harvest Festival were killed by shots fired from a 32nd floor Mandalay Bay hotel room – is the worst massacre of its kind in American history.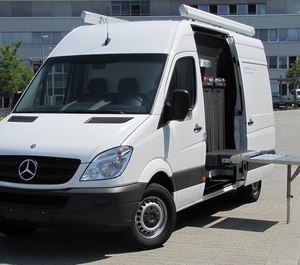 The shooter was able to walk 24 firearms – including 14 semi-automatic rifles – ammunition and high capacity magazines directly through the hotel doors, without anyone being the wiser. Had the hotel implemented a layered approach to security, that outcome may have been different.
This tragedy sadly underscores the need for public spaces like hotels and event venues to review and implement changes to enhance their security procedures. Local law enforcement can play an important role in helping hospitality establishments make their premises harder targets for bad actors.
"Compared to other countries, the American hospitality industry is a super-soft target," said Sean Crain, president/CEO of Orion Security Solutions. "In the U.S., we have completely uncontrolled access into the properties, such as hotels, restaurants, casinos or stadiums. This makes them very vulnerable to anyone walking in with anything."
How police can help
Currently, the relationship between the hospitality industry and police generally consists of the first party calling the second when something goes wrong. This strategy doesn't leverage the expertise and strategies that police departments (and qualified private security consultants) can provide to help keep communities safe.  By working closely with the hospitality industry, police can help substantially improve security to better prevent these sites from being exploited by would-be mass shooters and other terrorists.
"You'd be looking for weaknesses in the perimeter, in the number of unprotected entrances and exits to the property and other ways to tighten that funnel," said Keith Mulcahy of MSA Security. "You'd also be looking for ways to manage access safely – such as card access passes, metal scanners and X-ray machines – without unduly hampering the flow of guests, staff and materials."
Police can also advise the hospitality industry about security solutions and training, help site managers develop response plans to deal with active shooters and other threats, and help hospitality companies establish communications links, protocols and relationships with police before such events take place.
The need for screening
One effective way to minimize terrorist access to hospitality sites and event venues is setting up secure access points. Similar to the security screening points that provide safety at the nation's airports, these combinations of security personnel, walk-through metal detectors and X-ray machines to screen personal bags, luggage and packages can keep bad actors like the Las Vegas shooter from getting into the property.
"X-ray systems are the No. 1 way to screen luggage for dangerous contraband, such as bombs, guns or big knives," said Crain. "Hotels and other hospitality companies can also employ video cameras and facial recognition software to spot known offenders and alert security and their police partners. There is even technology that uses artificial intelligence linked to camera systems to spot and address abnormal behavior by visitors."
X-ray screening options
The availability of X-ray screening systems in various sizes and configurations from companies like Smiths Detection makes it both easy and affordable for hotels, casinos, theme parks and stadiums to add a new level of screening to their security strategy.
For example, stadiums and other venues that have to secure massive outdoor crowds can benefit from a solution like the new ScanVan mobile X-ray inspection system. Built on a Dodge ProMaster Cargo Van, and equipped with a Smiths Detection HI-SCAN X-ray unit, the ScanVan is literally an X-ray machine on wheels.
Department of Homeland Security agencies are already using the ScanVan because it is as simple as parking at a temporary checkpoint and immediately screening belongings with the motorized conveyor belt that moves items through the X-ray quickly.
To enhance security processes indoors, consider an X-ray system that uses dual-view scanning technology, such as the Smiths Detection HI-SCAN 6040-2is, to provide both a profile and top-to-bottom view of scanned items, eliminating the need for to flip items over for a better look.
Many convention centers and other rapidly reconfigured venues use smaller tools like the HI-SCAN 5030si, a tabletop X-ray system that can be quickly set up or removed as needed. These compact X-ray systems are often paired with walk-through metal detectors, which are used to scan individuals and their belongings for metallic objects.
Police can help promote public safety by recommending strategies and technologies for the hospitality industry, such as those described above. Screening visitors and controlling access are critical components of enhanced security. Many venues have already added X-ray and metal detectors to their security and screening protocols, whether behind the scenes for deliveries or in public checkpoints.

Request information from Smiths Detection
Thank You!