Pistol-mounted lighting that offers the best bang for the buck
Streamlight offers the cost-effective lighting solutions for law enforcement
---

By Warren Wilson for Police1 BrandFocus
One can easily spend several hundred dollars for many of the law enforcement lighting solutions on the market. That's great if you work for one of those bourgeois movie departments who pay their officers so unrealistically well, they can afford $3,000 pistols and $100,000 cars, which – for some reason – they drive on duty. Considering most real-life law enforcement agencies can't even buy all their officers' basic equipment, that financial burden falls on individual cops who don't have Hollywood budgets.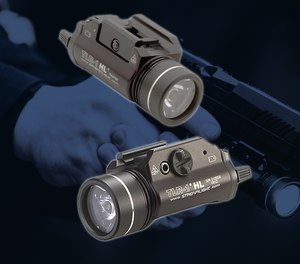 Streamlight delivers value and quality
If you've read any of my stuff, you know I'm a big proponent of Streamlight flashlights for individual officer purchases. Streamlight products offer a level of quality which is not reflected in their more-than-reasonable price point. All their law enforcement capable lights are IPX7 dust and water resistant, have aircraft aluminum housings, shock-proof glass and high impact, and polymer switches. This balance of ruggedness, a lifetime guarantee and "cop-friendly" pricing makes Streamlight the most cost-effective lighting solution for law enforcement.
Weapon Lights 
Gun-mounted lights are a must for law enforcement in my opinion. Threat identification is imperative in our job. That said, I see some poor training in this area. The weapon light should only be used for searching using the "spill," of the light; i.e., the firearm is not pointed directly at the area being searched. That's not ideal, but think about it for a second. We never point a firearm at something we don't intend to shoot. A better option is to use a handheld light for slow, methodical searching.
TLR-1 HL
My department issues the Streamlight TLR-1 HL to our recruits and we've had great luck with them. This rugged light now provides 1,000 lumens and fits a broad range of pistols. It has both wide peripheral and strong core beam patterns for illuminating objects near and far.
Watch a video about the TLR1 series.
TLR-7A Low Profile Rail Mounted Tactical Light
For smaller pistols, the TLR 7/8 Sub series or the TLR-7A are great options. They are super compact to minimize their footprint for undercover or plain clothes officers who may not want the bulk of a full size WML. At only 2.4 oz, it measures 1.18" by 1.27" by 2.58". The light sits flush with the muzzle on Glock 19 variant pistols. Even in this small package, it still puts out 500 lumens and 5000 candela.
TLR-7A Low Profile Rail Mounted Light with Contour Remote
The Contour Remote is an option for the TLR-7A and other models. The addition of the Contour moves the activation switch back to the strong-side middle finger. This allows the user to keep their normal grip on the pistol for positive recoil control. It's especially useful for one-hand shooting which is often required of K-9 handlers, ballistic shield operators, and SWAT officers.
TLR-8A Compact Rail Mounted Flex Tactical Light with Laser
The TLR-8A has all the features of the TLR-7A with the addition of a laser. The TLR-8A allows the user to activate either the laser, light or both simultaneously. I was once not a fan of lasers, but I came around to really appreciate them the last few years. As my vision fades, red dots or lasers are becoming a necessity. Lasers also allow an officer to focus on what's happening downrange rather than on their sights. That's a topic for another day, however.  
Watch a video about the TLR sub series.
Whether you choose the TLR-7A or TLR-8A, both are great multipurpose lights for duty or concealed carry.
TLR VIR II
Streamlight's TLR VIR II has all the features of the TLR models with an infrared laser and infrared light for use with night vision technology. It still boasts 300 lumens of white light and similar features to other TLR models. The infrared laser and light are invaluable when stealth is needed, as it so often is in cop work.
Cop-Friendly Products and Prices
Streamlight is one of the manufacturers who has earned my trust over the last few decades. I recommend their lights to all my co-workers because of their cop-resistant ruggedness and cop-friendly prices.
Request information from OfficerStore.com
Thank You!