Weapon-mounted lights for every mission
No matter what style of long gun you employ, Streamlight has light to fit
---

By Jerrod Fraley for Police1 BrandFocus
If you have ever considered purchasing a weapon-mounted light or flashlight of any kind, then Streamlight has probably been on your list.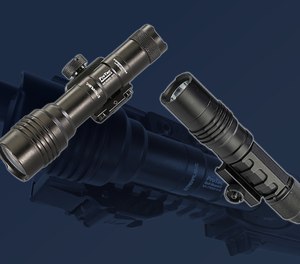 Streamlight has built a firm foundation of trust amongst first responders, public safety personnel and civilians alike with an uncompromising dedication to product quality and innovation. No matter what style of long gun you choose to employ, Streamlight has multiple weapon-mounted lights options to give you the tactical advantage.
ProTac Railmount Series
The Streamlight ProTac Series of long gun weapon-mounted lights allows for easy mounting onto any MIL-STD 1913 rail (Picatinny Rail) while emitting an extremely bright beam ideal for a wide range of applications. The first option in this series of weapon mounted lights is the ProTac HL-X. It is made from 6000 series machined aircraft aluminum with a black Type II Mil-Spec anodized finish to make it incredibly durable and rugged. This light uses a C4 LED to produce an extremely bright 1,000 lumen beam. With the use of either the push-button tail switch or the dual remote pressure switch, the ProTac HL-X uses the TEN-TAP programmable switch to choose between three lighting options: high/strobe (factory default), high only, or low/high. This durable weapon light is IPX7 waterproof down to 1 meter for up to 30 minutes with the standard push-button tail switch installed and IPX4 water resistant with the remote pressure switch installed.
As a "dual fuel" light, the ProTac HL-X runs on either two 3V CR123A lithium batteries (included) or one rechargeable 18650 Li-Ion battery (sold separately). The lens on this light is as durable as its body, boasting a high temperature, shock mounted, anti-reflective coated, and impact resistant BORO Float glass lens.
If you are someone who likes, wants or needs a weapon-mounted light that also has an integrated laser, then the ProTac HL-X Laser is your choice. This unique tactical light offers an integrated red aiming laser along with the 1,000 lumen light and is a great choice for rifles, carbines and submachine guns.
If you want "all the lumens" in a ProTac series WML, then the ProTac 2.0 is definitely the one to pick. This high-performance light produces 2,000 lumens without sacrificing run time, as it operates off their new rechargeable Li-Ion SL-B50 battery pack. The ProTac 2.0 light offers everything that the ProTac HL-X, ProTac 1 and ProTac 2 do with respect to construction and functions.
TL RACKERS
For all those shotgun enthusiasts and tacticians, the Streamlight TL Racker is an incredible option for utilizing a weapon-mounted light during shotgun breaching or less-lethal operations. This all-in-one integrated forend light system is designed to replace the original factory forend of either a Mossberg 500, a Mossberg 590 Shockwave, a Remington 870 or a TAC-14 model pump-action shotgun. They deliver 1,000 lumens and having approximately 1.5 hours of continuous runtime. This setup is offered in black or orange (for dedicated less lethal shotguns), operates on two 3V CR123A lithium batteries, and has dual, ambidextrous elongated switch pads for momentary function only. It is also IPX7 rated for waterproof operation. The ergonomic design of the Racker helps to operate the pump action with speed and prevents your hand from slipping off the forend.
TLR RM 1 and RM 2
Both the TLR RM 1 and the TLR RM 2 are lightweight and compact, offering the latest in shock-proof LED technology for high lumen output. The TLR RM 1 delivers 500 lumens on a single CR123A lithium battery and offers approximately 1.5 hours of runtime. The TLR RM 2 offers the same 1.5 hour runtime but boasts an incredible 1,000 lumens while operating off of two CR123A lithium batteries. Both models securely attach to any long gun with a picatinny rail and deliver a powerful beam with extensive range, good peripheral coverage and a selectable strobe function. As with some of the other Streamlight long gun weapon-mounted light options, the TLR RM 1 and TLR RM 2 both are offered in a Light/Laser combination option. The TLR RM1 and RM2 laser models offer the same light performance with the addition of a powerful red laser beam.
Whether it's for military, law enforcement, or home defense purposes, it goes without saying that weapon-mounted lights on long guns are a must-have tool. Streamlight is a proven leader within the industry, so be sure to check out their battle-proven products.
Request information from OfficerStore.com
Thank You!