Top 6 upgrades for duty pistols
From pistol mounted red dot sights to magazine extensions, here are some upgrades worth considering
---

By Jerrod Fraley for Police1 BrandFocus
Gun manufacturers seem to be in fierce competition with one another to produce the next best duty pistol for law enforcement. Whether it be the versatility of an optics ready slide, the grip texture or the crispness in which the internals function, the "new and improved" versions seem to always find themselves receiving some aftermarket upgrades. Below is a list of some of the most prevalent upgrades that can give the end user a measurable increase in performance.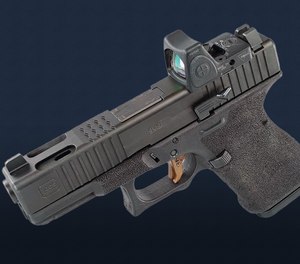 1. Pistol-Mounted Red Dots
Pistol-mounted red dots are without a doubt the most currently sought after upgrade for duty pistols. Many gun manufacturers now offer optics ready duty pistols where the slide is milled to accept multiple types of red dot optics. Because the slides are milled for a wide range of optics, there is a need for a quality mounting plate, such as the ones manufactured by C&H Precision. These plates are the most modular, rugged, durable, and most widely used aftermarket optics mounting plates on the market.
Whether you decide to utilize a quality third party mounting or have the factory slide directly milled for the specific pistol mounted optic of your choice, you must decide which red dot optic fits your needs.
Trijicon is a household name when it comes to pistol mounted red dots. Whether your duty gun is full-size, compact, or even subcompact for specialized assignments requiring deep concealment, Trijicon has an optic for you. Their RMR Type 2 and the SRO are both designed for full to mid-size framed guns, while the RMRcc was designed with concealed carry in mind with its slimmer, lower profile housing. All three run on CR2032 batteries and offer multiple MOA dot sizes to choose from (depending on model).
The Trijicon RMR is made from forged aluminum. It has audible click adjusters for precise windage and elevation adjustments, eight brightness settings, and can be switched between auto brightness and manual. The SRO features an exceptionally clear and large front lens paired with a crisp LED dot. It has eight brightness settings, including one super bright mode and two night-vision modes. The housing is made from 7076 T6 aircraft-grade aluminum and has a top loading battery compartment so the optic does not need removed to change batteries.
Holosun Technologies is quickly becoming one of the most sought after optics due to its options, quality, and affordability. Just like Trijicon, Holosun makes optics for every size pistol and for any duty assignment. Almost every optic produced by Holosun can be purchased with either a red or green LED dot and they can last up to 50k hours of battery life on a single CR1632 battery. All their optics offer a side battery tray and shake awake technology. Many of their optics offer a solar fail-safe option in case of a low battery.
The 407k/507k is their concealed carry optic designed with a smaller footprint and body for better concealment. Both are constructed from 7075 T6 aluminum. The 407C/507C/508T are designed to fit any full to mid-size pistol. While the 407C and 507C are constructed from 7075 T6 aluminum, the 508T has a titanium housing. The 509T is their closed emitter pistol optic with a titanium housing. It should be noted the 407k and 407C only offer LED dots, while the 507k, 507C, 508T and 509T all offer multiple reticle options, to include either a 2 MOA dot only, a 32 MOA circle only, or a 32 MOA circle with the 2 MOA dot.
The Leupold Delta Point Pro has been proven to be another fantastic option for a pistol mounted optic. It is a lightweight, rugged optic offering either a 2.5 MOA or 6 MOA dot (depending on the optic) and is constructed from aircraft-grade aluminum to withstand the harshest conditions. The DPP is waterproof, fog proof, shockproof and equipped with motion sensor technology to preserve battery life.
2.  Weapon-Mounted Lights
Adding a weapon mounted light onto your pistol is a no-brainer upgrade. Quality weapon-mounted lights are crucial for positive threat identification, information gathering, control tactics and communication techniques.
Once you've made the decision about which weapon-mounted light to add, the next must have is a quality duty-grade holster, such as the ones manufactured by Safariland.
Surefire has created one of the most rugged and durable pistol-mounted weapon lights. The X300 Ultra comes in a quick attach/detach version for polymer framed guns and a version with a T-slot mounting system that uses a screw for securing it to steel framed pistols. The X300 Ultra can be found with a lumen output between 500-1,000 lumens, depending on the model.
Streamlight found a way to pack a ton of lumens into a well-built package for a very affordable price. Their TLR-1 HL offers 1,000 lumens, securely mounts to almost any mid- to full-size pistol, and features full-on, momentary-on and strobe functions.
If you prefer a lower profile weapon mounted light, the Streamlight TLR-7A and Streamlight TLR-8A may be the way to go. Both versions offer 500 lumens, but the Streamlight 8A is equipped with a visible red or green laser (depending on model).
Nightstick provides an incredibly cost-effective weapon-mounted light option with their line-of-duty lights. They are constructed from 6061 T6 Aluminum, offer ambidextrous toggle switches and are waterproof. They have several models ranging between 350 lumens to 1,200 lumens.
3.  Extended Magazines
Increasing the maximum capacity of a magazine is never a bad idea if your policies allow it. Whether you need an extended magazine or baseplate extensions, companies such as Glock, Shield Arms, Magpul and Pearce Grip have you covered.
4.  Grip Upgrades
When it comes to accuracy, grip is king. So, who wouldn't want more grip? If your policies won't allow for permanent grip modifications, such as stippling, companies like Howies Hockey Tape and Hogue have products to help. Howies Hockey Tape has a durable aggressive design that holds up to the most rigorous use. Hogue offers both rubber- and heavy-grit wrap adhesives to help maximize grip.
5.  Night Sights
Removing factory sights that are not intended for diminished lighting and replacing them with night sights is a must. Tritium and Fiber Optic sights truly enhance a shooter's ability to acquire the best sighting package possible in any situation under any lighting condition. Companies such as AmeriGlo have developed many options in shape, color combinations and size to accommodate for any preference a shooter my want. Don't be left in the dark without proper sights.
6.  Internal Upgrades
While the internal workings of a gun typically come very well put together, there are some companies such as Apex and TangoDown that have found a way to make them even better. This could be anything from an Apex trigger kit or a TangoDown Vickers Tactical enhanced slide stop or extended magazine release.
Equipment should always enhance performance, not diminish it. Finding any way to gain tactical and competitive advantages should be all of our goals when applying it to our duty gear.
About the author
Jerrod Fraley is an active-duty patrol officer in Ohio. His assignments have included patrol, detective, FTO, regional SWAT team member and training coordinator, as well as serving as a member of his department's training staff. In addition to his primary duties, he is also a member of the (Ohio Tactical Officers Association) Red Team Instructor Cadre, where he teaches basic and advance SWAT and firearms courses across the state.
Request information from OfficerStore.com
Thank You!