3 essential requirements in rifle sights for law enforcement
Sightmark's Ultra Shot RAM series fulfills practical needs at cop-friendly prices
---
Sponsored by Sightmark
By Warren Wilson for Police1 BrandFocus
When I first got into law enforcement, rifles weren't terribly common except in the highway patrol or on SWAT teams. When there was a rare carbine rifle sighting in the wild, I don't recall ever seeing one with an optic. Today, thankfully, carbines and optics are more common than not in the police cruiser.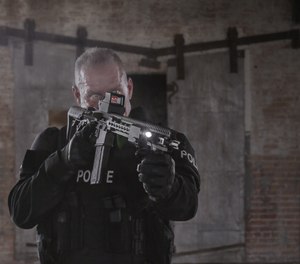 This may very well be the golden age of the law enforcement AR-15 rifle and the same can be said for the AR-15 rifle optic. Competition, market saturation and cutting-edge technology are not only giving us more selections than ever, but also are driving down prices for good quality equipment.
Sightmark came on the scene in 2007 with an eye toward the sporting rifle market. Since 2009, they have had optics tested by members of the National Tactical Officers Association. In 2011, Sightmark moved into a 33,000 square foot facility in Texas to allow for production, research/development, distribution and leadership to be at the same location. More recently, Sightmark became a GSA contract holder. If you are charged with purchasing equipment for your agency, you understand how much more streamlined the procurement process is with a GSA contract holder. 
Mil-spec sights for law enforcement needs
In 2018, Sightmark introduced the upgraded RAM (R-Range, A-Advanced, M-Spec) series of their well-known Ultra Shot reflex or commonly referred to as red dot sights (RDS). Of particular interest to law enforcement is the M-Spec version. The RAM M-Spec FMS and LQD (quick detach) models were designed for law enforcement and tactical shooters. As of this year, they are offered in flat dark earth as well as black.
3 essential characteristics that signal quality
As I've said before, quality in optics means three things: dependability, usability and ruggedness. That's precisely what Sightmark had in mind for the RAM M-Spec.
Dependability. Law enforcement optics must work when they are needed. The Ultra Shot M-Spec has digital rather than mechanical switches. It uses the common CR123 lithium batteries which provide up to 2000 hours of life. The M-Spec features a 5-minute shutoff with motion activation and 12-hour auto shutoff. In case you're the type who doesn't change out your batteries on structured occasions, one of the most recent M-Spec upgrades is a low battery indicator.
Usability. The Ultra Shot M-Spec has ten brightness settings to meet the need for any lighting condition and a large viewing window for quick target acquisition and a large field of view.  This RDS uses doubled-paned and parallax-free glass so you can have confidence in your point of aim/point of impact consistency. The M-Spec has four reticle options to fit the user and a retractable sunshade to reduce glare and help divert water from the glass. The LQD model has a low profile, snag resistant detach lever. It is also night vision compatible with six different settings.
Ruggedness. The Ultra Shot M-Spec has a magnesium alloy housing which is light as well as tough enough for police work. Its IP68 waterproof rating means the optic is completely resistant to dust and resistant to submersion down to 40 feet. Sightmark's lifetime warranty is a testament to their confidence in this product's ability to withstand the rigors of cop work. 
Backing the blue
Further demonstrating their commitment to cops, Sightmark has a full team of active and retired law enforcement officers on staff to help meet the needs of cops and their agencies. However, the most cop-friendly feature of the Ultra Shot RAM M-Spec is the cost. The MSRP of the FMS is $239.00. For those who want the quick detach option, the LQD retails for $299.99. You will have no trouble finding them even less expensive than that online.
I'm a big believer in buy-once, cry-once, but as I stated earlier, technology and competition are driving prices down. We all know that agency budgets are tight and individual officer salaries are less than extravagant. Sightmark offers a discount for individual officer purchases and a 30-day test and evaluation program for law enforcement agencies.
About the author
Warren Wilson is a lieutenant with the Enid Police Department in Oklahoma. He is a former SWAT team leader, current firearms instructor and writer. He has been a full-time law enforcement officer since 1996.

Request information from Sightmark
Thank You!