PRESS RELEASE
Lexipol survey uncovers alarming staffing shortages and stress levels reported by first responders
---
Survey of 9,400 first responders finds 87% of police officers work in departments that are not fully staffed and half of first responders plan to leave their jobs in the next five years
DALLAS - First responders are facing significant staffing and mental health challenges that pose a serious threat to their wellbeing and the communities they serve, according to Lexipol's new Stressed & Short-Staffed: Challenges Facing First Responders and the Impact on Community Safety report. The findings, which come from Lexipol Media Group's annual "What Cops/Firefighters/Paramedics Want" surveys of 9,400 first responders, expose the degree to which a large number of first responders today are under heightened stress.
"This report sheds light on the urgent issues that affect the ability of public safety professionals to perform their duties safely and effectively," said Bill Nunan, CEO of Lexipol. "We hope that by sharing this data, we can spark productive conversations and solutions among public safety and community stakeholders."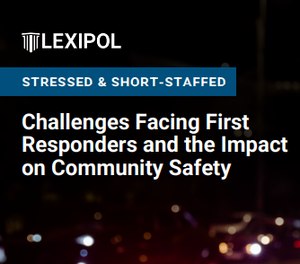 The survey findings highlight that first responders are dealing with high levels of stress and staffing shortages, leading to recruitment and retention challenges, insufficient resourcing, and a negative impact on communities. Respondents reported not only occupational hazards and downsides resulting from staffing shortages, but also adverse effects on their personal health and overall community safety.
"The data we uncovered paints a concerning picture of the physical and psychological toll experienced by first responders due to understaffing and heightened stress," said Dr. David Black, Ph.D., president, Lexipol Wellness Solutions. "We must prioritize the development of comprehensive wellness initiatives for first responders that encompass specialized support, effective stress management techniques, and access to confidential, 24/7 resources to protect the health and longevity of these essential frontline workers."
Key findings from the report include:
Short-Staffed and Stressed: First responders are facing severe staffing shortages, leading to recruitment and retention challenges that directly impact their ability to serve communities effectively. The survey found staffing challenges are increasing the stress levels and affecting the wellbeing of first responders, who must deal with an increased workload, more overtime shifts, and denied time off requests.
94% of firefighters have experienced staffing challenges in the past year
87% of police officers work in departments that are not fully staffed based on authorized staffing numbers
86% of EMS professionals say their departments have experienced staffing challenges in the past three years
45% of police officers report that their time-off requests are being denied more often
Mental Health Implications: The data shows alarming statistics, with stress levels on the rise and adverse effects on personal health, including disrupted sleep patterns and limited time for exercise. These effects create a volatile situation when combined with the high levels of trauma and violence first responders experience daily.
67% of firefighters and 51% of EMS professionals said their stress level is negatively impacting other aspects of their health
68% of police officers are more concerned about on-duty safety due to short staffing
Community Safety at Risk: Not only are staffing shortages and stress levels impacting first responders personally, but they also pose a serious threat to the communities they serve. Reduced resources, delayed response times, and increased workload are compromising the ability of first responders to fulfill their duties effectively, putting lives at risk.
Nearly half of police officers say their response time to high-priority calls has increased
53% of EMS professionals say their department doesn't have enough personnel available to respond to 911 emergency calls in its service area
58% of firefighters said their station needed to respond to an increased number of calls outside their area due to staffing challenges
Alarming Trends in Recruitment and Retention: The report exposes the inadequacy of current strategies for recruiting and retaining first responders. Respondents lack confidence in their agencies' existing recruitment and retention measures, and staffing shortages are having direct impacts on most first responders' day-to-day work.
Only 26% of firefighters and 31% of EMS professionals believe their department has a strong recruitment or retention plan; 55% of police officers say current efforts have not improved recruitment
50% of police officers and 54% of EMS professionals plan to leave their jobs in the next 5 years
Media Influence on Staffing Woes: Media coverage exacerbates staffing pressures, particularly in law enforcement. The data explores the impact of negative portrayals of first responders on recruitment and retention efforts, shedding light on the strained community-officer relations in the post-pandemic era.
79% of police officers believe media coverage of police officers has had the biggest negative impact on recruitment since 2020 – and 52% say it has had an impact on retention
72% of police officers say being filmed during interactions with a citizen has worsened since 2020
61% of police officers say the least satisfying aspect of their job is the assumption that police are wrong
Access the full report or read prior state-of-the-industry reports on Police1, FireRescue1 and EMS1. To learn more about Lexipol, visit www.lexipol.com.
Methodology
The report "Stressed & Short-Staffed: Challenges Facing First Responders and the Impact on Community Safety" is sourced from 2023 surveys involving more than 9,400 public safety professionals (4,141 police officers, 3,141 EMS professionals (EMTs and paramedics), and 2,129 firefighters) from across the U.S. These annual "What Cops/Firefighters/Paramedics Want" surveys, conducted on Police1.com, FireRescue1.com and EMS1.com, explore a wide range of trends and challenges facing first responders.
About Lexipol
Lexipol empowers first responders and public servants to best meet the needs of their residents safely and responsibly. We are the experts in policy, training and wellness support, committed to improving the quality of life for all community members. Our solutions include state-specific policies, online learning, behavioral health resources, grant assistance, and news and information offered through the websites Police1, FireRescue1, EMS1, Corrections1 and Gov1. Lexipol serves more than 2 million public safety professionals in over 10,000 agencies and municipalities. For additional information, visit www.lexipol.com.

Request more info from Lexipol
Thank You!