Case study: How forward-thinking Yavapai County Sheriff's Office cut its background investigation time in half in less than a year, became more competitive and saved money
Choosing a law enforcement-founded vendor to digitize its paper-based background investigations process resulted in 'massive' time and cost savings
---
Sponsored by Guardian Alliance Technologies
By Police1 BrandFocus Staff
Considering the COVID-19 pandemic and current cultural climate of civil unrest, many police agencies can relate to the challenges of recruiting. Agencies are constantly seeking new tactics to attract quality applicants and improve the hiring process.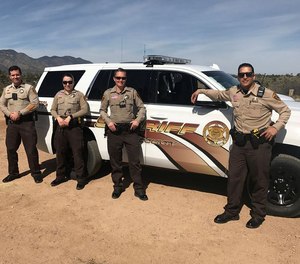 In March of 2019, the Yavapai County Sheriff's Office – headquartered in Prescott, Arizona and under the leadership of Sheriff Scott Mascher - began a transition from its traditional hiring methods to a more technologically advanced pre-employment software application. To have an effective recruitment process, they recognized the need to find a vendor with a comprehensive and fast applicant screening program specific to law enforcement. Most importantly, YCSO wanted to move away from paper-based forms and to a web-based platform.
About Yavapai County Sheriff's Office
Yavapai County was one of the four original Arizona counties formed in September 1864, a year after the Arizona Territory was established. With an area of 8,125 square miles, the county is approximately the same size as Massachusetts. The most current U.S. Census estimates that over 211,033 people reside in Yavapai County, but the area has grown significantly in recent years and current population estimates project well over 250,000 residents. Natural beauty and outdoor recreation abound in cool Northern Arizona. Conservative values, low crime and reasonable cost-of-living make the area attractive to young families and retirees alike.
The Yavapai County Sheriff's Office (YCSO)  has two full-time background investigators, a supervisor and administrative assistant assigned to pre-employment. After observing significant growth over the last ten years in the community, the agency has had to adjust to both growth and increased strain on the hiring process.
Each year, on average, the YCSO screens approximately 3,000 applications for numerous positions including detention officer, deputy sheriff, public safety telecommunicator and numerous additional support and auxiliary positions.
After seeing an ad on Police1 for investigative software, YCSO personnel decided to explore Guardian Alliance Technologies.
The Challenge: Finding a solution with time reduction strategies for candidate background investigations
Most agencies spend a significant amount of time emailing, faxing and managing physical documents during the hiring process.
Sergeant Michael Lewis is the supervisor for the Recruitment and Training Unit and has a realistic understanding of how time-consuming it is to screen and process applicants for vacant roles.
"Our area of responsibility is geographically challenging. With over 8,000 square miles to cover, our administrative staff is situated to allow for a proper span of control over the representatives of the agency." Lewis said, "With traditional paper files, it is time-consuming and tedious to send paper files to each responsible staff member, there is just no way to get it done in a timely manner."
Guardian allows for files to be electronically sent to the responsible administrative staff through a workflow system. This has improved the process and reduced the amount of time necessary to gain a hiring recommendation.
Lewis adds, "In this competitive market, we knew we needed to do something better, we often compete with local agencies to search for the best-qualified applicant and often they apply at more than one agency, so we knew we needed to find a way to conduct thorough backgrounds using updated methods that remained aligned with technology and traditional methods we knew to be successful."
The Goal: Getting on board with a precise, comprehensive and speedy applicant screening system
Prior to partnering with Guardian Alliance Technologies, Background Investigators at YCSO were overwhelmed with the volume of paper-based applicant files they had to manage. The agency knew it had to move toward a more digital application in a way that meant more than just taking its paper-based application system online. With this new initiative, the agency wanted a deeper background insight from both applicants and references and a program that would fit all the needs of the agency. Some important key elements were:
A solution that pre-screens applicants before too much time is spent on the background investigation.
Automation of repetitive tasks simplified data collection and automatic generation of final reports.
Offers an intuitive user experience that makes it easy to assign, monitor and approve investigations.
Offers social media screening for candidates.
Offers free resources like a fully customizable investigation checklist and customizable report templates.
Provides a CJIS Compliant online management system that records all applicant information securely.
Sends customizable online forms for reference checks.
Sends digital faxes or emails to local law enforcement agencies for Law Enforcement checks.
Generates an easy-to-read, standardized and POST-compliant final report.
Finding a platform that met all the agency's needs was not easy, but Guardian Alliance Technologies was able to offer more features than expected. Crafted by background investigation professionals with more than 200 years of combined experience, Guardian's Smart Personal History Questionnaire (Smart PHQ™) strategically draws out critical information from both applicants and references that are not found in other background processes.
"Applicants are more likely to share more information on Guardian than our old manual ways, and we get better responses from family members, friends and former employers," continued Lewis, "The feedback is more honest, and they give more information than just the typical, 'yes' or 'no'."
Within a couple of days of working together, all the agency's investigators were fully trained on how to use the platform.
The Results: Yavapai County Sheriff's Office has achieved up to a 60% reduction in applicant processing time
"We are saving so much time – why would anyone continue to use a manual process for their backgrounds now?" said Background Investigator Stephanie Halliburton. "We're talking a 50 to 75% reduction in time saved for completing backgrounds. The user interface from the applicants' point of view is user friendly and our target demographic does better with online screening tools compared to traditional means."
Lewis said sharing helpful information with other agencies is a key part of the agency's culture. Informing neighboring law enforcement agencies of problem applicants can assist in contributing to overall success for the area.
"Overall, it's simplified the whole process, helped us to be more competitive in our hiring, and we are seeing savings in time, related to man-hours and money."
Get more information from Guardian Alliance Technologies.
Read Next: Guardian Alliance Technologies offers free next generation Triage Center to advance law enforcement background investigation process

Request product info from top Investigation companies
Thank You!