Blacklisted: Stolen phone databases help cops, businesses combat the illegal aftermarket
Databases documenting cell phone theft have resulted in an integrated data-sharing network that is damaging the illegal aftermarket
---
The following is paid sponsored content by ecoATM
By Police1 BrandFocus Staff
An estimated 40 percent of thefts in major U.S. cities now involve cellphones, and the demand for government institutions, law enforcement and cell phone carriers to do everything in their power to reverse the trend is higher than ever.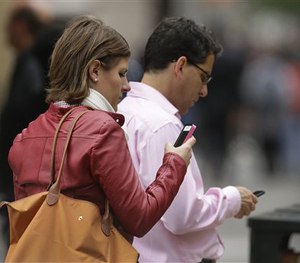 The Wireless Association (CTIA) and the Federal Trade Commission (FCC) partnered with all four major wireless providers (AT&T, Sprint, T-Mobile and Verizon) in 2012 to find a solution.
The public/private partnership led to the development of online databases to track and disable stolen devices. The 3G and 4G/LTE databases now track cell phones on the specific carrier's network from the moment they are reported stolen.
The carrier then can shut off access to the phone's voice and data.
"As more countries and more carriers around the world participate in the 3G and 4G/LTE databases, criminals will have fewer outlets since these stolen phones would be blacklisted and could not be reactivated," said Steve Largent, CTIA president and CEO, at the time of completion.
Here's how the technology is working today to stop cell phone thieves in their tracks.
Rendering the Cell Phone Useless
In the past, carriers targeted a more limiting part of smartphone technology when combating stolen phones, the Subscriber Identification Module (SIM) number, that criminals were able to work around by simply installing a new SIM card into a device.
Now, each carrier disables a stolen cell phone using an identification number (which changes based on the carrier's network) that is far more difficult for criminals to work around.
AT&T and T-Mobile phones both use GSM technology, which lets the provider identify a device on their services using an International Mobile Station Equipment Identity (IMEI) number.
Verizon Wireless and Sprint use CDMA-compatible technology, and identify their phones with Mobile Equipment Identifier (MEID) or Electronic Serial Number (ESN) numbers.
These identifiers let the carrier blacklist a stolen cellphone after a consumer reports the device missing. That means it can't send or receive data over the service provider's network, rendering the phone useless. It also means the identifying number on the phone is part of a database that is accessible to law enforcement agencies should they need it during the course of an investigation.
A Multi-tiered Approach
The move is part of a plan developed by the FCC, CTIA and Major Cities Chiefs Police Association in 2012 to combat the growing problem of theft.
The result was several market-leading companies signing  on to the CTIA's Smartphone Anti-Theft Voluntary Commitment that states all smartphones manufactured after July 2015 are equipped with anti-theft tools, including the ability to wipe the user's data; render the smartphone inoperable with a lock screen; prevent reactivation without permission; and reverse the inoperability if the phone is recovered by its user.
The plan also includes a consumer-awareness campaign. Smartphone manufacturers have committed to notifying customers of lock features in both in-box setup guides and on the smartphones themselves. Wireless companies will alert users to these capabilities via e-mail and text messages.
The CITA also created its own PSA for consumers and sent business cards made for police officers to distribute that detail what citizens should do to protect their phones.
A Collaborative Effort
Other agencies also track the growing number of stolen cell phones. For instance, the FBI's National Crime Information Center (NCIC) tracks stolen cell phones in their Stolen Article File.
Commercial enterprises also try to help. For example, legitimate businesses in the secondary cell phone market (such as ecoATM) have been taking advantage of these databases to combat phone theft in their own way.
ecoATM runs valuable devices prior to purchase via CheckMEND's national database at point of sale, which is a subsidiary of Recipero, to determine if the device has been reported lost or stolen. Recipero collects data from the NCIC Stolen Article File, GSMA/LTE/CDMA Carrier loss/stolen reports, consumer loss/stolen reports, pawnshop/second hand dealer reports, consumer/lessor ownership, insurance claims and carrier contracts. ecoATM uses this information to reject suspicious transactions.
Law enforcement can query this data for investigative leads via www.NMPR.com. Agencies which have entered stolen devices into NCIC or Recipero are alerted whenever anyone runs a query against Recipero's database including those transactions rejected by an ecoATM kiosk.
Technology and public/private partnerships between law enforcement agencies and businesses continue to do real damage to the illegal aftermarket. With continued communication and collaboration, these efforts can reduce cell phone theft across the U.S.
For more information, visit ecoATM.

Request information from ecoATM
Thank You!