How a handheld analyzer eliminates the need for narcotics officers to open suspicious packages
Officers can literally scan the contents of bags and bottles to find out what's inside, enhancing safety for themselves and those around them
---
Sponsored by Rigaku Analytical Devices
By James Careless for Police1 BrandFocus
Forget the movies where the narcotics officer dips their finger into a bag of unknown white powder and then tastes it to determine its identity. In the real world, when it comes to fentanyl (and its hundred-times more powerful derivative carfentanil), this kind of analysis could lead to the officer dying from an overdose.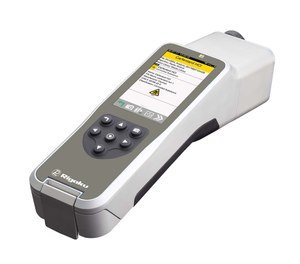 In the real world, narcotics officers need to determine what's inside the container without physically touching the substance, let alone risking the release of its particles into the air.
This is why narcotics officers should be carrying a handheld tool like the Rigaku Progeny ResQ FLX narcotics analyzer. It uses advanced Raman laser technology to scan through clear and translucent packaging, allowing the suspicious powders, gels, liquids and pastes inside to be safely identified without opening containers.
Drug 'Mug Shots'
The key to the ResQ FLX's drug-scanning ability is the fact that each drug has its own unique spectral signature. Think of this as the drug's fingerprint or "mug shot," which is revealed when the drug is scanned using the ResQ FLX's built-in 1064nm Raman laser.
Once the unknown substance's spectral signature has been captured, it is compared against approximately 950 drug signatures stored with the ResQ FLX's onboard library – just like comparing a new mug shot against a library of mug shots. The ResQ FLX then displays the drug's identity and legal classification on the handheld tool's easy-to-read LCD screen.
The signatures of new drugs, such as a particularly nasty batch of carfentanil that has just arrived in the jurisdiction, can be added to the device's library by the department. This ensures that the arresting officer's chances of identifying dangerous illicit substances can be maximized, along with their health and safety.
5 Reasons to Choose ResQ FLX
Many handheld narcotics analyzers can identify white or clear substances through clear containers. But many drug dealers like to brand their products by tinting them, so narcotics officers need handheld analyzers that aren't foiled by colored substances.
Because it uses 1064nm Raman laser technology, the ResQ FLX can "see" through colored packaging and can identify colored drugs as well. These types of packaging and substances are prone to fluorescence and interference when scanned with non-1064nm lasers, resulting in long sampling times and making it difficult to identify what's inside.
Second, the ResQ FLX comes with a built-in 5-megapixel camera as a standard feature. In addition to the spectroscopic signatures captured and stored in this device, the camera allows the arresting officer to add high-resolution digital photos of the substance, the suspect(s), the scene and anything else that might be needed in court.
All of this data can be packaged into an all-in-one file, which can be transferred from the ResQ FLX via WiFi to the officer's secure smartphone, and then emailed to the department's server to compile reports and present as evidence in court.
Third, the ResQ FLX's capabilities are expandable. This is because it shares the same technology with the Rigaku Progeny ResQ – the company's original handheld analyzer loaded with 13,000 spectroscopic signatures for drugs, explosives and chemical weapons, among others. Should your department decide to add explosives identification to the ResQ FLX's features, you can purchase additional libraries, features and support packages as needed.
Fourth, the ResQ FLX is easy to use. It requires less than 45 seconds to identify a sample – simply place the unit against a package and trigger a scan. After that, the ResQ FLX safely and accurately identifies what's inside. It is operated by software similar to your smartphone, using the unit's soft keys or touchscreen.
Finally, the Rigaku Progeny ResQ FLX is tough enough for police work. With a battery life of up to seven hours on a single charge (with a docking option available), the device is built to the MIL-SPEC 810G standard – meaning that it is shock- and drop-resistant – and the IP68 standard for water resistance and immersion survival. The ResQ FLX can be operated in temperatures ranging from -4 to 104 degrees Fahrenheit continuously, and up to 122 degrees intermittently.

Request information from Rigaku Analytical Devices
Thank You!