How to identify narcotics and other suspected threats quickly and accurately
Know what you're dealing with on scene by using a non-contact chemical identifier
---
Sponsored by Smiths Detection
By Rachel Zoch for Police1 BrandFocus
The influx of opioids has transformed the "War on Drugs" to a battle against fentanyl and other similarly dangerous synthetic narcotics. These drugs come in many forms, making it hard to identify by sight what you might be dealing with. The risks of fentanyl exposure have been well documented, and it's critical that officers are aware of potential threats in the field so they can take proper precautions for their own safety.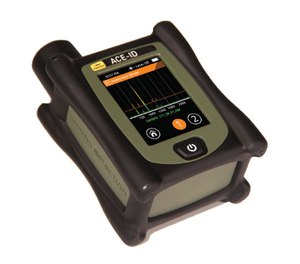 The field test kits used for decades require handling of a suspected substance, which presents an exposure hazard for the officer, as well as the risk of damaging evidence needed for prosecution. Some agencies have even changed their policies to prohibit field testing of suspected narcotics in an effort to protect officers. These measures also delay and create problems for arrests and convictions, and can put officers in even riskier situations.
Knowing on site what substances are present means officers and other responders can make more informed decisions, which includes decisions about personal protection, decontamination and scene safety as well.
Bringing lab tools into the field 
A portable tool that can identify suspicious substances without requiring officers to open bags or other containers can bridge this gap, providing answers in seconds without the exposure risk of field test kits. Spectroscopy, which uses light waves to read the molecular structure of a substance, has long been used in labs, but is now available as a lightweight, easy-to-use tool that can be carried and deployed quickly on scene.
The ACE-ID from Smiths Detection is a handheld, non-contact chemical identifier that can rapidly identify solids, liquids, gels and powders in about 20 seconds. The 1-pound unit uses Raman spectroscopy, or laser energy, to identify molecules by the specific frequency at which they vibrate. This creates a molecular fingerprint that can be compared against the device's library of materials to find its match.
Because it uses light, not a chemical reaction, to identify substances, the ACE-ID can scan through translucent and semi-translucent containers, such as plastic bags and glass bottles.
The ACE-ID powers up quickly, and its user-guided interface helps to make testing simple, even in less optimal situations and environments. The device's pre-programmed library includes approximately 1,000 substances, including explosives, narcotics and toxic chemicals, and users can add their own substances to the library via laptop. Officers can also access a 24/7/365 hotline for additional on-scene support as needed.
Tracking drug trends, detecting explosives 
In addition to identifying substances on scene, the ACE-ID can provide detailed information to help law enforcement track drug trends. Proprietary mixture analysis software enables identification of up to two components within a sample – for instance, it can tell you if you're dealing with heroin-fentanyl, heroin-oxycodone or some other combination. That information can be shared with EMS and local hospitals to help them better prepare for potential overdose patients, as well as across departments or at the federal level to help in investigations.
Drug busts happen every day. But spectroscopy devices aren't just for narcotics – this tool can be used by various divisions in a law enforcement agency to boost officer safety, including the bomb squad and other special operations units. Because the ACE-ID "reads" a substance using diffused laser energy, it can provide critical situational awareness in bomb threats or other situations where explosives or other hazardous materials are suspected to be present without the risk of overheating and igniting samples. It can also be deployed remotely using robotics when extra caution is needed.
As the role of police departments change, a non-contact tool like the ACE-ID not only can help officers be safer, but also can benefit multiple agencies throughout a community.

Request information from Smiths Detection
Thank You!