Transform your agency's drone program with this feature
Departments of all sizes find that streaming their drone activity brings huge benefits
---
Sponsored by LETS Corp.
By Courtney Levin, Police1 BrandFocus Staff
Drones have become an indispensable tool for many police departments across the nation, providing a way to gain critical insight into a variety of situations without putting officers in harm's way. With such a valuable tool at the disposal of so many agencies, it only makes sense to share live drone footage with those in command as a scene unfolds.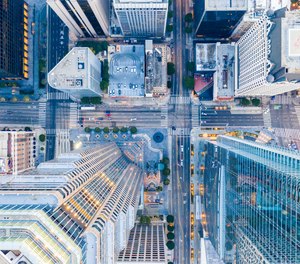 However, plenty of departments find their officers huddled around a small screen, each person vying for a look at what's happening in real time. Instead of being limited when it comes to who gets to view a drone stream, agencies can turn to LETS Corp. for a straightforward solution.
Compatible with a wide range of drones and controllers, LETS provides livestreaming that's as easy to use as pressing a button. It's ideal for agencies large and small, no matter the deployment situation.
Here's how two very different departments have used LETS to enhance situational awareness and prioritize the safety of their officers and the communities they serve.
STARTING TO STREAM
Drones come in quite useful in rural Pinedale, Wyoming, home to the Sublette County Sheriff's Office. Since launching their drone program in October 2019, they've used their equipment to perform search and rescue operations, assist the local fire department with damage assessment and more.
The department has one drone for each of their two trained pilots, yet in late 2021, they decided to reevaluate their program. After considering what additional components could help make their drone use more successful, Sgt. Travis Bingham began searching for drone streaming services.
His department opted for a free trial offered by LETS and was pleased with how easy it was to get started. After the LETS team helped to get their account created, the streaming service provided the straightforward and secure setup Bingham was looking for.
"When you get the drone going, you open the LETS app and hit start. As long as you have internet connectivity in the field, it's going to go," he said.
Affordability is a common concern when departments are investing in drone streaming, but Bingham says LETS made the choice easy for their small department.
"We don't get a lot of calls. We have two drones, but they're not always up at the same time," he said. "LETS helped us as a small agency and configured a plan that worked for us. It ended up being a little cheaper than another option and it offered better connectivity, so it made it really easy to decide."
HOW THEY'RE USING LETS
Livestreaming drone footage is still a rather new option for the Sublette County Sheriff's Office, but it's already proving to be beneficial.
"We're seeing great stuff on the screen instead of everybody having to hover over our shoulder," said Bingham.
Recently, they partnered with the local fire department to make documentation faster and easier. After a barn was damaged during a structure fire, first responders struggled to take pictures of the scene.
"It was in a weird position, and they were in the snow trying to climb up the hill to get a better shot," said Bingham. "We came out with a drone and did it in about five seconds."
Another recent event also proved just how useful LETS can be in Wyoming's mountainous, rugged terrain. During a routine training exercise, the department instructed one of its officers to hide in a patch of willow trees. Those watching the drone's livestream could see where the individual was hiding thanks to thermal imaging, but those on the ground had to get within 2 feet of the trees before they discovered the hiding spot.
LETS also offers a smartphone app so responders can view a livestream on a mobile device. This equips those in the field to see on the ground what the drone pilot is seeing in real time.
Bingham wishes they had adopted drone streaming long ago, as they often talk about instances where it would've come in handy.
"We've had incidents like the Roosevelt wildfire in 2018, where it burned down homes and we were sending people in to see if the house was still standing or not," said Bingham. "We could have flown the drone in and done damage assessments and not risked anyone's safety. It's a great way to not risk our guys' lives or put anyone in harm's way while being able to do something more quickly and efficiently."
STREAMING ON A LARGER SCALE
Across the country, in Fort Lee, New Jersey, Detective Lt. Antonio Hernandez is also finding success with LETS. The Fort Lee Police Department implemented its drone program in February 2019 and sought out streaming options right away.
The department is equipped with one large drone for major or prolonged incidents and assigns six smaller drones to officers in vehicles for rapid deployment situations – all of which come in helpful within this densely populated urban area.
Fort Lee PD partners with many local agencies when it comes to their drone use, including the fire department, office of emergency management and department of public works. Search and rescue operations, managing traffic accidents and overseeing large-scale events aren't uncommon deployments for the agency.
Hernandez started looking for streaming options soon after his department acquired its drones, placing a high priority on this feature.
"After we got the drones, my next mission was to find a livestreaming service," he said. "Without the livestreaming service, what's the point? I can see what's going on and I can see the device, but if no one else can see it and I'm not the one in command of these operations, what's really the point?"
LETS was the best choice for their specific drone program, says Hernandez, because of their straightforward pricing system. Instead of paying for streaming on a per drone, per pilot or per viewer basis, Fort Lee PD can livestream affordably without having to worry about the cost.
HELPFUL IN NUMEROUS WAYS
Over 300,000 vehicles cross the George Washington Bridge each day, traveling between New York City and Fort Lee. Drone use here has helped manage traffic immensely, particularly when one crash can cause major problems.
"We get one fender bender around that bridge and we're in gridlock," said Hernandez. "The drones go up and start monitoring traffic, determining where issues have arisen that we can mitigate. We'll see road closures that we didn't think of before, because now we're flying up at 300 feet, seeing the way traffic patterns are going."
Large public events also require Fort Lee PD to bring out their drones, as community safety during these gatherings is a high priority. Several years ago, during the Gran Fondo, a globally recognized bike race that brings thousands of people to Fort Lee, Hernandez was able to identify an emergency with the help of drone streaming.
An elderly onlooker was laying on the ground, Hernandez says, and initially, the drone pilot wasn't sure whether she was in danger. After zooming in and realizing that she wasn't moving, Fort Lee PD called dispatch and confirmed via their livestream that she received medical attention.
No matter what deployment situation occurs in Fort Lee, Hernandez says the level of security provided by LETS is second to none. Instead of streaming via a free tool that civilians could access, LETS ensures that access is granted only to those approved by the Fort Lee PD.
"There's nothing in our videos that is sensitive to the point that someone couldn't request them," he said, "but we're always concerned with a live operation being broadcasted. We don't want victims' families watching an incident and not even knowing that their family member is a victim."
OFFERING CONTINUOUS SUPPORT
Bingham and Hernandez emphasize just how easy it is to get started with LETS. From developing pricing that worked for their departments' specific needs to updating app features by request, both agencies have found that LETS has allowed them to improve their outcomes while keeping their officers safe.
Visit LETS Corp. for more information.
Read next: How Sacramento crisis negotiators ditched their clunky 'throw' phones, and why you should, too

Request information from LETS©
Thank You!