Why your agency needs a UAS program for public safety – and how you can afford it
The demands of public safety require drones, training and certifications that are up to the job
---
Sponsored by Icarus Aerospace
By Laura Neitzel for Police1 BrandFocus
"Drone" in popular usage can describe anything from a cheap remote-controlled toy to a multi-billion-dollar spacecraft. In law enforcement, there is a difference in both terminology and technology. While a "drone" may be perfectly suited for hobbyists and some commercial applications, law enforcement agencies should consider investing in an unmanned aircraft system (UAS).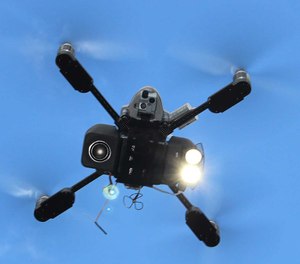 The FAA defines an unmanned aircraft system as "an unmanned aircraft and the equipment necessary for the safe and efficient operation of that aircraft."  "The equipment necessary for the safe and efficient operation of that aircraft" is where the distinction should lie for law enforcement. An unmanned aircraft vehicle (UAV) is just one component of a UAS. Other components are the ground control system, payload sensors and the computer system that analyzes data like intelligence, surveillance and reconnaissance. The most important component in a UAS is arguably a well-trained pilot.
UAS are frequently being called into public safety service to search for missing persons and victims of natural disasters, inspect crash sites and chemical spills, map wildland fires and flooding, surveil public events for security threats and assess scenes at a safe distance when conditions are too dangerous or rugged for officers on foot. With such diverse and practical applications for public safety, it's no wonder that some law enforcement agencies are eager to implement "drone" programs. In order to get the program up and running quickly, some public safety agencies are opting to buy commercial-off-the-shelf drones to do important tasks they are not suited for.
Because money is always an issue, many agencies don't think they can justify the cost of a UAS program that meets military specifications and encryption requirements when cheap commercial models are flooding the market and fast, inexpensive training and certification programs proliferate.
But in public safety, a mistake can cost more than money – it can cost lives.
Public safety agencies need a UAS program with hardware and software purpose-built for public safety needs. Thanks to a new municipal financing program specifically for public safety, agencies also have a new way to afford the UAS program they need.
Here are some factors agencies should consider when evaluating whether to purchase commercially-available drones or to make an investment in a UAS program designed especially for public safety.
Operability and communication in extreme conditions
It's one thing to fly a drone on a sunny, windless day, but if a child goes missing in the woods at night or in foul weather, first responders need to be able to deploy a UAV with a thermal camera before the rescue turns into a recovery.
UAVs built for public safety use are engineered and tested to withstand inclement weather and perform in darkness or poor visibility. To replace the camera in a commercial drone, you would essentially need to purchase another model – like most consumer devices, these are built to become obsolete, ensuring repurchase every few years when a new model comes out.
The MIL-SPEC system that governs standards for military-grade hardware is just the opposite. It requires that aircraft be built to last; hence the body design never changes, but it can accommodate different payloads.
While a FLIR thermal camera is a standard offering with a UAS, an agency doesn't need to buy a completely new unmanned aircraft if they want to use a different camera. A MIL-SPEC UAS is built to be modular to accommodate additional gear like floodlights, heat-sensing cameras, loudspeakers, emergency supplies or even specialized gear like an acoustic payload that can detect a heartbeat under a pile of rubble or specialized software for use in accident reconstruction.
Constant connectivity
Like commercially-available drones, UAS for public safety must be able to maintain connectivity to the remote pilot. Because commercially available UAS use open-sourced cellular connections or Wi-Fi, this can be a challenge in some of the situations where first responders are needed most. If the cell tower or network is damaged or destroyed, as happened in Hurricane Harvey, communication with the drone can be lost – and the drone along with it. Communications problems can also happen if the cellular network is overloaded by too many devices trying to connect, like at a large sporting event. 
These concerns can be largely avoided by using MIL-SPEC UAS that communicate over encrypted, secure, and reliable command and control (C2) links suitable for public safety use.
Cybersecurity concerns
Law enforcement and other public safety entities understand the need for security and privacy when it comes to their records management system or computer-aided dispatch system. But, despite security precautions, 911 systems have been hacked. Drones pose another set of potential cybersecurity risks.
Risks posed by the most prevalent commercially available drone – a brand in common use at most law enforcement agencies – were concerning enough to lead the U.S. Department of Defense to ban the use and purchase of this brand of commercial-off-the-shelf UAS, citing the risk of "cyber vulnerabilities" that could subject the drones to being hacked, manipulated or used for espionage or theft of user information and other secrets.
In 2018, the ban was expanded to all systems that did not meet DOD standards for video encryption and C2 link data.
Some MIL-SPEC drones have satellite links to help ensure connectivity despite the loss of a cell tower or network overload and video encryption requirements to protect against security threats.
Most would argue that the missions of public safety agencies and the confidentiality of data they use daily are every bit as vital to protect as those of the military. Law enforcement agencies may be putting their missions at risk by using commercial drones with known security vulnerabilities.
Training drone pilots
Law enforcement officers are required to undertake continuing education and prove their qualification to carry a firearm or even perform basic CPR – UAS pilot training should be of a similar professional quality.
While civilian pilots certified under Part 107 are expressly prohibited from operating in a careless or reckless manner, commercial drone flights by civilian pilots have interfered with efforts to fight wildfires and conduct rescue operations during Hurricane Harvey.
To operate a small UAS, pilots can have a Part 107 certification. However, this training falls short of specialized training needed for public safety.
"Learning to fly figure 8s around a park may teach you basic maneuvering, but it doesn't teach you how to identify a suspicious package or find a lost child," said Joshua Brown, CEO of Icarus Aerospace, creators of the first UAS training course to pass the rigorous IADLEST National Certification Program standards for public safety.
No first responder wants to inadvertently interfere with rescue operations or find out in the midst of a crisis that his or her drone training has not prepared them for the situation at hand.
Certify the agency, not the officer
In lieu of individual Part 107 certifications, Brown encourages public safety agencies to obtain a Public Operator Certificate of Authorization (COA) that allows the agency more flexibility in operating UAS in controlled airspace and with fewer restrictions.
Another benefit is that the COA certifies the agency's entire UAS program, which helps protect the agency from legal liability and enables the agency to train its own pilots to a more rigorous standard.
The COA is essentially an agency's contractual obligation with the FAA that it will only use the UAS as authorized under its stated law enforcement purposes and will maintain the air-worthiness of its UAV. 
Brown compares it to an armorer's certificate that guarantees anyone using a weapon has been trained to disassemble, reassemble, inspect and use it to manufacturer's standards. An agency with a COA for UAS certifies that all UAS pilots in the agency are not only qualified to operate the UAV as trained but possess the technical prowess and deep knowledge to understand the system and use it in a novel way when lives are at risk and ingenuity strikes.
New funding sources are available
Agencies may be convinced they need a MIL-SPEC UAS program but still hesitate over the investment. Fortunately, Brown has a solution for that as well.
As part of its solution for public service agencies, Icarus Aerospace has partnered with several financial institutions to create a municipal funding program for UAS focused on public safety needs. This program enables public safety agencies to obtain municipal funding from banks at a fair, fixed price payable over a three- or four-year term, similar to how they would finance a new police cruiser or other essential tools.
In creating this municipal funding program for public safety agencies, Brown hopes to ensure that public safety agencies have a viable way to purchase MIL-SPEC UAS equipment, program management and operational training that truly meet the needs of public safety.

Request information from Icarus Aerospace
Thank You!