PRESS RELEASE
Axon Air expanding public safety drone programs with new partnerships
---
SCOTTSDALE, Ariz. - Axon Air Powered by DroneSense provides a complete solution for drones in public safety, designed to increase situational awareness and operational efficiency to improve outcomes in some of the most challenging situations. In addition to secure wireless live-streaming, automated flight logs and reporting, integrated evidence management and fully remote operations for Drone as First Responder (DFR) programs, today we're excited to announce new partnerships with Flying Lion, Pilot Institute and The Regional Training Center, further solidifying Axon Air as a comprehensive end-to-end drone platform for public safety.
Earlier this year, we shared that we estimate approximately 20% of U.S. state and local law enforcement agencies have already implemented drone programs to support their communities. We've witnessed growing interest in these programs due to their significant public benefits, including search and rescue, de-escalation, natural disaster response and crime and accident scene reconstruction.
Additionally, we've observed a remarkable 10x increase in agencies initiating Drone as First Response (DFR) programs. As more agencies seek to integrate DFR, we are committed to providing enhanced solutions, including advanced training and support, to ensure the success of their programs and deployments.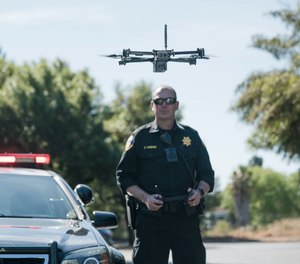 Flying Lion is a premier drone service provider for public safety agencies, with expertise in DFR program development and implementation, UAS flight training and FAA consultation. Axon Air Remote customers can now access air support officer/remote operator, remote pilot-in-command (RPIC) and visual observer (VO) staffing services for their DFR operations. Additionally, Flying Lion will provide valuable training and consultation services to support customers in setting up and onboarding their DFR program with Axon Air Remote.
Pilot Institute is a prominent provider of online on-demand Part 107, drone hardware, and pilot operational training content. Developed by industry experts, their courses have successfully trained over 250,000 individuals to become proficient airplane and drone pilots. Axon Air is pleased to announce the availability of an on-demand solution for obtaining the FAA Part 107 drone license and enhancing basic and advanced piloting skills. In addition, customers will have access to in-depth training on the most popular drone hardware solutions currently available, as well as Axon software solutions.
The Regional Training Center (RTC) is a leading provider of top-tier, cost-effective training for public safety drone operations, having trained over 500 distinct local, state and federal public service agencies in UAS operations. Axon Air is proud to offer a range of training programs, including basic, advanced and specialty drone operational training, utilizing Axon Air software. These training sessions can be conducted in person at the customer agency's location or at one of the RTC training centers in California, Texas, or Florida. Additionally, The RTC will facilitate Axon Air customer onboarding, accommodating in-person and virtual sessions.
These partnerships expand Axon Air's professional services offering, providing our customers with all the necessary support, training and resources they need to start and enhance their public safety drone programs, enabling more effective responses and improving outcomes in the communities they serve.
Interested in learning more? Contact our team to learn how your agency can implement this groundbreaking technology.
Non-Axon trademarks are property of their respective owners.

Request more info from Axon
Thank You!