4 reasons why your department should use on-demand video for classroom training
Make your training go further by offering on-demand video sessions available anytime, anywhere.
---
The following is paid content sponsored by Cisco.
By Police1 BrandFocus Staff
Classroom training educates officers so they can be their best in the field and stay safe. But since police work on shift schedules, it's tough to get everyone in the same room at the same time.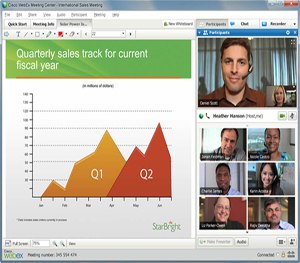 Video is the answer. Now more than ever, police departments and their training officers can use video to produce high-quality, educational pieces that can be viewed using a Web browser at an officer's convenience.
On-demand video presentations can be a great tool for police departments and their training officers. Here are four important benefits that result from trainers and departments investing in on-demand video for classroom training.
1. You reduce the need for trainers to be physically present for every classroom training.
Departments still need live training exercises. But replacing classroom sessions with instructional on-demand video presentations means fewer onsite visits for which trainers have to be paid.
On-demand video recording tools like Cisco's WebEx are straightforward and easy to use. Trainers usually have an educational program already built that can be adapted into a PowerPoint presentation.
Here's how it works: The presentation is uploaded to the WebEx Library. Then the user presses "record" to start and "end" to stop the recording of their presentation.
Once the video is recorded and saved, a web link can be shared via e-mail with the entire department or just specific officers, depending on the content of the training. All users need is a device with Web access to start training.
2. You eliminate the burden of shift scheduling to accommodate classroom training.
Every law enforcement executive knows the burden of trying to juggle training with multiple day and night shifts. Agency leaders have to analyze staffing, pull people off their regular shifts and then fill open shifts with other bodies—often paying overtime to do it.
It also means paying trainers to be onsite for the day or even multiple days.
With video, there no longer is a need to pull people off their regular shifts for classroom training, said Daniel Stewart, Senior Justice Advisor for Cisco. Classroom training instead happens over a smartphone, tablet, laptop or desktop at a time that is convenient for the officer.
"Instead of having to sit in a classroom, let people access classes when it's convenient while helping them stay productive," said Bob Stanberry, Senior Law Enforcemenet Advisor for Cisco.
3. Your training is more flexible, so officers can learn in different ways.
Once the training is put on-demand, it can be deployed with a lot of flexibility.
If a department has a classroom facility or shares one with their municipal partners, the on-demand video still can be used in classroom training to reach multiple people at once; for example, running training videos during shift changes. Or it can be made available anytime so personnel can run through online training modules in the classroom during their breaks or downtime.
For those departments who lack classroom space, on-demand training can be viewed by hundreds or even thousands of officers without scheduling in-person classroom training, Stanberry said. This is because officers can view the videos from their patrol cars or at home from any device that has Web access.
4. Your training is kept secure and accessible via a dedicated cloud network.
What's great about WebEx is that the training modules are stored remotely on Cisco's WebEx Cloud. This means videos are stored securely and available anytime.
A login and password is needed to access a department's library of WebEx educational videos. In addition, administrative rights can be set so only certain people can change, edit or delete videos. This keeps them secure as only those with the login and password can access WebEx libraries and create or adjust them, Stewart said.
At the same time, Cisco's cloud platform is always accessible and reliable because it uses secure data centers located near major Internet access points worldwide. Stewart said being located near major global access points means audio and video is routed on a dedicated, high-bandwidth fiber network, so there are very few technical roadblocks to officers viewing educational videos 24/7.
On-demand video is an important tool for police departments and their training team. It creates efficiencies, while making sure officer classroom training happens without physical barriers.
For more information about WebEx, contact Cisco.  

Request information from Cisco
Thank You!