5 ways police can educate their community about cell phone theft
Established and emerging social media tools make getting the word out about smartphone theft prevention easier than ever
---
The following is paid content sponsored by ecoATM, Inc.
By Police1 BrandFocus Staff
Modern technology has changed the way people communicate, and that extends to law enforcement's interaction with the public. While memos, community meetings and PSAs used to be the way to reach the public with an important message, communication pathways have evolved.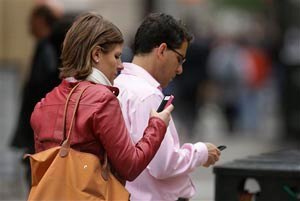 Now, the quickest and often most effective way for departments to communicate with people is through the internet and social media, where they can instantly connect to their communities.
One growing trend that requires effective communication between law enforcement agencies and the public is cell phone theft. According to a study by Lookout Mobile Security, thefts of phones nearly doubled in 2013 from the previous year, and in total one in 10 U.S. smartphone owners are a victim of phone theft.
Many departments are taking innovative approaches to stemming the tide of phone theft and aiding the public in preventing such incidents. Here are five ways police can quickly and efficiently spread information about cell phone theft and prevention:
5. Next generation community meetings: Utilizing neighborhood social platforms
Community meetings have long been an effective tactic for police to reach people within the neighborhoods they patrol and inform them directly about crime affecting their everyday lives.
While meetings are still effective, a number of new internet neighborhood forums offer departments a convenient and effective digital platform to speak directly to citizens. Websites like Nextdoor and StreetAdvisor allow residents within a community to post on message boards about current news, events or community information.
Some departments have hopped on the digital platform as a way to share information with those in their community, posting updates about crime and public safety issues that are then accessed by hundreds in the community who need to see them.
Some of these websites, like Nextdoor, require verification of identity and address before they allow posting. This can help ensure that messages from police are authentic and that those on the receiving end are authorized to see the posts.
The Irving (Texas) Police Department has used Nextdoor to communicate with citizens about cell phone theft. In a July 2013 post, the department provided some tips about how to report cell phone theft, including the importance of knowing a phone's IMEI number in case of theft.
"The Irving Police Department is encouraging everyone to know the serial number and or the IMEI number of their cell phone," they wrote in the post, which also links to other websites in order to help the user quickly navigate the web for more research. Posts like this not only relay useful information, but also allow for direct questions from the community, which departments can respond to for further clarification.
4. Posting tips to designated website: Beyond the department's URL
Most departments have websites these days, but they remain an underutilized tool for the dissemination of timely updates and important resources. A department's site is often the first place citizens will look to find official department communications, so it's worth the effort to keep your site updated with current information.
Some sites, including the city of Berkeley, Calif., post information about cell phone theft prevention. Posting tips on an official police website is a quick way for the public to find them from an authoritative, trusted source.
Some departments - including the Seattle Police Department — have also incorporated blogging platforms such as Tumblr or WordPress into their online posting. Tumblr is a blogging platform that allows users to easily share posts on their own designated Tumblr URL.
Seattle PD uses theirs to post news, pictures, answer questions from the public and post informational articles like "10 Things you may not know about fingerprints" and "Holiday safety tips."
These blogging sites offer room for creativity in communicating with the public about cell phone theft and prevention.
In addition, ecoATM offers tips and PSAs on smartphone security on their website. These tips can be repurposed by departments.
3. Text alerts: Straight to the individual
A quick way to reach people is through their mobile devices. In modern society, most people have their phones on their person at all times.
Many services now allow police departments to deliver millions of text messages or emails within seconds, allowing for immediate community engagement. Universities and their police departments have utilized this technology for years for notifications about incidents ranging from major, like active shooter incidents, to more minor public safety tips and updates.
Texting or emailing communities about cell phone theft, in addition to other efforts, allows departments to make community policing a priority.
2. Video stars: The power of YouTube
Police departments all over the country have set up designated YouTube channels to broadcast patrol video and public service announcements to a huge online audience. It's a format that has allowed some departments to exercise their creative muscle to great effect.
In 2013, the Tampa (Fla.) Police Department posted a three-minute video that provided tips and reminders about cell phone theft, starring a dog as the thief. It has over 15,000 views.
Many departments post videos of cell phone thefts - along with other incidents - to their YouTube pages to enlist the public's help in identifying suspects. This video from the Laredo, Texas police department is one example. Whether they lead directly to an arrest or simply serve as a reminder to citizens about the need for vigilance when using their phones in public, YouTube has proved an effective tool for communication with the public.
EcoATM has an archive of informational videos on preventing cell phone theft, such as this one featuring Chief William Lansdowne of the San Diego Police Department.
1.Twitter: Tweet it out
The most direct way to distribute information to the public in 2015 is social media.
Most departments have adopted Facebook and Twitter into their communication practices, and many have built up a significant following. Departments are able to tweet to thousands of followers to warn them about dangerous situations and inform them of relevant news.
However, 140 characters only allow for so much message, so departments need to have articles, blog posts and other content that they can link to from their social media posts.
For example, the St. Bernard (Ohio) police use Twitter to link to longer posts with more detailed information on recent cell phone thefts.
Crime Prevention Alert (Phone Thefts) - We've taken several cell phone theft reports over the last month or so... http://t.co/YhaXiN4MdB

— St. Bernard Police (@StBernardOHPD) July 15, 2015
This one-pager on cell phone theft prevention from the Minneapolis Police Department would also make great content for social media promotion.
Departments have more avenues than ever before to reach the public with important tips and updates about cell phone theft in their area. Even better, there are many established examples for departments to follow and emulate in creating their own strategy for smartphone theft prevention.

Request information from ecoATM
Thank You!