Campaigning for a kill switch: How SF pioneered the anti-phone theft initiative
With more than 65 percent of robberies involving cell phone theft, San Francisco had to take action
---
The following is paid content sponsored by ecoATM Inc. ecoATM Inc. has operated in the city and county of San Francisco since 2012
By Police1 BrandFocus Staff
In 2013, more than 65 percent of all robberies in San Francisco involved the theft of a mobile device, according to Consumer Reports. The San Francisco Police Department looked for technology solutions that could combat the growing problem.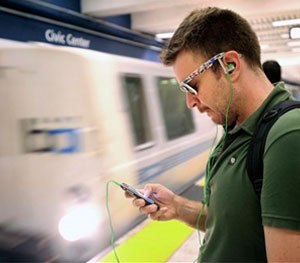 When Hands Are Tied
San Francisco police, like many departments around the U.S., didn't have the resources to go after mobile phone thieves, reported SF Weekly. The cases were hard to investigate, the encounters lasted only seconds and victims were left with no line of communication — to police or anyone else.
Many of these quick encounters were violent, leaving victims jolted and injured, or worse, and often other items of property were also taken, like wallets and purses. Victims were left with few choices: They could deactivate their phone and purchase a new one, or they could try to convince police to subpoena their wireless carrier for information, file a lengthy police report and then go through a long bureaucratic process with little hope of a successful outcome.
The Industry of Phone Theft
Wireless carriers and smartphone creators had little incentive to search for a resolution; after all, theft was a part of the business model.
According to a 2012 report by the mobile security firm Lookout, the smartphone industry makes about $30 billion a year just from replacing lost or stolen devices, plus another $7.8 billion from selling mobile phone insurance. This doesn't include what thieves are paying for new plans for their freshly stolen devices.
The invention of the kill switch would virtually cut the industry's income in half — a hefty price to pay for the protection of their customers' lives and property — which is why it didn't come as a surprise to many that phone companies claimed a kill switch just wasn't possible.
The Uphill Battle
According to Legislative Affairs and Policy Manager Max Szabo, San Francisco District Attorney George Gascón had been told by a developer that a kill switch, which would allow the user to remotely lock and remove information from their phone, was in fact possible. When he found that the DA of New York was expressing the same theft concerns, the two partnered up to become co-chairs of the Secure Our Smartphones Coalition (SOS) — a group that included New York and San Francisco law enforcement agencies, including the California State Sheriffs Association and Police Chiefs Association.
The group hosted everyone from wireless carriers to smartphone developers and presented a list of demands that included a built-in kill switch option, Szabo said.
Apple countered with the introduction of a new activation lock — which validated what Gascón already knew: This technology did in fact exist.
In September 2013, Apple rolled out an anti-theft feature that somewhat resembled the one Gascón had proposed, except that it was optional rather than included, meaning users had to ask for or download the feature.
Next the SOS had to convince the other companies to use the same technology. Samsung approached the DA's office and promised to install similar protections in its Galaxy S5 phone, which would come out later that year.
In August 2014, California Gov. Jerry Brown signed SB 962, the Smartphone Theft Prevention Act, into law. The bill required that all smartphones sold in the state of California come equipped with the anti-theft technology.
Gascón has said publicly that iPhone thefts are down 40 percent in San Francisco since Apple put a kill switch on the iPhone 6 and 6 plus. Smartphone thefts are down 27 percent.
"We immediately saw a modification of behavior on the street — as thieves were taking phones, they realized they could not put the phone to use," he told CBS.
The result proves that if a police department recognizes a specific crime trend, lobbying the industry and municipal decision makers truly can pay off. 

Request information from ecoATM
Thank You!