MedicAlert's free LEAP program gives officers the right tools to help community members at risk for wandering
Register for a free program that provides LE agencies with tools and resources to help those who may wander due to Alzheimer's, autism
---
The following is paid content sponsored by MedicAlert.
By Police1 BrandFocus Staff
LE agencies regularly receive calls and pleas for help when a loved one with Alzheimer's or autism wanders and becomes lost.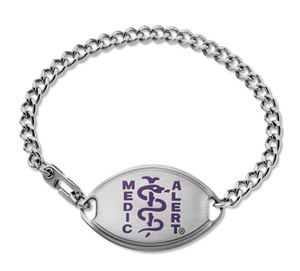 To help LE agencies address these calls more effectively—as well as to ease the worry of caregivers—MedicAlert Foundation announces a free program for LE qualifying agencies that can help protect any individual who is a wandering risk.
What is LEAP?
The free program, dubbed the Law Enforcement Access Portal (LEAP), is a law enforcement partnership program that lets LE directly enroll local residents and their caregivers into MedicAlert's online database and receive a free medical ID bracelet, as well as 24/7 wandering and emergency support services.
Through this partnership, MedicAlert also can provide law enforcement agencies with additional resources and materials to ensure officers are properly trained on how to handle wandering incidents and best practices for communicating with local residents who have cognitive disabilities, said Jillian Megee, a LEAP program administrator.
The L.E.A.P. program was developed, with support from the Bureau of Justice Assistance's Law Enforcement and Missing Persons with Alzheimer's initiative. Therefore, there is no cost to the LE department to set up a program, Megee said.
MedicAlert's LEAP program is gaining national recognition as it helps fulfill community relation needs that exist today.
"Our LEAP program assists agencies in promoting community good-will and establishes them as a trusted safety resource within the community," Megee stated.
How does a LE agency get set up?
The LEAP program was initially for 15 DOJ Alzheimer's grantees, but it is now available for all LE agencies in the country.
Megee said the first step to getting a program started is for agencies to register via the online portal at www.medicalert.org/partners. This will establish a partner account and will activate MedicAlert's outreach to the agency.
Once an agency is part of the LEAP program, MedicAlert will assist in rolling out the program to the community and work with the agency to establish training as-needed. MedicAlert provides forms that community members fill out to register with the agency, who then enters the information into the online LEAP portal. Information from the portal is sent to MedicAlert, and the community member's account is established. Each free medical ID bracelet is made and mailed to the community member directly.
How are LEOs trained to use LEAP?
Megee and her team provide training to help LEOs use LEAP. While she said the online portal is so user-friendly that training can be done over the phone, the team also holds large-scale training events, where they can train multiple LE agencies at once on a local, regional or state level.
For example, MedicAlert's team traveled to Northampton, Massachusetts, in November to train approximately 100 officers throughout the state of Massachusetts on the LEAP program. After the event, LE agencies were sent how-to materials via email that provided step-by-step guidance on using the online portal and entering the community registration in the system.
"The MedicAlert training event has given our local agencies the tools and resources to better serve the at-risk members of our community," said Deputy Dave Fenton of the Hampshire County Sheriff's Department. "We are now working with families and senior centers throughout our region to ensure individuals with autism and Alzheimer's have the protection of the MedicAlert service."
Large-scale training events are not required, and Megee or one of the other program administrators can always host a conference call to answer any questions.
What is the ROI?
Because the program is new, agencies are still testing out the ROI. However, there is no doubt that LEOs need every tool available to find lost wandering risks.
Megee noted that one way to view ROI is the cost of each incident and the strain that wandering incidents place on law enforcement agencies.
Also, incidents involving MedicAlert have a higher success and faster recovery rate due to the presence of a medical identification bracelet because the program works directly with law enforcement and family during the incident, Megee said in her experience.
Working together, MedicAlert and law enforcement can make a tremendous impact on protecting and saving the lives of at-risk community members. LEAP helps agencies make a proactive impact on serving the needs their communities. Register today.
Register your agency for LEAP using the form below, or learn more by contacting MedicAlert.

Request information from MedicAlert Foundation
Thank You!