Using thermal imaging technology to keep officers safer
Affordable options in FLIR's thermal imaging monoculars elevate these critical tools from the want list to the need list
---
By Warren Wilson for Police1 BrandFocus
There was a time in SWAT when field searches for armed subjects were simple. Fan out, walk in a pattern until they shoot at you, hope they miss or your body armor works well, and then shoot them back. It's not a terribly good plan, but considering there was really no other way, that's what we did.
We didn't have night vision or thermal because it was too expensive for our department. I don't say that as a knock on our admin. Decent thermal products were anywhere from $10,000 to $30,000 and that's a prohibitive amount of money for most cop shop budgets. We had a military surplus night vision unit but it was only good at night and frankly, not user friendly, so it didn't get used much. Thermal technology would have been helpful, but its cost at the time put it out of reach. That's no longer the case.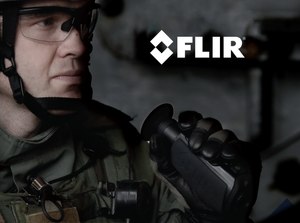 It's come a long way
Thermal imaging technology has come so far in the last few decades that it is now more affordable than ever through retailers like Officer Store.
FLIR has been on the forefront of thermal imaging equipment since the 1970s. When most cops think of FLIR, they think of "Forward Looking Infrared" cameras attached to police helicopters bringing an exciting aerial viewpoint to reality cop shows in the 1990s. Today, that same technology fits in one hand and is affordable for departments without a budget line-item for a helicopter. A department can put this technology in the hands of front-line officers for $2500 to $5000, depending on their needs.
The LSX model is one of the earlier generations of thermal monoculars and is geared toward general use but really shines at longer range detection. It has a laser pointer to reference your views between the naked eye and the thermal image. Depending on the model you choose, the LSX has an internal compass, a longer focal length up to 4 times or 8 times magnification, giving it a great range. It can detect a human over 1,100 meters away.
The LSX might be the unit for your agency if you often need to find subjects at a distance such as in the case of a field search or for general use. I used the LSX-R inside my house and walking around my neighborhood and was very impressed with its abilities. Often overlooked features like a tripod mount and wrist strap were not missed by FLIR on the LSX. My department is currently looking to purchase thermal technology and this will be the unit I suggest.  
The Breach PTQ 136 is a 7.4-ounce, 5.5-inch microbolometer which can be hand held or attached to a helmet via rails for hands free operation and can be quickly changed between the two. This is a great unit for tactical teams due to this feature and its near bulletproof construction. It has a refresh rate of 60Hz which means it basically operates in real time and doesn't lag as you move the monocular quickly from one area to another.
This unit works great for close and quick work, but also worked well for longer range detection around my neighborhood. (Don't worry. My neighbors are used to me doing gear reviews and no longer call the law on me.) Where it really impresses, though is up close and personal.
Conducting a static (slow) entry on a residence is a particularly stressful event. I thought back on some of the calls our team went on and thought about how a Breach may have been helpful to us. Almost every occasion I came up with would have benefited from a thermal unit.
I conducted a terribly unscientific, impromptu test of the Breach in my home. While, "clearing" the house, thermal residue from where people and even pets had stepped were visible for 30 to 60 seconds. That could be very useful in a critical situation.
Scion OTM (Outdoor Thermal Monocular)
The Scion OTM has a more refined user interface and has options of 9Hz or 60Hz image refresh rates. It features geotagged recordings and still photos with an IP67-rated housing which means it has been tested to function after being submerged in one meter of water for one hour. The Scion series has GPS as well as Bluetooth and WIFI for streaming or file transfers. The Scion series has the most onboard features including picture-in-picture capability and is FLIR's most advanced monocular to date.
No Excuses
There's really no excuse at this point for an agency not to have thermal technology in today's world. And, certainly, no one can deny the need – this is the most dangerous time to be in law enforcement in decades. Most of us who are active in law enforcement have no recollection of and – tragically – little education on what the 60s and 70s were like for cops. However, as we inch toward the historic level of violence and upheaval, police administrations must provide every option to the front-line cops to stay safe. Thermal imaging monoculars should be one of those options. 
About the author
Warren Wilson is a lieutenant with the Enid Police Department in Oklahoma. He is a former SWAT team leader, current firearms instructor and writer. He has been a full-time law enforcement officer since 1996.
Request information from OfficerStore.com
Thank You!