PRESS RELEASE
New Jersey State police announce transition to state of the art project 25 radio network to help maximize public safety and emergency communications
---
The mission-critical communications network offers first responders enhanced synergy and security 
WEST TRENTON, N.J. — New Jersey State Police (NJSP) Superintendent Colonel Patrick J. Callahan today announced a significant shift to the agency's public safety and emergency response communications system. Thanks to funding received through CARES, troopers now communicate through the New Jersey Interoperability Communications System (NJICS), a state-of-the-art Project 25 (P25) radio network. The network was built and is maintained by Motorola Solutions (NYSE: MSI), which operates nationwide and statewide systems across the globe. The system offers the opportunity to further propel the state into an era where public safety communication, collaboration, efficiency, and resilience define law enforcement's emergency response efforts. 
By combining the NJSP's legacy communication system with the statewide network, troopers can now collaborate with other first responders through shared talk channels. The implementation of these channels allows over 20 state agencies to share critical information in real-time. This enhanced connectivity means faster response times and more efficient coordination during emergencies, ultimately saving precious minutes and lives.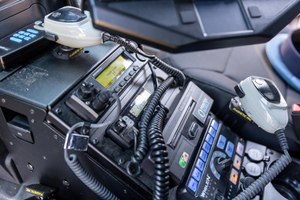 "We are stronger when we work together," said Colonel Patrick J. Callahan, Superintendent of the New Jersey State Police. "Our troopers can now seamlessly communicate with other first responders on the statewide network, giving us access to more information than ever. The ability to share data and resources enhances our response to planned events and emergencies when time is of the essence and multi-agency coordination is needed. We are committed to protecting our troopers and the residents we serve, and this helps us deliver on that mission."
The state-of-the-art P25 radio network was crafted to accommodate the latest generation of radio devices, which will significantly reduce overall maintenance costs moving forward. With the introduction of smart radios that effortlessly merge P25 radio connectivity with cutting-edge LTE broadband capabilities, NJSP troopers now enjoy various advantages. This innovative leap enables them to uphold clear voice communications, supporting seamless connectivity even when entering buildings or venturing beyond the traditional radio network's coverage area. Equally important, they can access critical information on the go, empowering them with enhanced situational awareness for effective decision-making.
Following the successful transition, the NJSP and partnering agencies have effectively harnessed the power of the P25 radio system during a multitude of large-scale events. Notably, the system demonstrated reliability and efficiency during critical situations like the Kanouse Wildfire and the prestigious 2023 KPMG Women's PGA Championship.
The NJSP also has access to an in-state operations center equipped with dedicated technical staff to enhance operations further. This center will diligently monitor and support the network 24 hours a day, seven days a week. This unparalleled level of availability supports seamless communication and assistance during emergencies, enabling swift and effective responses whenever and wherever they are needed.
With these technological improvements, the NJSP is firmly positioned to take on the dynamic challenges of modern law enforcement. The synergistic blend of legacy systems and state-of-the-art technology enables us to strengthen collaboration, streamline operations, and help protect troopers and residents alike.
About the New Jersey State Police
Follow the New Jersey State Police online at Twitter, Facebook and Instagram. The social media links provided are for reference only. The New Jersey State Police do not endorse any non-governmental websites, companies or applications. For additional information visit our website at www.njsp.org. 

Request more info from Motorola Solutions
Thank You!