6 things you need to know before buying your next uniform
Learn about six of the most common fabrics and features you'll encounter when shopping for uniform pieces
---
The following is paid content sponsored by Propper International.
By Police1 BrandFocus Staff
Cops need garments that are durable and professional-looking. A sturdy poly-cotton blend has been the industry standard for at least a decade, but today you have more options than ever when it comes to uniforms.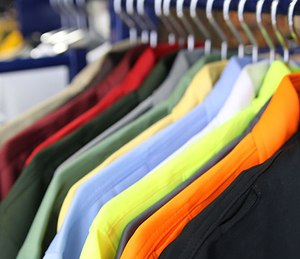 With so many specialized terms, it can be hard to determine what material is right for your needs. Understanding these six fabric considerations will help you make the right choice when buying your next uniform.
1. Cotton vs. synthetics
Start with the fiber itself: There's a big difference between cotton and synthetic fabrics like polyester.
A lot of people like the idea of natural fibers for breathability and comfort, but cotton retains sweat and fades quickly. Synthetic blends resist wrinkles and retain their color longer, both important for keeping your uniform up to standard.
Look for a polyester/cotton blend that combines the performance of synthetic fabric with the comfort of cotton.
"It's hard for us to recommend cotton for uniforms because it is more likely to fade, wrinkle and shrink," said Joe Ruggeri, vice president of product development for Propper, which has been supplying uniforms to the U.S. military for nearly 50 years. "Synthetics typically avoid those three issues and hold up better to repeated washings."
2. Moisture-wicking
Many synthetic blends now have moisture-wicking properties to keep you cool and dry. Moisture-wicking fabrics are constructed to pull sweat away from your skin and allow it to evaporate, leaving your body cooler and your shirt drier and free of ugly sweat stains, said Ruggeri.
For example, Propper's Integrated Cooling Effect (ICE) moisture-wicking material is a special knit designed to disperse moisture for quick evaporation. It dries 125 percent faster than cotton and 30 percent faster than regular polyester.
3. Stretch
Stretch fabric, which can incorporate added elastic fibers like Lycra, Spandex or a specially designed weave, offers a pliable garment with a wider range of motion and greater comfort.
Adding stretch makes it easier to run, climb and kneel, making it an important choice for a police uniform. Stretch also helps the garment resist wrinkles and retain its shape for a professional look.
Stretch fabric is now a staple in athletic and leisure wear, and more recently it has become more widely available in uniforms as well. One example is Propper's Stretch Tactical Pants, with 4 percent Spandex for enhanced movement and comfort.
4. Water and stain resistance
Durable water repellent (DWR) treatment repels stains and liquids to keep your clothes looking clean and professional. DWR can also help reduce fading, keeping the garment looking better longer.
The invisible protective layer created by DWR treatment maintains the original color of the garment while forcing liquids to bead up and roll off rather than penetrate the fabric. This makes it harder for particles to bind to the fabric so that stains wash out easier, which decreases wear and tear because you have to wash that garment less often, increasing its durability.
Teflon by DuPont is by far the most well-known brand of water and stain repellant on the market. Look at the tag on the garment to find out what treatment you're getting, advised Ruggeri.
5. Antimicrobial
Policing can be sweaty work, and nobody wants to smell bad on the job. Plus, repeated washings begin to break down even the toughest fabric.
Sweat doesn't stink by itself. It only begins to smell when bacteria and fungi interact with it on skin and clothing. New treatments help fight odors by discouraging the bacteria and fungi that cause them (and break down the fabric) instead of simply masking the smell.
Those that are sprayed onto the garment offer limited protection, as they eventually wash out, Ruggeri said. Look for a treatment that is woven into the fabric itself for permanent odor control that won't wash out, such as Polygiene, a silver salt solution that is active only on the cloth itself and not on the skin.
Keep in mind that anti-odor treatments do add to the price of a garment, but consider the benefits of less odor, less laundry to do and a longer lifespan for your clothes.
"The additional cost of something like this is more than offset, not only by not having your uniform smell, but also by the additional durability of the garments," Ruggeri said.
6. Ripstop
Many tactical garments and gear are made with ripstop materials, which help preserve the integrity of apparel with a specially designed weave.
Ripstop can enhance the function of various fabrics, such as stretch fabrics, by adding a level of toughness to a garment designed with durability in mind. The material is not indestructible, but its structure minimizes the damage should it get torn or ripped.
A balance of comfort and performance
Durability and comfort and are key when it comes to uniforms. A patrol uniform can take a lot of abuse, but you must always look presentable, so choose garments that offer wrinkle resistance, fade resistance, shrink resistance and snag resistance.
Consider your needs and the conditions in which you'll be wearing the garments to decide whether you need additional features such as anti-odor or ripstop.
Also look for garments that adhere to known specifications. For example, Propper sends its garments for third-party testing to verify that they meet industry-wide standards for apparel, as well as applicable military specifications.
With all the uniform options now available, knowing your fabrics can help you balance form, function and price to choose the right garments for the job.