5 questions to ask before buying a rifle optic
A rifle optic is a crucial tool for law enforcement. Use these buying tips to find the right one.
---
Sponsored by Steiner Optics
By Sean Curtis for Police1 BrandFocus
What type of rifle optic is best suited for law enforcement applications?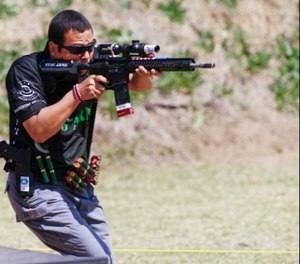 There are so many choices on the market now, it can be difficult to know where to start. For buying tips, I recently spoke with Chris Gaddy, a product manager for Steiner, about what the top considerations for buying a riffle optic should be.
Here are five considerations he recommended buyers consider before purchasing a rifle optic.
1. WHAT WILL YOU BE USING IT FOR?
Gaddy said one of the most important things to consider is what you are using the optic for.
"You don't want a 3x15 scope if you're kicking in a door and doing CQB (close quarters battle)," Gaddy said.
The transverse also is true. If you are going to be shooting at greater distances, a 1x reflex sight is not going to work as well.
Gaddy said you should examine your mission and pick the best options that will be functional to you in the majority of your scenarios.
2. HOW WELL DOES IT TRANSMIT LIGHT?
Gaddy described this particular quality as one that often separates elite from standard optics.
This is because the ability to gather light and apply it through the scope is critical.
"All optics are going to perform great when it's bright outside, but from a law enforcement perspective, you're going to need something that is going to perform well in the twilight hours and during the evenings," he said.
Gaddy referenced urban settings that offer some ambient light such as headlights, or streetlights. He said good optics can gather that light and apply it to visibility.
3. WHAT RETICLE IS RIGHT FOR OUR MISSION?
There are a myriad of reticles on the market these days and their designs are usually related to function. Gaddy indicated someone shopping for an optic should think about what reticle is going to best serve their application.
Evolving from simple crosshairs, reticles have become more complex to meet user demands. Some still have fairly simple patterns while others offer more complex options to assist with windage and elevation.
You'll need to consider whether you need hash marks for holdover or illumination in your reticle as well.
In addition, personal preference is huge, particularly in this area. Gaddy said some people like the utility of having all those references in the reticle while others find them too busy and occlusive to viewing the target.
4. IS IT DURABLE?
The toughness of an optic cannot be understated.
"You can get some really good optics that you can't beat up," Gaddy said. "They aren't designed for a law enforcement or tactical environment."
A law enforcement environment often is rugged, and equipment can take a beating—bouncing around in a patrol car or ripping the rifle out of the rack when needed.
"You want an optic that will take that beating and still perform with the level of accuracy you expect out of it," he said. 
This also applies to being weather resistant, and more importantly, holding zero. Gaddy said it is important to choose a sight that has been thoroughly tested by the company: using wet, dry, and impact tests (for recoil) to find failures before it reaches the user.
5. DOES IT HAVE THERMAL STABILITY?
The final important question is to determine the optic's thermal stability.
This applies in two directions or temperature fluctuations. According to the AVMA, a car sitting in 95-degree weather can experience an internal temperature of an estimated 140 degrees after just an hour.
Extreme heat can have an adverse effect on holographic and standard optics. This can cause thermal drift, a condition where your optic no longer holds zero and can cause optics to fail.
Gaddy said the other side of this challenging coin is going from warm to cold. A weapon in a warm patrol car for hours on end and then suddenly get deployed into sub-zero temperatures can cause issues.
"When you're in a situation where someone is actively trying to kill you, you don't want your optics fogging up at that critical moment," he said.
Gaddy said it is crucial to research your optics before purchasing them, including trying them out before buying so you know what features you like. For example, renting or borrowing is a good option before dropping significant cash on an optic you may or may not like, especially from agencies that have similar missions.
Before your buy, consider all these factors to find the best optic for you.

Request information from Steiner-Optics
Thank You!