Steiner R1X: A reflex optic for modern policing
Steiner is taking reflex rifle optics to the next level with the R1X
---
Sponsored by Steiner Optics
By Sean Curtis for Police1 BrandFocus
Steiner recently created a reflex optic called the R1X reflex red dot sight, which is built for police using rifles in close quarters engagements.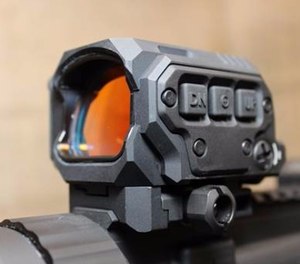 Using feedback from law enforcement, Steiner's engineering team developed the innovative optic for the real-life scenarios law enforcement officers' face.
Steiner provided me with a R1X to try out. Here are the optic's features and performance highlights from testing it.
THE STEINER R1X
The R1X is composed of aluminum and the front lens of the optic is hooded, protecting it from impact. It is waterproof rated to 10 meters for 120 minutes per ISO 9022-82-01.
The R1X reflex red dot sight has a viewing area that is 32 millimeters wide. While the R1X comes with a single reticle choice it offers two settings, said Nate Lombard, National Law Enforcement Sales Manager for Steiner. The first setting is a single red dot. The second setting is the same anchor dot with three other stadia dots in a vertical line below.
The optic is activated with one tap and when activated, a single, 2 MOA dot appears. This means the red dot will cover two inches at 100 yards.
"Up close it covers far less for target clarity," Lombard said.
Tapping the button again will provide three additional stadia dots and is used for close quarters; the center dot represents a 50-meter sight and the three stadia are set for 10, 7, and 5 meters respectively.
There are a total of seven brightness settings: five are for daylight, two are specific to night vision goggles (NVG). Lombard said the dot is manually set, but remembers which setting you selected last and returns to that upon powering up again.
The R1X runs on two CR2032 batteries and features an auto shut-off, 13 hours after activation in order to save battery life – which is rated at 750 to 850 hours depending on brightness.
TESTING THE R1X
At the range, the optic mounted up simply with a thumb screw to my top rail.
I noticed everything about the unit was set up for simple tools: a common screwdriver for battery plate screws, Phillips head for windage and elevation. This makes the package field practical. With a few turns, I secured the optic and turned it on.
The dot was bright and sharp. I placed my AR into my shoulder and came up on target. I centered quickly and transitioned to two other targets just to see how it felt.
Using the red dot was fast, and it didn't obscure my vision. In addition, the field of view was glorious.
I had brought my old optic and held them side-by-side. It was strange how the R1X was a smaller package, yet offered a greater field of view.
LIVE FIRE TEST
During live fire, I transitioned between targets quickly.
The dot was easy to pick up and did not cover as much of my target like reticles I'm used to. It was true point and click.
I experimented with keeping both eyes open during shooting. With both open, I was still able to look through the reflex and see the red dot over my target. My peripheral vision was still giving input and I was able to switch to another target with a broader field of view. This helped me with sighting lateral movement and spotting potential cover. In the field, this would be a massive advantage.
In addition, the exceptional window of the R1X allows great sight picture. Anything outside of 15 to 20 yards will allow the shooter to view an entire torso, from head to hands. This depends, of course, on where the optic is mounted. With a true flat-top AR, shooters could mount the optic as far back or forward of the breach as they like – all according to their preference.
The answered challenge here is the window allows shooters to see both a suspect's hands and still stay on target. Smaller optics constrain the sight picture and in closer distances, nearly require the shooter to come off the optic or stay on while bobbing short distances between hands and target.
Another bonus is follow-up shots after recoil are fast too, aided by the quick acquisition of the red dot. I raised my back up iron sights and was pleased to find the red dot was already seated just above my front post.
The ability to truly co-witness while shooting is marvelous, and is great insurance. Co-witness refers to the ability to see both front and rear fixed sights through the optic itself. The R1X offers 1/3 co-witness or absolute with a riser. Even if the batteries failed at some point, or if something went wrong with the electronics of the optic, I would still be able to effectively aim the rifle.
It's nice to have that accuracy out of the box, but good to know it can be adjusted for different distances and applications.
The R1X Reflex Red Dot Sight is Steiner's answer to the law enforcement quandary of long gun applications in close quarters. You don't have to give up situational awareness, quality, durability or accuracy when you run this red dot. Whether you are covering a contact team or about to breach a door, the R1X will serve LE officers admirably.

Request information from Steiner-Optics
Thank You!