How to fund technology to help reduce officer-involved traffic accidents
Check out these grant opportunities that can make your officer safety tech purchases easier
---
Sponsored by Mobileye
By Samantha Dorm for Police1 BrandFocus
Budgetary restraints are the biggest barriers for police departments and often get in the way of a department's access to innovative tools. This article is intended as a resource for police leaders who want to purchase collision control technology platforms but aren't sure how to find the funds.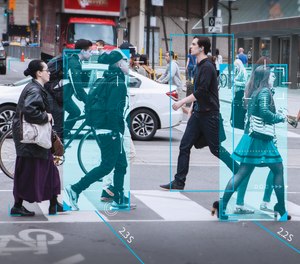 When considering options to fund your purchase of vehicle collision avoidance technology, there are a few things to take into consideration, starting with identifying your stakeholders. In other words, who has a vested interest in the safety of your officers and the communities they serve?
Below are a few resources that may help your agency secure grants or alternative funds for collision avoidance technology like that offered by Mobileye.
Federal Resources
The Department of Justice ("DOJ") will post its FY20 Program Plan, along with the estimated release dates for request for proposals to be published, in October 2019. These grants traditionally open in the spring each year.
The DOJ has three grant-making components:
1. Office of Community Oriented Policing Services.
2. Office of Justice Programs, comprised of six bureaus and program offices.
3. Office on Violence Against Women.
These three agencies are responsible for awarding federal financial assistance to support law enforcement and public safety activities in state, local and tribal jurisdictions in their efforts to, among others:
Assist victims of crime
Provide training and technical assistance
Conduct research
Implement programs that improve the criminal, civil and juvenile justice systems
The congressional appropriation that supports DOJ's programs and operations reflects the priorities of the President, the attorney general and Congress.
The DOJ Program Plan is a tool to help applicants and grantees find funding opportunities (solicitations) that address their criminal, juvenile and civil justice needs.
Pro Tip: Referring back to previous program guidelines can help departments prepare for future grant opportunities. Get started early!
Justice Assistance Grants
The Edward Byrne Memorial Justice Assistance Grant (better known as JAG) Program is the primary provider of federal criminal justice funding to states and units of local government. JAG funds awarded to a unit of local government under the annual solicitation may be used to provide additional personnel, equipment, supplies, contractual support, training, technical assistance and information systems for criminal justice, including any one or more of the following:
Law enforcement programs
Prosecution and court programs
Prevention and education programs
Corrections and community corrections programs
Drug treatment and enforcement programs
Planning, evaluation and technology improvement programs
Crime victim and witness programs (other than compensation)
Mental health programs and related law enforcement and corrections programs
One area of emphasis outlined in the JAG Local Solicitation is officer safety and wellness. Decreasing the number of vehicle-related incidents (which accounted for 50 line of duty deaths in 2017) would require departments to take a programmatic approach to addressing the problem.
For example, a programmatic approach could pair collision control technology with the administration of a driver training program, such as the one conducted by the Pennsylvania State Police. On a national level, training may be available at no cost under the VALOR Officer Safety and Wellness Program.
Agencies should consider using the free training resources to pair with a request for financial assistance to purchase collision control technology. This can increase your chances of being awarded a federal or state grant.
JAG local grants are noncompetitive, formula-based funds. Competitive JAG grants are also available at the state level. For additional information, please reach out to your State Administering Agency.
While federal and state grants act as a primary resource for law enforcement funding, departments are also encouraged to consider exploring opportunities provided by corporate and community foundations. These grants may offer fewer administrative constraints that often delay project implementation.
Risk Management and Insurance Companies
Automobile accident negligence claims typically happen when a collision and/or injury is caused by the actions of law enforcement, such as being in the wrong place at the wrong time during a high-speed chase.
With this in mind, departments are likely to turn to their risk management/insurance providers to secure funds for the purchase of technology to decrease the number of collisions involving their officers. When searching for the right terms, many providers reference a Risk Mitigation Investment Grant Program.
State Farm makes charitable contributions to support safety initiatives in communities throughout the United States. State Farm grant applications for 2020 opened on September 1, 2019, and are available through October 31. The grant amount requested must be $5,000 or more. Grant decisions will be communicated by end of first quarter 2020.
Look for these grants to open around the same time period each year. Priority areas are subject to change.
Private corporate funding
Private corporations also contribute to safety initiatives for public safety agencies. Reach out to local businesses in your community to inquire about grant programs. For example:
The Firehouse Subs Public Safety Foundation provides lifesaving equipment to first responders. Average grant awards are below $25,000 per agency.
Georgia-Pacific sets aside resources to improve life in the communities where the company operates. Grant requests are reviewed on a rolling cycle throughout the year. First, see whether you're eligible. Among other criteria, your agency must be located within 30 miles of a Georgia-Pacific manufacturing facility.
Wherever your agency chooses to seek funds, remember that each community is unique and may offer several paths to funding, such as:
Law enforcement programs = criminal justice funds.
Collisions in business districts = economic development funds.
Collisions near schools = school safety funds.
Injuries/fatalities = healthcare providers or insurance company funds.
Pay close attention to deadlines and program guidelines – and good luck.
The grants listed above are just a snapshot of the resources available to departments through www.policegrantshelp.com. We do not endorse any particular program. All information is subject to change. Please review the program guidelines for updated information.
About the author
Samantha Dorm is a grants expert with PoliceGrantsHelp.com. She has been instrumental in providing grant writing guidance to various public safety and nonprofit agencies throughout the United States to enable them to obtain alternative funding, as well as provide instruction on statistical compilation, analysis and program development. Sam is a reviewer for several federal agencies and also teaches grant writing workshops.

Request information from Mobileye
Thank You!