PRESS RELEASE
Municipal Graphics Designs Ford Interceptor Graphics for Yarmouth, Mass. Police
---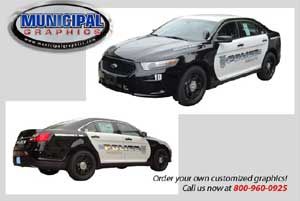 WRENTHAM, Mass. - Municipal Graphics recently supplied Yarmouth, Mass. Police with custom fit graphics for their new Ford Interceptor.

Yarmouth's new graphics kit features digitally printed and cut reflective graphics, as well as rear subdued black reflective chevrons for a unique look.

Call today (800-960-0925) or visit www.municipalgraphics.com to order customized graphics for your department.

Municipal Graphics provides graphics for the following police vehicles: Ford Crown Victoria, Dodge Charger, Chevy Caprice, SUV's and trucks and Ford Interceptors. Graphics are also available for fire/EMS, public works, commercial and campus vehicles, motorcycles and trailers.

About Municipal Graphics
Municipal Graphics has been utilizing state-of-the-art printing and graphic technologies that provide the highest quality lettering and decals for police, fire and public works department. To request more information visit www.municipalgraphics.com or call 800-960-0925 to order a customized graphics package for your company or department. 'Like' the official Facebook page, and 'follow' on Twitter.