PRESS RELEASE
Municipal Graphics Designs New 2012 Chevy Caprice Graphics for Haverhill, Mass. Police Department
---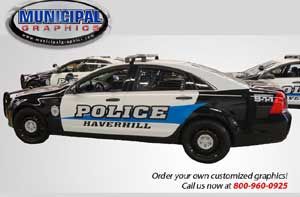 WRENTHAM, Mass. - Municipal Graphics supplied the Haverhill, Mass. Police Department with their graphics scheme customized for their all new 2012 Chevy Caprice.

The design features all reflective, digitally-printed graphics that are laminated for UV Protection and durability.

Municipal Graphics provides graphics for the following police vehicles: Ford Crown Victoria, Dodge Charger, Chevy Caprice, SUV's and trucks and Ford Interceptors. Graphics are also available for fire/EMS, public works, commercial and campus vehicles, motorcycles and trailers.

About Municipal Graphics
Municipal Graphics has been utilizing state-of-the-art printing and graphic technologies that provide the highest quality lettering and decals for police, fire and public works department. To request more information visit www.municipalgraphics.com or call 800-960-0925 to order a customized graphics package for your company or department.