2024 Ford F-150 Police Responder pursuit-rated pickup truck tailored to amplify officer safety
A police perimeter alert feature monitors the vehicle's exterior for motion and potential threats, automatically securing the vehicle and officer upon threat detection
---
By Police1 Staff
DEARBORN, Mich. — Fleet order banks are open for the new 2024 Ford F-150 Police Responder.
As the first pursuit-rated pickup truck and one of Ford's fastest vehicles in its entire lineup, the F-150 Police Responder is engineered to meet a wide range of law enforcement agency needs.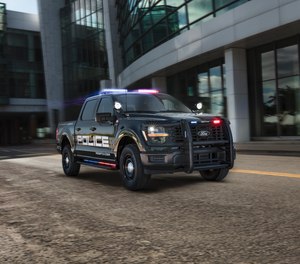 The design emphasizes a generous cargo space to accommodate emergency response equipment, alongside the remarkable ability to transport horse trailers, boats and mobile command centers both on and off the road.
The 2024 edition of the F-150 Police Responder integrates standard features that enhance driver assist, situational awareness, connectivity and software capabilities. Ford Pro police customers experience an "always-on" connected environment complemented by a broad suite of vehicle, financing, service and software solutions. This includes the Ford Pro Telematics and fleet management software which are designed to significantly cut downtime, and improve idle time and fuel consumption by 50%.
Newly introduced standard features include:
Police perimeter alert: A feature that magnifies situational awareness by monitoring the vehicle's exterior for motion and potential threats, automatically securing the vehicle and officer upon threat detection.
Police engine idle: Allows the officer to remove the key and exit the truck securely without losing power to the essential lights and sirens.
Police dark car: A feature that turns off interior lighting and enables dash cluster dimming during surveillance operations.
 Supplemental heated sanitization solution: An innovative solution that temporarily elevates interior temperatures above 133 degrees Fahrenheit for 15 minutes to diminish viral concentration by over 99 percent.
Ford Pro Upfit Integration System (UIS): UIS simplifies upfits and programmable control while ensuring smooth integration with 12" digital displays, making it the second UIS-enabled Ford vehicle next to Super Duty.
 For more information, click here.