Quiet Warrior: One SRO's mission to put children on the path to success
Sgt. John Dodd II's work with kids is all about building the key character traits that enable them to become future leaders
---
Sponsored by 5.11 Tactical
By Cole Zercoe and Rachel Zoch for Police1 BrandFocus
One of the most important roles police officers have in society is to lead by example. LEOs serve as role models for their communities through their dedication, integrity and bravery – and nowhere is that influence more vital than in children.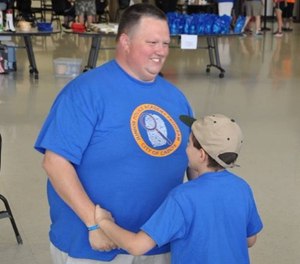 Sgt. John Dodd II takes this to heart. He loves working with children, and if he hadn't become a police officer like his father and grandfather, he might have been a teacher. But his drive to protect and serve led him to don the uniform and badge in his hometown of Cabot, Arkansas.
"Like most other folks who are police officers, I enjoy helping people," Dodd said. "A little bit of it was in our blood, but I wanted to help make the place that I grew up in better, and law enforcement was a natural place for me to gravitate toward."
When Dodd – who's been a cop for a little over 10 years – started his career in patrol, he often focused on reaching out to the young people in his community. That's where his heart was, so he became a school resource officer in August 2013 and quickly fell in love with the work.
"I've always enjoyed working with the young people in our community," Dodd said. "Some would say – probably my supervisors would – that I'm a just big kid anyway, but kids can be shaped and molded into being good people, even if they have made mistakes.
"Part of the job I really enjoy doing is getting to talk to those kids who have made some bad choices – maybe it's just getting in trouble at school, maybe they've even been arrested – but being able to talk to them and talk them through their problems," he said. "I tell them all the time, one day I want to be able to retire and hang up my gun belt and let them take care of things. And I can't do that if they're not good, productive citizens."
Almost immediately after taking on the SRO role, Dodd wanted to find a way to build on his positive interactions with students outside of school hours. He came up with the idea of starting a junior police academy and took it to brass a few years later. Before his pitch was even finished, they approved the program and set up a steering committee to help get it off the ground.
BREAKING DOWN BARRIERS

Staffed by Cabot PD personnel and supported by volunteers, the Cabot PD Junior Police Academy launched in summer 2017 with two week-long camps – one in June for grades 5-6, the other in July for grades 7-8. Both quickly reached capacity.
From 8 a.m. to 3:30 p.m. every day, the cadets participated with officers in a wide range of activities, including being sworn in by a judge, taking a tour of the police station and jail, learning the various duties of a police officer, working on defensive tactics and investigating a mock crime scene. The cadets broke for lunch, but there wasn't a lot of down time.
"They were on the go a lot, doing a lot of things," Dodd said. "We tried to keep them engaged through the whole thing."
Some of the cadets started out shy or uncertain, but Dodd says the different activities put them in situations where they would have to stretch and grow. He says it was fun to see which activities brought out the best in each kid.
"We had one kid who was really shy, he wouldn't look at you a lot, he'd talk real low – but as soon as he went through baton training, he was the loudest kid in that room and was yelling the whole time he was doing it," Dodd said, laughing. "It was really great to see."
Other kids were initially disengaged and a little resistant, more interested in their phones than in the academy activities. But Dodd and his fellow officers' dedication got through to them before long.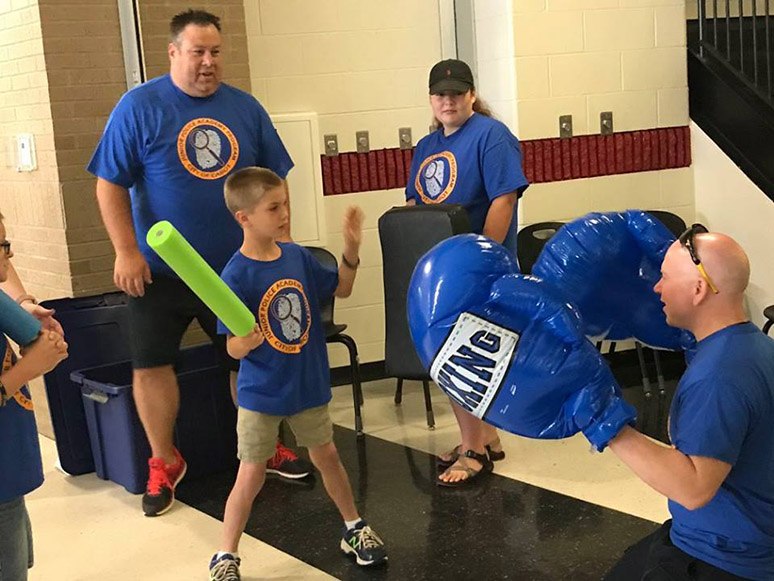 "Breaking down any kind of barriers that were pre-existing that first day really helped out, and by the end of it, the kids weren't as worried about their phones or anything else," Dodd said. "They were ready to have fun and do the next thing."
Defensive tactics, handcuffing and fingerprinting were all a big hit, but he says the Nerf gun battle was far and away the most popular activity.
"That was the highlight for them," he said. "I think they really enjoyed doing the mock crime scene, too, but they couldn't use any Nerf guns with it."
SPECIAL NEEDS ACADEMY
Dodd, whose 11-year-old daughter has autism, knew that kids with special needs wouldn't be able to spend a full week at camp, but he wanted to reach out to them, too.
He recruited more than a dozen volunteers, including teachers, aides, off-duty officers and high school students, to help with the event, which featured 10-15 minute rotations through activity stations covering many of the same topics as the week-long camps.
"It's really easy to overlook kids who have some issues when you're doing these junior police academy programs," Dodd said. "It would be very hard for someone who has a developmental disorder to be able to hang with us all week long with all the stuff that we do, but they also deserve to have that same experience."
He was especially touched by the special needs parents who were over the moon that their kids were able to participate in the academy.
"To see those kids smiling and happy, at least for a day, getting to be a police officer, was what really made it worth it," Dodd said.
Thanks to financial support from private citizens, local businesses, and the Walmart Foundation, all of the camps were provided free of charge, including lunch and T-shirts.
MAKING AN IMPACT
Since the police academy, Dodd has seen a change in the children who attended.
"It's fantastic. Every time I go back in one of the schools where one of these kids is currently enrolled, it's great to see them," Dodd said. "They always come up and talk to their friends about what they did and ask me questions."
He now asks the academy graduates to help him with student education initiatives on campus, like the drug and alcohol resistance program the school holds annually for fifth graders.
Outside of his work as an SRO, Dodd continues to make a positive impact with his involvement in the Smart 911 and Take Me Home programs, which help the Cabot PD assist people with disabilities like nonverbal autism or dementia. He's also on the board of directors for a special needs school and the Arkansas Autism Research and Outreach Center.
"We're a part of our community whether we're on the clock or not, so why not try to do as best you can when you have that chance?" he said.
But Dodd's biggest focus right now is rolling out the 2018 installment of the junior police academy.
"The next thing is to keep it going and keep it growing," Dodd said. "We want to keep getting kids into the program, keep having those good, positive interactions with them. Our goal one day is to maybe expand it more to have an advanced junior police academy so our kids who have been through the first program can come to a next-level academy to do some other things."
Most of the kids loved last year's program so much, they want to be involved again, so he's also creating an alumni program focused on special school events and community service projects. During spring break, the group is volunteering at a program called Lunch Box Connection, which serves meals and provides take-home food to families during breaks from school when kids may otherwise not have enough to eat.
PLANNING FOR THE FUTURE
Dodd's work with kids in the academy and as an SRO is all about building the key character traits that enable them to become future leaders – and perhaps spark an interest in getting involved with policing. Ultimately, children are looking for guidance, he says.
"They're going to find it from somebody – if they don't find it from their parents or teachers or from us at the police department, they'll find it from sources that they don't need," Dodd said. "We try to build them up to where they're looking for the good things. And obviously we want the kids to see that police officers are approachable, and maybe have a little bit of fun, too."
About the Authors
Cole Zercoe is the associate editor of Police1, responsible for writing and editing news articles, original columns, product articles and trade show coverage. From the latest police technologies and innovations to the emerging threats cops face in the digital age, his features focus on the complexity of policing in the modern world.
Rachel Zoch is a writer and editor for PoliceOne's BrandFocus division. Previously, she worked the copy desk of a local daily newspaper and served as managing editor of a trade magazine for the multifamily housing industry.

​

Request information from 5.11 Tactical Quiet Warrior
Thank You!