3 ways eCitation solutions help boost officer safety
Now there's a way you can protect your officers while optimizing their time with citations
---
Content provided by Brother Mobile Solutions 
Traffic stops are among the most statistically dangerous law enforcement activities. With more motorists on the road and distractions competing for their attention – there is a heightened danger for those sharing the road, and especially for law enforcement officers trying to keep everyone safe. Throw in some inclement weather, from heavy thunderstorms to blinding blizzards and the risk to officers making traffic stops grows worse.
In the first half of 2018 alone, traffic-related fatalities accounted for more than 36% of officer deaths, and more than one-quarter of those fatalities were due to roadside accidents, according to the National Law Enforcement Officers Memorial Fund.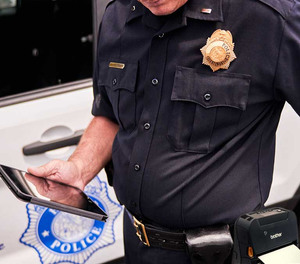 "eCitations can reduce the amount of time roadside time required to issue tickets by more than 50 percent and therefore reduce officer exposure to roadside hazards," said Shawn Sicking, vice president of sales and marketing for Saltus Technologies.
Traffic stops are a fact of life for public safety officers – but curbing the amount of time spent on the roadside or sitting in a patrol vehicle writing out citations is possible due to  the continued evolution of eCitation solutions.
eCitation systems help improve officer safety in three key ways:
1. Dramatically reduce the time it takes to issue a citation and get officers off the road more quickly.
It can typically take an officer 10 to 15 minutes or more to manually issue a citation. eCitation systems can reduce that time to two to three minutes, enabling the officer to complete the process and move out of harm's way much faster.
2. Issue citations quickly, with minimal keystrokes and without compromising your situational awareness
Compared to manually writing tickets, eCitation solutions enable officers to spend less time with their head down and eyes off the road as they issue citations. As a result, they can remain more alert to what's happening around them – whether it's traffic that fails to move over, or the behavior of the stopped motorist and passengers. With better situational awareness, officers are better prepared to protect themselves and the public.
3. Get motorists back on their way quickly and reduce the risk of motorist hostility.
Drivers who have been stopped for a moving violation may become increasingly frustrated the longer it takes to issue the citation. This agitation increases the risk of creating a hostile situation. eCitation systems allow officers to complete the citation quickly and efficiently and get motorists back on their way faster. This can minimize the risk that their frustration might build up and lead to angry interactions.
Optimize safety by optimizing performance
All eCitation systems comprise similar basic components including a mobile printer, software and a smartphone, tablet or laptop, enabling officers to scan the driver's license bar code, auto-populate the citation form, print the citation and electronically send it to the courthouse. However, as eCitation technology continues to advance, solutions now offer wider scope and expanded functionality along with improved reliability and ease of use.
The newest eCitation solutions support officer safety by helping officers to work faster and more efficiently. They can conduct on-the-spot database searches for traffic violations or criminal offenses, digitally capture the driver's license, signature, photo or fingerprint, and transmit the data wirelessly to court and records management systems, saving time and increasing accuracy.
As key elements of eCitation solutions, next-gen mobile printers such as Brother Mobile Solution's RuggedJet 4 series are vital to supporting officer safety by delivering faster printer speeds up to 5ips, longer battery life through smart Li-ion batteries, easy-to-use industrial-grade buttons, enhanced drop protection and active docking. The printers also provide NFC capacity for seamless device pairing and AirPrint technology that enables officers to quickly print high resolution documents directly from iOS devices without downloading or installing any special drivers or interfaces.
In addition, the RJ 4 series printers are rugged enough to withstand rough handling and work dependable in harsh environments including extreme heat and cold and are compact enough to fit easily into a vehicle or motorcycle. And since they're thermal printers, there's no need for officers to worry about running out of ink or toner in the middle of a traffic stop.
Benefits beyond safety
eCitation systems not only play a key role in helping boost officer safety – they offer numerous other benefits as well. They vastly improve citation accuracy, drastically reducing the number of tickets dismissed or uncollected due to illegibility and allowing the recapture of millions of dollars of previously lost revenue. By supporting shorter – as well as safer – traffic stops, and the ability to issue multiple charges at the same time, officers can issue more tickets in significantly fewer hours. This improved productivity frees officers from time-consuming administrative tasks so they can focus on serving and protecting their community – a much more rewarding responsibility that raises job satisfaction.
In addition, by cutting the administrative cost of issuing and processing citations and increasing revenue collection, eCitation solutions are a big boon to public agencies and municipalities constantly struggling to squeeze maximum results from minimum resources.
"eCitation systems are an innovative 'force multiplier' in public safety by enabling officers to quickly create and submit tickets electronically," Sicking said. "Time not spent on the roadside can be allocated to additional patrol time which can help improve officer and community safety."
Click here to learn more about Saltus Technologies and how their digiTicket ecitation solution can help boost your officer's safety and efficiency." 

Request information from Brother Mobile Solutions
Thank You!