4 things to know about steel plates from Spartan Armor Systems
The armor maker has developed a cost-effective system to produce steel body armor that provides affordable rifle-rated protection
---
Sponsored by Spartan Armor Systems
By Police1 BrandFocus Staff
Rifle-rated body armor is not just for SWAT anymore, but with all the options now available, choosing the right carriers and plates to fit your needs can be daunting.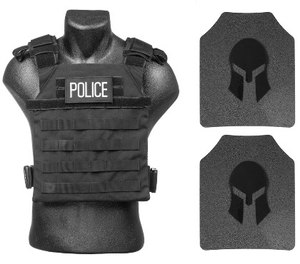 If you need rifle-rated body armor but have a limited budget, steel plates may be your answer. Spartan Armor Systems has developed steel core AR550 Level III+ armor plates.
Benefits of Steel vs. Ceramic
Hard armor plates designed and certified to stop rifle rounds are usually expensive, but high-performance steel now provides a more affordable alternative to ceramic composite. Plates of both materials can protect you from a rifle hit, but it's important to understand the difference between the two.
Backface deformation of hard armor from direct hits can cause bruising, broken bones, internal injury and even death. Steel plates have little to no backface deformation compared to their ceramic counterparts, which can significantly reduce the chance of injury.
Although steel plates tend to weigh slightly more than ceramic composite plates, they are thinner and less bulky. Steel plates also tend to be more durable and less susceptible to damage than ceramic plates, which can fracture if dropped. Increased durability, longer shelf life and lower cost of entry means less strain on already stressed budgets.
Spartan's AR550 body armor plates come with a five-year manufacturer's warranty against any defects and a 20-year shelf life, based on extensive testing, says Kevin Strnatka, vice president of research and for Spartan. 
"You do not have to get rid of your plates after five years as long as they are stored properly and not dropped from an airplane, in a fire or that sort of thing," he said. "Steel, especially with our Encapsaloc coating on it, should not deteriorate at all for many, many decades."
Solving the Spall Problem
You may have heard that spalling, or bullet fragmentation, and shrapnel injury are common hazards with steel armor plates, but Spartan has figured out how to solve the spall problem.
Spartan plates come with a base coat to protect them from the elements and project fragments farther away from the body; however, the company recommends an added layer of its proprietary Encapsaloc coating for maximum protection. For $60 per set of two plates, Encapsaloc traps bullet fragments to prevent them from harming the wearer.
"It's not just a thicker base coat – it's a completely different compound," said Strnatka. "The Encapsaloc composition allows the bullet to penetrate the coating and then encapsulates the fragments from the projectile impacting the steel."
Exceeding Performance Standards
Spartan's AR550 Level III+ armor plates have been independently tested by an NIJ-accredited laboratory and shown to meet and exceed the performance requirements of the Level III standard. They are in the process of full NIJ certification for inclusion on the Compliant Products List.
It's important to note that "Level III+" is not a true NIJ rating but a term used by body armor manufacturers to indicate that a plate exceeds the Level III standard and is also rated for special threats and higher-velocity rifle rounds but doesn't quite meet the Level IV standard.
The special threat rating makes Level III+ a good fit for departments facing threats from higher-velocity rounds that a basic Level III plate won't stop.
"Some departments are wearing the AR550 Level III+ plates over their IIIa soft armor, and according to their preliminary data, they have achieved a Level IV rating when worn in conjunction," said Strnatka. "This is something that Spartan Armor Systems will be researching with its own IIIa armor."
Savings and Service
Money is tight for many law enforcement agencies, as well as individual officers looking to purchase their own rifle-rated ballistic protection. Spartan's AR550 plates start under $200 per set, and the company offers a 10 percent LEO discount.
Strnatka says the efficient system Spartan has developed at its Arizona manufacturing plant enables the company to produce high-quality body armor and other tactical gear quickly and at a lower price.
"We're doing everything in house. We have the sheets of steel delivered to us, and then we're doing laser cutting, we're bending, we're coating, and we have two spray booths going at the same time," he said. "And because we buy so much steel, we have negotiated good pricing on our steel, and we pass that over to the customer."
Customer service is a priority, and Spartan staff work to answer calls and emails from customers within 24 hours. Lead time from order to delivery, at no charge, is usually within a week.
"We know the importance of getting people their armor," said Strnatka. "They don't want to wait a month. They want it to happen now, and if they have questions, we want to answer them. Our reviews show how responsive we are and that we do everything we can to get questions answered and get people what they're looking for."
That might not always be in the company's financial best interest, he added, because Spartan staff work with customers to identify the threats they face and which armor options will best meet their needs. Departments can request sample plates to conduct their own testing, as well.
"We're able to figure out what their real needs are," he said. "They think the most expensive thing has got to be the best, and that isn't always the case, because everyone's situation is a little bit different."

Request information from Spartan Armor Systems
Thank You!