Lights, camera, action! How LIVE PD broadcasts real-time police activity
Richland County (S.C.) Sheriff's Department is set to begin season two of LIVE PD, which has propelled officers to virtual celebrity status
---
Season two of A&E's hit television series, LIVE PD, begins Friday, October 6 at 9 p.m. ET. Deputies with the Richland County Sheriff's Dept. (RCSD) in South Carolina will again be among the six law enforcement agencies nationwide that A&E camera crews will accompany on Friday night patrols.
What's all the rage? Viewers have connected with RCSD deputies – as well as deputies, police officers and state troopers representing the other agencies – in ways that have unwittingly propelled those officers to virtual celebrity status.
In Richland County alone, during the first season and since, thousands of LIVE PD fans have phoned and emailed the department, even traveling to South Carolina from across the country in order to meet the deputies, take pictures with them, and get autographed t-shirts and posters.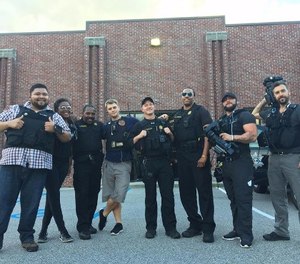 "It's unprecedented," says Richland County Sheriff Leon Lott. "LIVE PD has not only become one of the most popular television programs airing in primetime, but with pre-recorded episodes running at all other hours, the program has proven to be a boon for the almost-exponentially improved relationships between the participating law enforcement agencies and the communities we serve."
What is LIVE PD?
LIVE PD is real-time dash cam and other video action that brings everything from routine patrols and high-speed chases to domestic disputes, drug raids and counter-gang operations into viewers' living rooms two nights a week.
While the LIVE PD camera crews suited-up in body armor (and having previously signed waivers absolving the various police and sheriff's departments from any liability) are on patrol, ABC's Dan Abrams and police analyst Tom Morris Jr. are in A&E's New York studios providing real-time commentary and perspective, moving from one department's operations to the next.
Unlike COPS – the ever-popular prerecorded television series following law-enforcement officers during various police operations – LIVE PD is just that: Live! That dynamic quickly enabled the show to become one of the top-watched programs, averaging a million-plus viewers during its first season.
RCSD's PIO Lieutenant Curtis Wilson says three elements speak to the program's popularity.
"First, it's not just that five-second media soundbite or a citizen-recorded cell-phone video. With LIVE PD, you get to see everything from beginning to end, and you get to form your own opinion about what is taking place. Second, it builds community relations. The public gets to see us as human beings. Third, it allows others to see the good we do, and it may encourage them to say to themselves, 'I want to help better the lives of others like that.'"
How is a police department picked for prime time?
LIVE PD began for RCSD when Manhattan-based Big Fish Entertainment approached the department in September 2016. The production company was looking for a few good law enforcement agencies to feature and accompany during normal and not-so-normal police operations.

"All the programs and services we offer, as well as our work day-in-and-day-out, shows just how much respect the community has for this department," says Wilson. "That, combined with many of the high-profile cases we've worked on, how we've handled those cases and being featured on so many other programs, caught the attention of Big Fish and LIVE PD. We were then, as we are today, a natural fit."
How do the deputies themselves see it?
"They are thrilled with the opportunity to make the department look good," says Wilson. "This is about our hard-earned, hard-won reputation as law enforcement officers and shining a good light on that."

Sheriff Lott says the greatest benefit of LIVE PD has been the transparency and honesty of the documenting camera.
"The lens doesn't lie," he says. "The public is allowed to see how we talk to and interact with the citizens, and they with us. They see us being a friend and an aid to nearly every single person we encounter on the street. And that's not simply because we have the cameras trained on us. It has always been this way."
LIVE PD engages community, police officers
LIVE PD viewers are encouraged to post comments about what they are observing live on social media like Facebook and Twitter.
Lott adds, "One of the unexpected benefits of LIVE PD has been how many citizens within our diverse communities – who have perhaps struggled with trusting the police in the past – now see our deputies and other officers as both cops and human beings with the same feelings and many of the same life-experiences as anyone else."
LIVE PD launched on October 28, 2016, and RCSD has been with the series since the beginning.
The hit series began with two-hour episodes on Friday and Saturday evenings, but quickly increased to three hours, reaching a new ratings high of 2.1 million viewers in July of this year.