New border drug tunnel discovered under bathroom sink
A 220-yard tunnel with lighting and ventilation is the second such underground passage discovered in less than a week along the U.S.-Mexico border
---
By Elliot Spagat
Associated Press

SAN DIEGO — An incomplete tunnel designed to smuggle drugs into the United States has been found in Tijuana, Mexico, U.S. officials said Thursday, marking the second such underground passage discovered in less than a week along the southern border.
The approximately 220-yard tunnel with lighting and ventilation began under a bathroom sink inside a warehouse and did not cross the border into San Diego, Immigration and Customs Enforcement spokeswoman Lauren Mack told The Associated Press.
The Mexican army entered the tunnel Wednesday, Mack said. No drugs were found and no arrests were reported.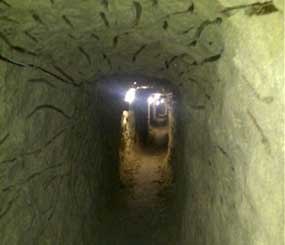 The Mexican army planned a news conference later Thursday in Tijuana.
Elsewhere, a 240-yard completed passage was discovered less than a week ago near Yuma, Ariz. U.S. authorities say that tunnel was operational.
As U.S. authorities heighten enforcement on land, tunnels have become an increasingly common way to smuggle enormous loads of marijuana into the country. More than 70 passages have been found on the border since October 2008, surpassing the number of discoveries in the previous six years.
Raids last November on two tunnels linking San Diego and Tijuana netted a combined 52 tons of marijuana on both sides of the border. In early December 2009, authorities found an incomplete tunnel that stretched nearly 900 feet into San Diego from Tijuana, equipped with an elevator at the Mexican entrance.
It takes roughly six months to a year to build a tunnel, authorities say. Workers use shovels and pickaxes to slowly dig through the soil, sleeping in the warehouse until the job is done. Sometimes they use pneumatic tools.
Copyright 2012 Associated Press
Copyright Associated Press. All rights reserved. This material may not be published, broadcast, rewritten, or redistributed.