New Chicago police superintendent promises 'smooth transition'
Superintendent Charlie Beck said he is still friends with former superintendent but 'all of us have to be accountable'
---
Jeremy Gorner
Chicago Tribune
CHICAGO — In his first public comments since Eddie Johnson's firing, interim Chicago police Superintendent Charlie Beck offered support for Johnson, saying Tuesday that they're still friends "but all of us have to be accountable."
Despite the disruption of Johnson's sudden removal, Beck vowed "a smooth transition" as he takes on the pivotal law enforcement post before a permanent successor can be chosen in the months ahead.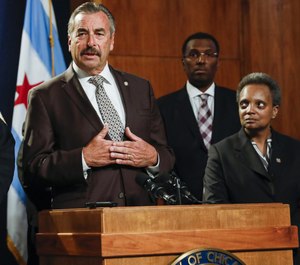 On Monday, Mayor Lori Lightfoot fired Johnson weeks before his retirement after she learned that the city inspector general's office had uncovered evidence that Johnson had lied about what happened on the late weeknight in October when he was discovered asleep in his running vehicle at a stop sign.
Beck said he still plans to talk to Johnson, adding, "We have talked." But he declined to be more specific about their discussions.
"I am still the former superintendent's friend, but all of us have to be accountable," Beck said in answer to a reporter's question at an unrelated news conference at police headquarters. "I know that. He knows that."
Asked if big changes were ahead for the department's command staff, Beck said a number of people "in very important positions" will be "retiring."
Beck said he was still considering "structural changes" to the department but didn't want to say more because he needed "more feedback" to make sure he was "on the right path."
McClatchy-Tribune News Service