St. Louis County police chief proposes merger with St. Louis city police
Goals include increasing the effectiveness of police services across the region and re-calibrating the public safety image of St. Louis
---
Christine Byers
St. Louis Post-Dispatch
CLAYTON, Miss. — St. Louis County Police Chief Jon Belmar has a plan to take over policing in St. Louis, but leave the 52 municipal police departments in the county intact — a move that appears to contradict efforts underway to erase the city and county's fractured government structure.
The goals outlined in Belmar's plan, titled "Law Enforcement: A Regional Approach," include: "Increase the effectiveness of police services across the region; increase the equity of police services in the region; and recalibrate the public safety image of St. Louis."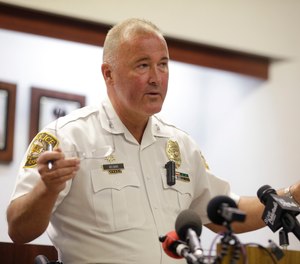 The idea stands in contrast to a campaign to consolidate municipal governments and police departments throughout St. Louis County with the city. That effort is headed by Better Together, a nonprofit group that has spent years studying how fragmented government affects the region. The task force is expected to release its report and corresponding plan this month.
In an interview Thursday, Belmar called his proposal a "concept paper." He said he asked his crime analysis unit to draft the document late last year.
He said he would not support a plan that would force municipalities to disband their governments and police departments. "I don't think a hostile takeover is the way to do this," he said.
Belmar has been an advocate of reform among municipal police departments, but on Thursday he said: "When we take look at the city of St. Louis and the challenges it has today, whether it's economic development or crime or a combination of both, I don't necessarily think we can draw a line and eliminate the Kirkwood Police Department and say this is the answer to our problems."
Part of the rationale behind combining all police departments is that 75 percent of the 52 municipal police departments in St. Louis County are unaccredited, and are frequently criticized for providing subpar police services. Another is that the St. Louis crime rate could be diluted with a larger population.
But the idea of eliminating municipal police departments and governments in St. Louis County is something the Municipal League opposes, said league Executive Director Pat Kelly. All but three municipal police departments are on track to become certified, he said.
He said Belmar met with him and "several other municipal police chiefs" weeks ago. "His plan sounds a lot like what I was recommending in that meeting, I just didn't know he had put anything in writing yet," Kelly said.
The proposal states: "The focus of the police resources must be to secure the downtown and central corridor. Safety is critical to the corporate and tourist center. This area brings external revenue to the city. Visitors to the city must feel safe to spend their money in these areas. If these areas are not (sic) longer viable, how can the city survive?"
St. Louis Police Chief John Hayden recently announced a focus on the greater downtown and central corridor area as part of the city's policing strategy for 2019. He issued a statement on Wednesday saying it would be premature to comment on the county chief's plan, which he said he had not seen.
Meanwhile, County Executive Steve Stenger and St. Louis Mayor Lyda Krewson are on record supporting Better Together's consolidation effort.
Stenger said in a statement: "I have been an advocate for bringing high quality policing standards to the region ... Any police reform effort moving forward needs to address policing standards, which is why I'll be supporting Better Together's plan on policing."
Krewson said she first saw Belmar's plan Wednesday. "The St. Louis city police department is an excellent department, and, as I know it, so is St. Louis County," she said. "But we have 53 other police departments in the county. And we know that we need consistent standards, consistent enforcement and consistent training, and you certainly don't get it by combining two departments into one and leaving the other 53. That doesn't really do the job."
More officers, money
Belmar's proposal unites city and county under one chief.
The proposal notes that the city police department currently has 1,328 commissioned officers with 465 professional staff for a total of 1,793 employees. The county has 1,006 commissioned officers and 329 professional staff members for a total of 1,335 employees.
His proposed department would include 2,654 commissioned officers, 767 professional staff members for a total of 3,421 employees, 320 more commissioned officers than now in both departments and 27 fewer professional staff members.
His proposed budget would be $354 million — $74 million more than the current budgets of the city and county police departments combined, with 320 more officers. Belmar said the cost could be covered by "existing revenue streams."
Belmar divides the combined department into 17 precincts: Affton, Airport, Baden, Central West End, Dogtown, Downtown, Dutchtown, Fenton, Jamestown/Black Jack, Jennings, Northwest City, Riverfront, Soulard, South County, Spanish Lake, West County and Wildwood. Those boundaries would divide the central corridor and downtown into two districts.
"The mission of these two precincts will be to make city attractions safe."
The unified department could be accomplished by a ballot initiative, the document states, or by a contract for services with the county to police the city. And it goes further than just police structure. Any ballot initiative, the plan states, must include St. Louis re-entering the county, the freezing of municipal boundaries in the county, abolishing the city earnings tax and adding the city to the county sales tax pool.
As for a timeline, the plan states, "Once legislation is enacted the plan to consolidate will likely take five years."
The first phase would include a transition team, "Headed by a former local government official who has the interest of the region in mind."
The second phase would include picking a new chief and instituting a new command structure and pay scale.
'Deep concerns'
Many officials in the city and county said they were unfamiliar with the five-year plan. Others were tepid.
Police union leaders in the city and county said they were unaware of Belmar's plan.
"Conspiring to gobble up one agency by another would be forbidden by the ground rules of our contracts," said Jeff Roorda, business manager for the St. Louis Police Officers Association, which represents city police.
John Gaskin III, president of the St. Louis County NAACP, said he has "deep concerns" about Belmar's proposal. "I was under the impression that we had come a little bit further since Ferguson," he said. "What I am particularly concerned about is how the areas where the most money is spent need to be protected the most under this proposal."
Gaskin said his organization would not support Belmar's plan to leave unaccredited police departments untouched in a plan for consolidation.
———
©2019 the St. Louis Post-Dispatch
McClatchy-Tribune News Service