Youngest police chief ever? 21-year-old to lead Ohio department
The small village has been without a chief since 2020 and hasn't had officers to patrol the community for four years
---
By Anne Berleant
NEW ATHENS, Ohio — Sabin Ward, 21, is now perhaps the youngest police chief ever in the state of Ohio – and maybe even in the country, The Intelligencer reported. Ward, who was sworn-in Friday to lead the New Athens police force, was eager to begin his first shift after the ceremony. 
"Being the age that I am puts a big responsibility on me, and I think I'm ready for that responsibility," Ward said.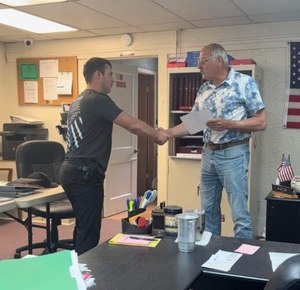 New Athens has been without a chief since 2020 and hasn't had officers to patrol the community, which has a population of 302 residents, for four years. Ward's role, according to The Intelligencer, is a part-time position.  
Ward has long dreamed of a law enforcement career. Aside from his newly appointed chief role, he's also an officer with the Bellaire Police Department, where he's been employed for the past 18 months – just a few months after graduating high school. 
"My dad was a police officer and my mom was a dispatcher," Ward told The Intelligencer. "Police work was always inspiring to me. I've wanted to be a cop since I was a little boy." 
Ward's first shift, he said, was a hectic one – mainly filled with organizing and updating equipment. 
"Hopefully by next week, I'll be on the road patrolling and showing the police presence," Ward told The Intelligencer. "I want the community to know the police department is someone that they can come to when they need help."
NEXT: State your case: How young is too young to be a police officer?