How to enhance police response to kids impacted by violence
The effects of family-related trauma can have repercussions for many years after the event
---
By Isaiah B. Pickens, PhD
Trauma compels us to protect ourselves from threats both real and imagined; it encompasses any event that makes individuals feel their lives or the lives of someone they love are in danger.
Any traumatic event represents a broad spectrum of situations that transcend race, age and socio-economic status.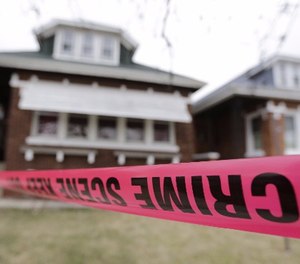 The complexity of trauma is why there are many terms to define it:
1. The effects of family-related trauma – or intergenerational trauma – extend beyond the individual and can be passed on to children, who in turn, become hypersensitive to perceived threats in their world.
2. Secondary trauma occurs when someone has constant exposure to traumatic stories and stress reactions of others.
3. Complex trauma highlights the cumulative impact multiple traumas can have on both community members and those tasked to protect them.
Studies show that when children are repeatedly exposed to trauma, the amygdala – the area of the brain known to activate the physiological stress response – overdevelops.
This overdevelopment increases the fear and anxiety children experience and causes them to be hyper responsive to frightening situations in both their physiology and their observable behavior.
At the same time, the development of these children's' hippocampus – the area of the brain known to turn off the stress response – is inhibited, decreasing its capacity to control the response.
Partnerships Are Key to Building a Trauma-Informed Community
Building a trauma-informed community is a daunting task, but possible with the support of key stakeholders and effective strategic planning.
Connecticut represents one of the most effective efforts to build a trauma-informed community in the country.
A key to the state's success is supporting cross-system collaboration and integrating community feedback into decisions.
The Yale University Child Study Center partnered with the New Haven Department of Police Services to implement the Child Development-Community Policing Program.
This program partners police with mental health clinicians to respond to situations where children may be impacted by trauma such as a domestic violence situation.
Their efforts recently resulted in a partnership with the Office of Juvenile Justice and Delinquency Prevention to develop a toolkit for law enforcement responding to children exposed to trauma.
In addition, the Child Health and Development Institute of Connecticut developed the Connecticut School-Based Diversion Initiative to address factors contributing to school children having contact with the justice system.
Among the first cohort of 13 schools completing the initiative between 2010 and 2015, court referrals decreased by 45 percent. Working with School Resource Officers and other school personnel, partnerships were developed with EMS agencies in Connecticut to ensure schools first refer students for services that address the root of their behavioral problems instead of solely engaging punitive actions that remove students from the school. Their efforts have substantially reduced suspension and expulsion in the schools they serve.
These large-scale partnerships between different systems and the added feedback of the community are pivotal for moving toward a trauma-informed community. However, community members and systems must first develop a common understanding around trauma to begin engaging in effective strategic planning.
Trauma is an explanation for behavior, not an excuse
Trauma-informed work in the criminal justice system is a complex enterprise. Both safety and justice must constantly be balanced. The problem with a singular punitive approach to policing and criminal justice is that it only shows what people can't do, not what they can do.
Adding trauma-informed practices to policing and criminal justice provides an explanation of why a person behaves in a specific manner and addresses the root causes of the behavior. This explanation allows everyone involved a chance to explore other options for how to handle potentially threatening situations before they turn into crises. For more information, visit www.chdi.org/our-work/mental-health/school-based-mental-health/sbdi/.
This article was originally shared on the U.S. Department of Justice, Office of Justice Programs (OJP) Diagnostic Center Consider the Evidence blog. The OJP Diagnostic Center works with law enforcement to address persistent and emerging public safety problems using evidence-based strategies. The purpose of the OJP Diagnostic Center is to ensure resources are available to state, local, and tribal law enforcement agencies to champion law enforcement officer safety and wellness; reduce crime (particularly violent crime and crime involving gangs and drugs) and make communities safer. Since 2012, the OJP Diagnostic Center has worked with over 60 communities on a wide range of public safety topics. Learn more at www.OJPDiagnosticCenter.org. Follow @OJPDC for the latest information on criminal justice topics.
---
About the author
Isaiah B. Pickens, PhD, is Assistant Director of Service Systems National Center for Child Traumatic Stress at the UCLA Neuropsychiatric Institute and Hospital, and Founder of iOpening Enterprises.