Graphic video: Suspected IS attack kills dozens at Istanbul's airport
60 others were wounded and taken to hospitals
---
Please note that some of the below images and video are extremely graphic.
By Dominque Soguel, Zeynep Bilginsoy. and Suzan Fraser
Associated Press
ISTANBUL — Suspected Islamic State group extremists have hit the international terminal of Istanbul's Ataturk airport, killing dozens of people and wounding many others, Turkish officials said Tuesday.
Justice Minister Bekir Bozdag said 31 people were killed in the attack while another senior government official told The Associated Press it could climb much higher.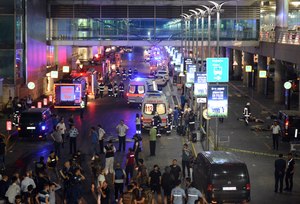 The senior official at first said close to 50 people had already died, but later said that the figure was expected to rise to close to 50.
The official, who spoke on condition of anonymity in line with government protocol, said as many as four militants may have been involved in the attack.
Turkey's NTV television earlier quoted Istanbul Governor Vasip Sahin as saying some 60 people were wounded.
Roads around the airport were sealed off for regular traffic after the attack and several ambulances could be seen driving back and forth. Hundreds of passengers were flooding out of the airport and others were sitting on the grass, their bodies lit by the flashing lights of the emergency vehicles.
Twelve-year-old Hevin Zini had just arrived from Dusseldorf with her family and was in tears from the shock.
Outside Terminal 1 at JFK, where a flight from Istanbul is arriving shortly. @abc7nyc pic.twitter.com/Kr0eaeWEoB

— Jim Dolan (@jimdolan7) June 28, 2016
She told The Associated Press that there was blood on the ground and everything was blown up to bits.
South African Judy Favish, who spent two days in Istanbul as a layover on her way home from Dublin, had just checked in when she heard an explosion followed by gunfire and a loud bang.
She says she hid under the counter for some time.
Atatürk Havalimanında patlama videosu... pic.twitter.com/j2lVXomTdN

— Zafer Çakır (@imgedengemi) June 28, 2016
Favish says passengers were ushered to a cafeteria at the basement level where they were kept for more than an hour before being allowed outside.
Another Turkish official said attackers detonated explosives at the entrance of the international terminal after police fired at them.
The official, who spoke on condition of anonymity in line with government protocol, said the attackers blew themselves up before entering the x-ray security check at the airport entrance.
"All Americans stand united with the people of Turkey against this campaign of hatred and violence." —Hillary pic.twitter.com/QmSccJvcV0

— Hillary Clinton (@HillaryClinton) June 28, 2016
Turkish airports have security checks at both the entrance of terminal buildings and then later before entry to departure gates.
Two South African tourists, Paul and Susie Roos from Cape Town, were at the airport and due to fly home at the time of the explosions and were shaken by what they witnessed.
"We came up from the arrivals to the departures, up the escalator when we heard these shots going off," Paul Roos said. "There was this guy going roaming around, he was dressed in black and he had a hand gun."
Instagram video from Istanbul Ataturk Airport captures the panic https://t.co/sMkjQXQRy6 pic.twitter.com/Re4JPLu9va

— Ragıp Soylu (@ragipsoylu) June 28, 2016
The private DHA news agency said the wounded, among them police officers, were being transferred to Bakirkoy State Hospital.
Turkey has suffered several bombings in recent months linked to Kurdish or Islamic State group militants.
The bombings include two in Istanbul targeting tourists — which the authorities have blamed on the Islamic State group.
"The United States condemns in the strongest possible terms today's heinous terrorist attack" —@PressSec on Istanbul pic.twitter.com/lmjPOcyya9

— The White House (@WhiteHouse) June 28, 2016
The attacks have increased in scale and frequency, scaring off tourists and hurting the economy, which relies heavily on tourism revenues.
Istanbul's Ataturk Airport was the 11th busiest airport in the world last year, with 61.8 million passengers, according to Airports Council International. It is also one of the fastest-growing airports in the world, seeing 9.2 percent more passengers last year than in 2014.
The largest carrier at the airport is Turkish Airlines, which operates a major hub there. Low-cost Turkish carrier Onur Air is the second-largest airline there.
Atatürk Havalimanı'nda yaşanan saldırıda çok sayıda kişinin yaralı olduğu bildiriliyor. pic.twitter.com/UUKrivqO4s

— sendika.org (@sendika_org) June 28, 2016
Copyright 2016 The Associated Press