What it was like to be Secret Service during the Clinton Administration
Politics aside, in law enforcement you take an oath to protect everyone
---
Gary Byrne is a name recognizable beyond the law enforcement sector. His name is topping the charts with his bestselling, non-fiction book, "Crisis of Character: A White House Secret Service Officer Discloses His Firsthand Experience with Hillary, Bill, and How They Operate" which reveals his experience as a federal law enforcement officer and the time he spent working in the Clinton White House. With 29 years behind him in law enforcement, 12 of those years were spent in the U.S. Secret Service and eight of those 12 were spent in the uniformed division guarding the Clintons.
In the run up to the 2016 presidential election Byrne spoke with me about his career as a Secret Service officer.
Before entering the law enforcement sector, Byrne spent four years in the U.S. Air Force as a police officer. Following his stint in the military, he had a desire to join the Secret Service. Though he did not have a college degree at the time, he soon learned that a degree was not necessary to join the uniformed division. Though it took him two and half years to join the service, he was sworn in on March 25, 1991.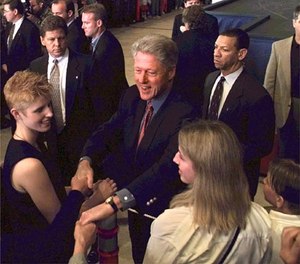 "It was a dream come true. I loved the training.  You show up and do what they tell you to do.  I loved everything about it," Byrne said during a phone interview.
Byrne worked in the White House's West Wing, and he had a key that allowed him to enter the White House. He worked under President George H.W. Bush.
"The Bush family was very nice and kind. He was a pretty interesting guy," Byrne said, and he noted that Bush had been a bomber pilot who was shot down and rescued. "Politics aside, you protect everyone." 
When Bill Clinton ran for president, the Secret Service began providing the Clintons protection in Arkansas. Metal detectors were utilized at his events. When Byrne and his colleagues were on duty, the sheriff, with a 1911 pistol on his hip, approached them and asked, "Do you have any idea what you are doing here?" 
When Bill Clinton became president, Byrne's first post was outside his office and he protected Clinton for eight years. There were 100 officers stationed in Washington, D. C. at the time. Byrne acknowledged that any animosity that may have existed between agents and officers fell by the wayside knowing that the main focus was to protect Clinton.  
Byrne described his unfortunate claim to fame was during the Monica Lewinsky scandal when he was the first employee compelled to testify. He was subpoenaed six times.
"Part of me wanted to get it over with. Don't hold me responsible for his bad behavior. We ended up giving many hours of depositions and video testimony. I refer to it as 'The John Grisham moment'," Byrne said.     
Byrne knew he could be forced to testify if the matter went before the Grand Jury. When he walked into the courtroom, there was no attorney-client privilege.
"It was about the worst day of my life. I didn't want to be that guy," Byrne said.
Upon entering the courtroom, he experienced significant anxiety and thought to himself, "I'm about to throw up."
He told the marshal that he needed to go to the bathroom where he got his composure in check. When he returned to the courtroom, he said, "I'm ready," as a jury was walking toward him.   
One of the first questions asked to him was, "Have you ever seen Bill Clinton and Monica Lewinsky alone"? The Justice Department attorneys told him not to answer. 
The press referred to Byrne as the "White House guard."
"I became the poster boy," Byrne said. He tried to get promoted but he was told, "You've got no future here."
Before the scandal broke, he always had the desire to be an instructor at the training center. Byrne never relented in his desire to achieve that goal and, after three years, he succeeded in becoming a firearms instructor. When colleagues saw him in that role, Byrne said he was given the look that suggested, what are you doing here?  
In January 2003, Byrne fulfilled his other career desire and became an air marshal for the next 13 years of his career. He flew a total of 4 million miles, which is equivalent to circling the globe 166 times. 
 "Crisis in Character" was initiated at the urging of others who felt he should tell an important story. After his initial reluctance, he decided he wanted to do it. It became his mission.
"I was going to do it. I wanted to get the truth out about the Clintons," Byrne said.
Since June 2016, over 300,000 copies have been sold.
"It was my life, I lived it," Byrne said.
Byrne admitted that writing the book changed him and the impact of doing it was profound.
"It has made me more grateful for the country we live in. It made me grateful for a lot of things," he said.