Recipe ready: What every cop needs to know about cooking
At the end of the day, cooking is a lot like police work: it's really simple for the most part
---
Editor's note: What is your go-to recipe? Share in the box below. Your recipe could be selected to be featured in a cookbook from Cordico, a leading health and wellness app for first responders.
By Matthew Solak
A recent search I did on the Police1 website for the word "recipe" yielded over 220 hits, but very few of them had anything to do with cooking.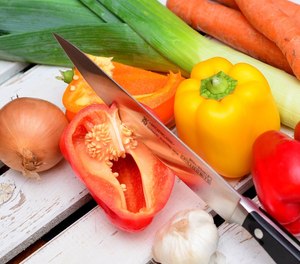 In our line of work, terms like "recipe for success" or "recipe for disaster" are used far more frequently than anything having to do with a sauté pan and olive oil, but I think that should change.
When I teach officer wellness to recertification classes in Connecticut, I talk about food and nutrition. I always ask my students how many consider themselves to be decent home cooks. Invariably, about one-third or less say they are. Why is this? As police officers, we are used to doing many important tasks simultaneously while paying attention to small details and keeping track of time, all of which are skills any cook needs to master. So how come we're not cooking more for ourselves and our families?
There are many well-written articles out there about eating right and the importance of healthy food, and I couldn't agree more; ditch the fast food and convenience store diet, and you'll guarantee to look and feel better.
However, there's a big difference in picking up a bag of grilled chicken strips and broccoli florets from the frozen food aisle of your local market, and it isn't just in the preservatives, additives and salt that are in those bags, too. It's about the process of cooking real food for yourself and your family or partner, and the value that the process can bring to you.
I realize we're all busy, working overtime and taking double shifts on top of everything else we're doing in our busy lives, but real cooking isn't like the crazy, made-for entertainment competitions we see on television all the time. At the end of the day, cooking is a lot like police work: it's really simple for the most part.
[RELATED: Take Police1's 30 days to better health challenge]
I guarantee that anyone reading this article can start cooking great food right away, and if you started learning to cook on a Friday night, by the time Monday morning showed up, you would have meals ready for the week. I promise it. Take some of the following tips into consideration, and watch how quickly you'll be making delicious, healthful food right at home!
LeBlanc's Frenchtown Candied Kielbasa

4 pounds quality Kielbasa (NOT Sausage) such as Dearborn Sausage Co. brand
1 cup Brown Sugar (packed)
1 large bottle of Sweet Baby Ray's BBQ Sauce
¼ cup Horseradish
¼ cup Dijon Mustard
Honey
1 medium onion – slice into large pieces
Chunk pineapple – one 16 oz. can, including its juice
Large roaster pan (or sturdy foil pan)

Prep time:  20 minutes  

Cook time:  2 hours or so  

Directions:  Preheat oven to 375 degrees.  You can also cook this over a fire or a BBQ Grill.

Slice the Kielbasa on a diagonal into larger than bite-sized pieces. 

I parboil the Kielbasa in a large pan for 15 minutes to remove some of the fat, but this is an optional step.

While the Kielbasa is parboiling, combine all other ingredients except the Honey in the roaster pan (or comparable) and mix well.

Drain Kielbasa and pat dry to remove water. 

Mix the Kielbasa with the other ingredients and cook covered (with a lid or tin foil) at 375 degrees for about 90 minutes, stirring occasionally.  The goal is to have the wet ingredients thicken, reduce and become sticky, so more cook time may be necessary.

Drizzle honey over everything (and more BBQ sauce if desired), stir, then return to the oven uncovered for 15 minutes. 

Serve as a side dish or appetizer. You and your guests will love it!

PS:  I have my own cookbook with about 50 personal recipes titled "LeBlanc's Frenchtown Recipe's."

Find an easy-to-read, simple-to-make recipe to start. Skip the latest Internet fad recipe with 8,000 ingredients and three different cooking methods. It might sound funny but look for a cookbook from the 1970s or 1980s. They were written way before the overhyped, sensationalized cooking-as-competition scene really took off. Many timeless, wholesome recipes have a dozen ingredients or less, and they're great places to start and build a foundation.
Know what you already know. If you can grill burgers and hot dogs for July 4, you can certainly grill poultry, seafood and veggies any other day of the year. If you can boil water for instant rice, you can make a delicious quality grain like couscous or quinoa. Put any of the above ingredients together and you have a great meal done!
Find the time to do the work. When you're first starting out to learn to cook, you don't want it to be a stressful experience, especially if you make a mistake and have to start over somewhere. Pay attention to the prep time on the recipes, and make sure you have the time to devote to it.
Make food that you know you'll want to eat. We've all been inspired to eat clean and healthy, but after the third day straight of ground turkey and rice, it's over. A simple trick is to make a list of your favorite meals, whether it's from your childhood, a favorite restaurant, or a local takeout place, and then start trying to make them from scratch yourself. Once you get comfortable, you can start experimenting with healthy alternatives if you want, like making the meal Paleo-friendly, vegan, or gluten-free; it's completely up to you.
Lastly, learn the importance of good sourcing. I'm not here to tell you that fruits and vegetables grown in season and livestock found within your region are better for you than mass-produced or factory-farmed products from the other side of the country is, but it's true. There's less refrigeration, preservatives and handling involved, which means the food is better for you when it gets into your fridge and then onto your plate. Every jurisdiction in the country either has or is close to, a farmer's market or CSA program, where you can buy locally grown and sourced food. Plus, you get to meet the farmers, and ask them how they like to cook their product or produce, and what their favorite recipes are – it's a win/win situation!
Finally, don't be afraid to start cooking! As cops, we do things every day that a majority of the people we protect and serve don't want to, and the last thing we should be intimidated with is the kitchen. Go onto Google and YouTube and start looking for easy, simple recipes that you can make, incorporating some of the tips above, and you'll be amazed at how quickly you'll be preparing great food at home! Remember, if you can be a cop, you can be a cook.
Police1 reader recipes
Layer the following in a pan: 24 eggs (whisked), 1 green bell pepper (chopped), 1 bag of spinach, 1 onion (chopped), 1 pound of ground beef or turkey (seasoned, cook separately then add), bag of cheese (in middle and on top). Cook in the oven at 350° until ready (about 10-15 minutes). Add diced jalapeno with seeds removed (optional). You've got breakfast for a week full of nutrients.

Baked chicken breasts, seasoned with different herbs and spices for variety. It's the easiest way for me to have lean protein on hand for salads and other quick meals.
---
About the author
Matthew Solak has been with the Willimantic (Conn.) Police Department for 16 years, and presently serves as the administration lieutenant. A strong advocate for training and education, Lieutenant Solak has been a Connecticut Police Officer Standards and Training Council certified instructor for over 10 years and is presently completing his master's degree from Trinity College. Lieutenant Solak's previous assignments have included field training officer, special operations group team member and bike patrol/community policing officer. Lieutenant Solak's main areas of interest include officer health and wellness and the intersections of community/police partnerships within the mental health/substance use disorder areas.
What is your go-to recipe? Share in the box below. Your recipe could be selected to be featured in a cookbook from Cordico, a leading health and wellness app for first responders
What is your go-to recipe?