LAPD releases additional video of Trader Joe's OIS
Officials released audio and video of the vehicle pursuit, shootout and hostage standoff
---
By Cindy Chang
Los Angeles Times
LOS ANGELES — Additional video and audio of a vehicle pursuit, shootout and hostage standoff at a Trader Joe's in Silver Lake that took the life of a store manager hit by a police officer's bullet was released Tuesday by the Los Angeles Police Department.
Within days of the July 21 incident, department officials released dashboard and body camera videos showing two officers shooting into the Trader Joe's front entrance at a man who was firing his gun wildly after shooting at them during a pursuit.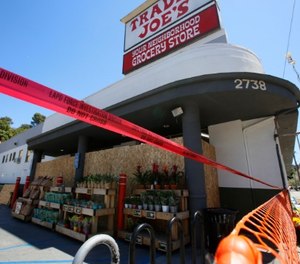 At that time, Chief Michel Moore announced that the store manager, 27-year-old Melyda Corado, who emerged from the store as the suspect exchanged fire with the officers, was killed by an officer's bullet.
Moore said he released the initial batch of videos to give the public an idea of what happened.
The second batch, which was released as part of a new LAPD policy requiring recordings to be made public within 45 days of shootings by police officers, does not contain new footage of the shootout and does not shed further light on how Corado died.
But 911 calls, as well as previously unreleased videos of the pursuit and negotiations with the gunman, provide a fuller picture of the dramatic events that unfolded on a Saturday afternoon at a store that is a popular gathering place for locals.
Attorneys for Corado's relatives, however, criticized the LAPD's video releases as "edited and highly produced."
"Despite our multiple requests, the LAPD will not release the raw, unedited car, helicopter and body cam footage available," one of the attorneys, John C. Taylor, said Tuesday. "They want no information released that could play negatively against them."
The suspect, Gene Atkins, ended up at the Trader Joe's after allegedly shooting his grandmother several times at their South Los Angeles home, officials said. He is accused of forcing a young woman into his grandmother's car and driving with her to Hollywood, Cmdr. Alan Hamilton, who leads the LAPD's Force Investigations Division, said in the video released Tuesday.
In a 911 call around 1:30 p.m., a woman said to the dispatcher: "The front house in front of me, I think it's my aunt's grandson just shot her."
She described the car that the suspect used to leave the scene — a dark blue 2017 Toyota Camry, heading west on East 32nd Street.
Another 911 caller said she heard multiple gunshots and screams.
"There's a guy who has a little girl. She has blood everywhere," the caller said before reciting the Camry's license plate number.
"I seen him get out the house carrying a lady with blood," she added.
Police used a vehicle anti-theft system to track the Camry to Hollywood, Hamilton said.
Tuesday's video shows a police car pursuing the suspect up Vine Street toward Hollywood Boulevard, passing the Capitol Records building.
At one point, the driver pulled into a gas station and attempted to carjack a customer, officials said. As he headed toward Silver Lake, the right front tire fell off his car, but he continued fleeing at high speeds.
The video then segues to previously released video of two police officers, identified by the LAPD as Sinlen Tse and Sarah Winans, pursuing the Camry on Rowena Avenue in Silver Lake. It includes a slow-motion replay of shots being fired through the Camry's back window.
"Shots fired!" Tse shouted to his partner as he swerved into oncoming lanes.
"All right, partner, I got my gun out," Winans said after calling on the radio for help.
"Do not, do not shoot," Tse told her. "Get distance. We are getting distance."
Forty-five seconds later, the Camry veered into a utility pole in front of the Trader Joe's, and the driver bolted for the entrance, firing his gun wildly from his hip.
The officers had less than two seconds to react before the gunman fled into a store full of shoppers. The video shows a man by the entrance and another behind the wreck but not who was behind the glass front doors.
The officers opened fire. One of their bullets struck Corado, passing through her arm before entering her body. Another bullet hit the suspect in the arm, but he made it into the store, shooting at least three times at police from inside, officials said.
After the initial exchange of gunfire, the officers moved to a low wall opposite the market. The gunman shot three more times at police from inside, striking the wall and a pole near police. One round landed with a loud ping.
"Get your head down," an officer yelled.
The gunman held a group of shoppers and employees hostage for three hours before surrendering. Several hostages tried to help Corado and carried her out of the store, but she was pronounced dead in an ambulance, Hamilton said.
The woman with Atkins during the police pursuit was treated for a gunshot wound to the head and taken to the hospital.
Tuesday's release contains an audio recording of a police officer speaking to the gunman by phone while trying to convince him to let the hostages go.
"OK, OK, that works for me," the officer said. "Just OK, just do me a favor, just hang tight. I'm gonna … I'm gonna hang up right for you for one second. I'll call you right back, OK?"
The officer then told colleagues to provide the gunman with handcuffs.
"He says if you guys would throw a set of handcuffs in, he'll have somebody handcuff him," the officer said.
Atkins faces 51 felony counts, including murder, kidnapping, premeditated attempted murder and attempted murder of a peace officer.
Though Atkins, 28, did not fire the round that killed Corado, prosecutors charged him under the "provocative act murder" doctrine because they say he set off the events that led to her death.
Moore has said that he will wait until the investigation is completed before determining what consequences, if any, the officers involved in the gun battle will face internally. But on its face, he said, their decision to shoot at Atkins appeared justified.
On the video released Tuesday, LAPD spokesman Josh Rubenstein said that investigators still have additional body camera video to analyze and many witnesses to interview.
McClatchy-Tribune News Service