Fla. teen charged in killing of police K-9 named Fang
The Jacksonville Sheriff's Office says a 17-year-old boy is charged with shooting Fang and armed kidnapping
---
Associated Press

JACKSONVILLE, Fla. — Florida authorities say a teenager has been charged in the armed carjacking that killed a police dog named Fang.
News outlets quote the Jacksonville Sheriff's Office as saying a 17-year-old boy is charged with shooting Fang and armed kidnapping. Sheriff's Office Lt. Craig Waldrup said Monday that the boy has admitted to the charges.
An arrest report says the teen got into a car at a gas station and held the driver at gunpoint. It says he later ordered the driver and her passenger out and drove off.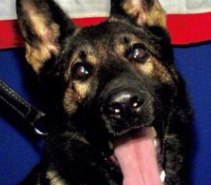 Authorities tracked the car's GPS system and remotely shut the engine off. Deputies say the boy fled the car on foot with K-9 Officer Matt Herrera and the 3-year-old German shepherd in pursuit. They say the boy then fatally wounded Fang.