Pa. mayor to sign bill restricting facial recognition software by police
Pittsburgh Mayor Bill Peduto has said the software should still be used to investigate felony cases
---
By Tom Davidson
The Tribune-Review
PITTSBURGH — Pittsburgh Mayor Bill Peduto plans to sign legislation passed Tuesday by city council that restricts the use of facial recognition software and predictive policing technology by police, mayoral spokesman Tim McNulty said.
The legislation passed with no opposition. Councilman Anthony Coghill abstained.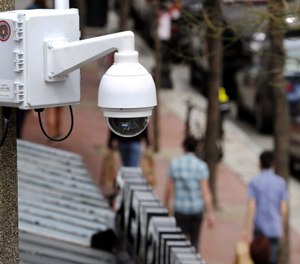 Councilman Ricky Burgess voted in favor of the bill, but derided it as a "Pinocchio bill" that's little more than "window dressing" for the Black community.
"This is an irrelevant piece of legislation. It suits no purpose and it has no meaning," Burgess said.
Sponsored by Councilman Corey O'Connor and revised with help from Councilwoman Erika Strassburger, the city's law department and Peduto's chief of staff Dan Gilman, the bill requires council approval before police purchase any new facial recognition software or predictive policing programs.
It does not stop Pittsburgh police from using the Pennsylvania Justice Network, known at JNET, or any other programs used by other law enforcement bodies.
Public Safety officials have previously said the department doesn't own or use its own software, and earlier this year it stopped using a predictive policing algorithm developed by Carnegie Mellon University.
Burgess is against predictive policing and said facial recognition software should only be used to investigate felony cases. Because the bill implements no substantive changes, it effectively does nothing, Burgess said.
He said the bill amounts to a "wink-and-nod" at the Black community to appease them in the wake of activism that's been brewing for years about racial inequities in the region, and across the nation, that have spurred the Black Lives Matter movement.
Burgess shepherded a series of reforms passed by council in June. That includes diverting $250,000 for new police recruits into a Stop the Violence Fund to reduce crime and violence.
The reforms ban use of chokeholds by police and forbid the purchase of surplus military equipment for police without council approval.
Burgess' reforms also require officers to intervene in a situation where they aren't in danger of serious bodily harm. It's designed to prevent situations like the May 25 death of George Floyd in Minneapolis, who died while one officer knelt on his neck and other officers watched.
O'Connor has called his bill another step toward reforms and other members agreed.
"We can get started today and improve on it," Councilwoman Deb Gross said. "I think what we should not do is dither too much."
The bill was introduced Aug. 25 and council has heard from several community members, including many affiliated with the computer science programs at Carnegie Mellon and the University of Pittsburgh. They supported the legislation, saying that inherent biases against Blacks and minorities are part of using facial recognition software and predictive policing programs.
While Peduto supports the bill, he's said that facial recognition software should be used to investigate felony cases.
©2020 The Tribune-Review (Greensburg, Pa.)
McClatchy-Tribune News Service