7 off-duty first responders help save man choking at NJ restaurant
The police officer, firefighter and EMS providers from five different departments were at the same restaurant by coincidence
---
By Laura French
RAHWAY, N.J. — Seven off-duty first responders from five different departments helped save a man choking at a New Jersey restaurant on Monday night. 
The first responders were eating at the same Rahway restaurant by coincidence when the man began choking on a piece of steak, according to the Daily Voice. Elizabeth EMT Amber Henderson was the first of the off-duty first responders to notice the man's distress when she saw a woman hitting the man in the back.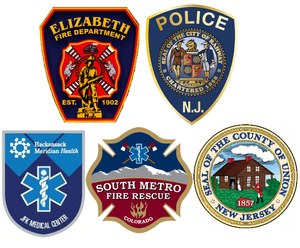 Henderson began performing the Heimlich maneuver and managed to dislodge a small piece of food but the man was still choking. Then, off-duty Rahway Police Officer Eddie O'Donnell came over to help, followed by off-duty JFK (Hackensack Meridian Health) EMS EMTs Peter Dudek and Jacob Kay, JFK EMS Paramedic Elizabeth Buckridee, former JFK EMS Paramedic and current South Metro, Colorado, Firefighter-Paramedic Andrew Buchanan, and Justin McGee of Union County EMS, whose title was not reported. 
The first responders took turns performing the Heimlich and later began to perform CPR. When the fire department arrived, the off-duty and on-duty first responders worked together using the equipment now at their disposal to continuing lifesaving measures and try to suction out what was left of the obstruction. Eventually, an ambulance crew arrived to transport the man, and managed to remove the larger chunks of food from the man's airway. 
Elizabeth Fire EMS Supervisor Carlos Gomez praised the group of first responders, saying the incident "speaks volumes of their character and how quickly they reacted and worked together to the situation that thankfully saved this person's life," according to the Daily Voice.