SHOT Show 2013: W.L. Gore single-wall weatherproof boots
---
One of my first stops on the trade show floor at SHOT 2013 was W. L. Gore & Associates.
The company had just recently announced a new single-wall boot technology called GORE-TEX Extended Comfort Footwear, which had piqued my interest sight-unseen.
When I saw the revolutionary new technology up close, I was happy I'd paid a visit.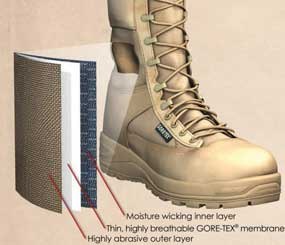 Cool, Lightweight, and Waterproof
In previous-generation waterproof boots, a two-layer construction was commonly used. While very effective, this type of design opened up the possibility for water and/or heat to get between the layers.
Heat is always an issue for boots, regardless of the precipitation outside. After all, what good is a waterproof boot if your feet are sweating so much your socks are soaked in bone-dry weather? 
With the new single-wall construction being implemented by a handful of boot manufacturers using the new material from Gore, that heat problem is solved. The breathability is excellent, while also providing protection against outside moisture. 
These new designs offer the breathability of a warm-weather boot, with the water-resistant benefits of waterproof boot style while also allowing moisture vapor to escape. 
Anyone who spends a good portion of the day on their feet, weight is a major concern. Each of the boots on display at SHOT were very light in weight, and featured all typical elements — grippy, aggressive soles, stout construction, etc. — you'd want in a patrol boot. 
No More Waterlogged Boots
Few things are worse — at least as far as footwear is concerned — than discovering that the wet boots from last night are still wet in the morning.
Using this new Gore material in the design and construction of new models, boots can be made that have about 10 percent (or less!) of the water pickup of a traditional boot, enabling boots to be completely dried out in a very short period of time. 
There were four different manufacturers on display at the Gore booth — Bellville, Propper International, Reebok, and STC (Shoe Technology Company) — and there are surely to be more vendors picking up on this great new material.
According to the folks at Gore, boots from all four of these companies are available in black and desert brown (and apparently in some cases, even OD green).
Further information for interested military personnel is here, while cops will want to refer to the Gore LE page with which you're probably already familiar.