PRESS RELEASE
Terradyne makes new gas delivery system available on the Terradyne Gurkha
---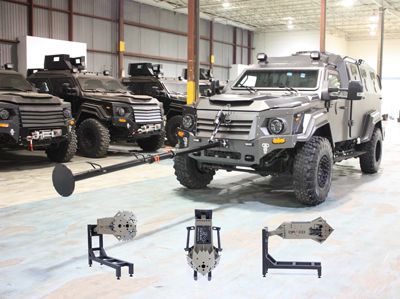 The DRACO gas delivery system by J&N Tactical is now available on the Terradyne Gurkha as optional equipment when equipped with our power operable RAM system. Terradyne's power RAM upgrade provides an operator with breaching capability of over 55 inches of power actuated vertical travel at the touch of a button while positioned inside the armored vehicle.
"DRACO was engineered and designed to be the first command initiated gas delivery system which can deploy two command initiated NFDD's and six chemical agent canisters in a controlled and safe manner into a structure or opening. DRACO allows the agency in command of the operation the ability to deploy a force continuum when making the decision which chemical to use and how much - Safe Smoke, OC Vapor and CS canisters. The inventory of canisters and NFDD's are initiated by J&N Tactical's patented command initiated firing system."
About Terradyne Armored Vehicles
Terradyne is tasked with designing, developing, testing and manufacturing a select range of armored personnel carriers and tactical armored vehicles. Terradyne's formula to success consists of a purpose designed production facility established within a 30,000 square meter plant; a hand-picked team of specialists automotive and armoring engineers; shared armoring development and technology; distributor, dealer and service support networks; global cooperation via the Canadian Trade Commissioner Service; delivering a vehicle that will do what it says on the box.

Request more info from Terradyne Armored Vehicles Inc
Thank You!