Review: MILITAUR's cooling vest reduces sweat, cuts odor
The mesh ventilation makes a space between you and your body armor, creating air flow to keep you cool
---
Sponsored by MILITAUR
By Sean Curtis for Police1 BrandFocus
I was recently asked to conduct a review of a product called the MILITAUR Cooling Vest. When I heard it was a mesh vest that users wore under their ballistic armor, I was skeptical. I have seen several similarly-described products come out over the last couple of decades promising to keep me from being completely miserable while wearing my vest. None of them lived up to the hype. That was before I tried MILITAUR.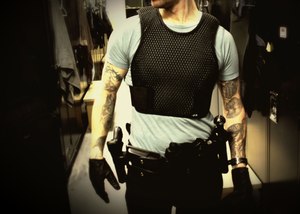 For reference, I come from the era of law enforcement where body armor was still optional and sometimes officers did not wear it because it was uncomfortable, hot, sweaty, or malodorous. Thankfully, things have progressed and officers on the street have a lot of options when it comes to body armor. The undershirt vests have gotten more comfortable, but there are now overvests (soft body armor designed to look like the uniform itself), and plate carriers for more serious protection. For all these options the MILITAUR product really works.
Looks like modern chainmail with a different kind of protection
MILITAUR sort of looks like modern chainmail. It won't protect you from bullets, knives or swords, but it will protect you from overheating and getting ripe during your shift. It also delivers a layer of comfort not dissimilar to the padding worn by knights in the days of yore. Like I mentioned above, skepticism flooded my mind when I heard it was an undervest made of mesh. Other companies have offered products like this before and they may have made things marginally better, but the heat, stickiness, and sweating were still a problem. Peeling off your undershirt at the end of your shift was not a pleasant task and there were times when – I swear – I could have fried an egg on my trauma plate.
Modern science takes mesh to a new level
When the product arrived in the mail, I opened the box and was impressed. I live in a cold climate and I understand the concept of dead air space, or loft. In sleeping bags or puffy jackets, users more easily retain heat when they have some type of dead air space between them and the external environment.
MILITAUR takes this same concept but applies it in reverse. First responders get hot and sweaty in their body armor because there are extra layers on the skin. The body responds with its natural cooling system – sweating. This process normally works well because of evaporative cooling. When the sweat is exposed to air, it evaporates, and this process cools the body. Unfortunately, an undershirt, vest, and uniform shirt work as laminate layers, building heat through insulation. The sweat rises to the skin's surface, but it cannot properly reach the air because it is absorbed by shirts or vests. There, bacteria (odor) grows or you get those lovely sweat stains that so many uniform shirts are fraught with. This trapping of heat is not only uncomfortable, it can be dangerous.
MILITAUR takes mesh to a new level. Rather, it takes it to a new layer. The company, who understand the needs of first responders because they are first responders, use what they call "innovative 3-D mesh." Normal mesh does little to aid with evaporative cooling because it simply compresses like other layers and does not allow air to flow. Looking at the vest I received in the mail, I began to gain hope. It was fully an eighth of an inch (if not more) thick of woven mesh. When I attempted to crush it, the mesh resisted. When I persisted with pressure I eventually succeeded, but the mesh sprang back as soon as I let off pressure. I was intrigued and knew I would have to take the garment out and test it under hotter circumstances.
Testing the vest in fields of fire
My law enforcement career has led me ultimately to the green pastures of the office where suits and ties command the day and working weekends or on-call is a dreaded thing of the past. However, as a firearms instructor, I still spend time outdoors, at the range, in the heat. I recently attended a rifle training taught by a former Israeli Defense Force, Special Forces Operative and thought this might be the perfect crucible to test the claims of MILITAUR.
The weather was fair; in fact, it got up to 75 degrees. While this is by no means hot, it is great for Colorado in May and we were working in direct sunlight with no breaks from cloud cover. I donned the MILITAUR vest, then placed my ballistic overvest on top of that. I went through several drills designed to build and test my rifle handling and accuracy. Some of them included sprinting to firing positions while my instructor yelled out commands. I was sweating before long but I began to notice several things that were different than all my years in uniform – I was a lot more comfortable.
Sure, I was sweating, but I wasn't dripping wet. My shirt had gotten damp as I dashed back and forth between drills and ammo runs. Scientifically, I understood this was the normal method of cooling, only now, it was happening because there was airflow under my vest. I was warm, but I wasn't hot. I also wasn't constantly tugging at my ballistic vest trying to wrestle it into a position of comfort, not even when I laid out prone to sight in my rifle. There was no binding, pinching, or chafing like I was used to either. The MILITAUR kept me comfortable and relatively cool considering the circumstances.
There was a time in my career where I used tubing, a transmission funnel, and Velcro to direct my patrol car's air-conditioning directly under my vest. After I'd get back in the car on hot days, I would stick this tube down my vest and force evaporative cooling to happen. I am so glad there is a better way to do this and I hope vest-wearing first responders everywhere hear about this product. The heat, the discomfort, the stench, can all be minimized by using MILITAUR.

Request information from MILITAUR
Thank You!