How Axon's Signal Sidearm alerts nearby Axon body cameras to begin recording
A new wireless technology from Axon is a game changer
---
Sponsored by Axon
By Doug Wyllie for Police1 BrandFocus.
Oftentimes, an event unfolds so rapidly — escalates from zero to gunfight in a split second — that officers wearing a body camera may not have the opportunity or ability to activate it.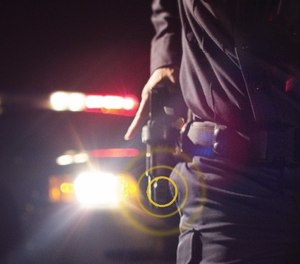 This may cause doubt or distrust among people who are either unaware of how the dynamics of a deadly-force encounter actually work, or are pre-disposed to disbelieving the statements of a police officer.
Axon Enterprise, Inc. (formerly known as TASER International, Inc.) has come up with an elegant solution to this problem: Signal Sidearm.
AXON SIGNAL SIDEARM
Signal Sidearm is a smart sensor that attaches to most firearm holsters currently used by law enforcement.
When a firearm is removed from its holster, a wireless alert is sent to all Axon cameras so they may start recording.
Signal Sidearm is an extension of the company's existing Axon Signal technology, which works with TASER Smart Weapons and police cruisers. Axon launched Signal Vehicle in 2015, which alerts Axon body cameras to begin recording when events like the lights and sirens are activated, or when doors are opened. Last year, the company introduced the Signal Power Performance Magazine, allowing the same camera activation when a conducted electrical weapon is armed.
HOW IT WORKS
With Signal Sidearm, as soon as a firearm is drawn, the sensor is triggered and alerts all nearby Axon cameras to begin recording. The signal is sent to Axon's most recent camera models, including Axon Body 2, Axon Flex 2, and Axon Fleet in-car cameras.
"The need came from the fact that we had a camera — the Axon Flex and the Axon Body — that require manual actions to begin the recording process," said Steve Tuttle, Axon's Communications VP. "Agencies found it was almost worse to have a camera and not turn it on than to not have a camera at all."
For example, officers doing their job in a critical moment may forget to turn that camera on. Even though pressing a button retrieves between 30 and 120 seconds of recorded buffer time, that recording has no value if the officer doesn't have time to push the event button, or it's just missed by accident.
"This is going to save some careers because it will get rid of any of that speculation you get from police critics about a camera not being activated," Tuttle said. "We know we can alleviate that with this technology."
ACTIVATION
With Signal Sidearm, if officers use their pistols in a situation that is spontaneous, dynamic, and rapidly unfolding, they no longer need to worry about activating the event button on their body camera.
"Police aren't charged with being film directors," Tuttle said. "They're there to protect the public, and they deserve the right to go home safe to their family. They have to put public safety first, let them focus on their job."
When an officer draws his firearm, his Axon camera and all surrounding Axon cameras are signaled to record. The signal lasts 30 seconds.
"So if other officers show up 10 or 20 seconds or 30 seconds later, their cameras will be alerted too," Tuttle said.
After the event, all of those camera angles can be seamlessly linked together using Evidence.com software, so each officer's view of the event can be seen simultaneously using multiple side-by-side windows on the computer screen.
HOLSTER ATTACHMENT
Signal Sidearm attaches to an officer's existing holster without interfering with normal operation.
It's about the size of an old-fashioned razor blade cartridge. A small footprint is important to ensure it doesn't snag or interfere with physical activities and stays in place.
Tuttle also emphasized that the presence of the sensor has no impact on the officer's gun itself, nor does it in any way interfere with normal operation of the holster.
"We're not affecting the draw," he said. "We're not changing the gun."
Tuttle said that armorers can install the Signal Sensor quickly on most holsters. If an agency wants professionals to come in and do the installations, Axon can help train users.
Signal Sidearm will be available for purchase later this year.

Request information from Axon
Thank You!