How an app is bridging the communications gap between first responders and people with disabilities
The Vitals app and Bluetooth beacon share critical, user-specific information to guide first responders in interactions with vulnerable persons
---
Sponsored by Vitals Aware Services
By Laura Neitzel for P1 BrandFocus
Most police officers go into law enforcement out of a sincere desire to help people. Having to use force against any suspect is an unfortunate part of the job that can be traumatic for both the suspect and the officer involved. When a police encounter involves a vulnerable person with a communication disorder or an intellectual disability, the complexity of the situation is compounded.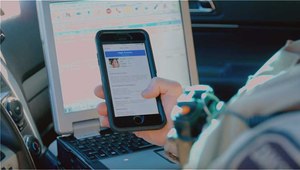 Conditions like mental illness, intellectual disabilities or an autism spectrum disorder are often invisible, giving no clue to the police officer that the situation may need to be handled in a different way.
Although it may appear that a suspect is refusing to comply with orders, he or she could be deaf and simply not hearing the commands. A teenager who appears to be impaired by illicit drugs may instead be exhibiting common behavior for a person with autism. Someone acting erratically, aggressively or inappropriately may have PTSD, dementia or a traumatic brain injury.
"As a police officer, you can get in a situation where you have to make a life-and-death decision in a split second, and sometimes you don't have all the information you need," said Chief Janeé Harteau, a retired chief of police and president of Vitals Aware Services. "That decision may not end up being the right one, but it's based on the information you have at the time. It can be life-altering, not only to the individual involved, but to the first responder."
Recent high-profile incidents of police using force against individuals with disabilities have brought a new level of awareness of this issue to police departments. But even with specialized training, it can be impossible for a police officer to know the best way to de-escalate a situation involving a vulnerable person.
The range and nature of disabilities and strategies for communicating with them are as varied as the individuals.
"If you've met one person with autism, you've met one person with autism," said Harteau, adding that this makes it extremely difficult for even a well-trained police officer to know how best to approach an encounter involving a person with an intellectual disability or communication disorder.
This is exactly the problem that the founders of Vitals Aware Services aimed to solve.
A BRIDGE ACROSS THE COMMUNICATIONS GAP
Steve Mase and G. L. Hoffman each knew they wanted to spend their retirement years doing something meaningful, so they put their executive experience to work helping nonprofits solve issues in their communities. In the course of working with the Autism Society of Minnesota, they learned that people with autism and other communication disorders and disabilities are at risk of getting harmed because they can't communicate effectively with first responders.
This was a problem Mase and Hoffman felt they could solve through technology. Mace and Hoffman worked closely with Rob Zink, a Saint Paul police officer and parent with two autistic children, to develop an app that would help bridge this communications gap. The Vitals mobile app promotes safer interactions by allowing individuals with visible and invisible conditions and disabilities to share a personalized digital profile with authorized first responders.
To get the broadest perspective on the issue, the development team held numerous focus groups and meetings with parents, caregivers, educators and other members of the community. When they met with Harteau, the potential of the app became real. Along with a 31-year career in law enforcement, Harteau brought a passion for fostering positive relationships between police and the communities they serve.
Harteau instantly recognized that the communication gap was not just a law enforcement problem, but a community problem that could best be addressed by bringing the whole community together to keep citizens with visible and invisible disabilities safe.
A SAFETY BUBBLE FOR VULNERABLE PEOPLE
"The information on the app is very specific to that individual, and that's where the power comes from," said Harteau. "It's often been referred to as an 80-foot safety bubble."
The Vitals app pairs with a Bluetooth beacon worn by an individual that shares the person's customized profile with any officer in close proximity who has the mobile app. Families and caregivers create the digital profile that lists the vulnerable individual's name, contact information and condition, plus known triggers and de-escalation techniques. The app even allows a family member or caregiver to upload a video message directed to the individual letting them know that the first responder is there to help.
"One of the greatest benefits is that nobody has to search for the information – it automatically comes to them," said Harteau. "Oftentimes, they can't speak for themselves, so it's important that we have a mechanism that provides the data and the information to the person who needs it, whether it's the first responders, the school teacher or whoever it may be."
MISUNDERSTANDINGS CAN LEAD TO ESCALATION
When the team started piloting the Vitals app, a specific incident happened right in their own community that made them realize they were in the right place with the right solution, says Stan Alleyne, Vitals Aware Services' chief of communications.
In 2015, Marcus Abrams, a legally blind 17-year-old with Asperger's syndrome, was spotted with two friends on the tracks at a Metro Transit Station in Saint Paul, Minnesota. Transit police asked the young men to return to the platform. After Abrams did not respond appropriately to a request for identification, the transit officers attempted to restrain him.
Because Abrams's condition makes him extremely sensitive regarding his personal space, he struggled against the officers, pleading with the officers not to touch him. The situation escalated and Abrams was injured and hospitalized. Only hours later did the agency realize that Abrams was not acting out of defiance, but that he was autistic.
Realizing this was the exact type of misunderstanding the Vitals app was designed to avoid, after a second incident happened, the Vitals team reached out to Abrams' mother to include him in the test pilot group.
Abrams was involved in a third incident the following year, but because police were equipped with the Vitals app, they were able to de-escalate the situation in a matter of minutes.
A SHIFT IN MINDSET
The Vitals app can completely change the tone of an introduction between a police officer and a vulnerable person, whose relationship with law enforcement can be forever shaped by an initial encounter, Harteau says.
"Even something as simple as calling someone by their name can change an outcome," said Harteau. "Because my phone gives me a notification, now I know that Jimmy, who's standing in front of me or in a park nearby, I know his name, I know his condition, and I can go up and talk to him and have a conversation. I can start to build a relationship or a rapport in a way that we couldn't do before."
The Vitals app is getting a welcome reception from law enforcement agencies in Minnesota and neighboring states. Families and caregivers want others to have access to this potentially life-saving information, and the Vitals team wants to ensure that they equip everyone in the community.
"It's an opportunity to shift the 'us-versus-them' mindset and build the foundation on which we can come together because we share this common concern for our most vulnerable," said Harteau.

Request information from The Vitals App
Thank You!