How Nevada Highway Patrol stays connected throughout the state
Cradlepoint's in-vehicle networking solutions offer carrier flexibility, remote management and other features that help keep troopers safe on remote highways
---
Sponsored by Cradlepoint
By Laura Neitzel, Police1 BrandFocus Staff
The Nevada Highway Patrol covers 110,000 square miles, including a stretch of U.S. Route 50 known as "The Loneliest Road in America." One beat stretches almost 500 miles. Cellular service can be spotty in some areas and nonexistent in others.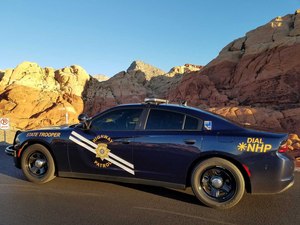 "A lot of our issues relate to connectivity. There are desolate parts of the state that you don't get cell or internet service," said Lt. Chris LaPrairie, commander of NHP's research and planning section. "We don't even have radio service in some areas."
So what is a trooper to do if, for instance, he or she encounters a vehicle crash in a dead zone in the middle of the night? Driving a few dozen miles to get to a cell tower to connect to dispatch can eat up precious time, especially if someone's life is at stake.
THE CHALLENGES OF DISTANCE
Whether in Reno or Las Vegas or points in between, all patrol vehicles need reliable in-vehicle network connectivity to access and share data with headquarters and keep mission-critical tools such as MDTs, video cameras and CAD available and effective at all times. To accomplish this in a state as large and desolate as Nevada can be a challenge due to several factors:
Seamless connectivity: The trooper needs to be able to experience seamless connectivity even while traveling between service areas covered by different carriers. For access throughout the state, the in-vehicle network needs to be able to utilize multiple carriers at the same time.
Physical access: Having physical access to the vehicle's modems in order to make changes iss simply not feasible, since NHP troopers go on and off duty from their driveway instead of from a central headquarters.
"If we wanted to make a modem change, say to the change the vehicle number because it went into a different vehicle, we'd have to wait for that modem to be powered on," said LaPrairie.In the case of NHP, troopers had to physically be in the vehicles to boot up the modem when the programmers made changes. This created some scheduling headaches, especially for troopers working graveyard and the programmer on dayshift.

"We have troopers who joined the agency to be law enforcement officers," said LaPrairie. "Now they're learning how to program and troubleshoot modems."
Uploading video: Interruptions in connectivity due to coverage gaps and slow modem speeds can make uploading video practically impossible.
"Say there is a critical incident and the chief, who is physically several hours away, needs to see that video because he's about to go to the media," said LaPrairie. "If we can't get it uploaded and he can't review it, it hinders that process."
CLOSING THE GAP
Thanks to Cradlepoint's LTE solutions, including Cradlepoint COR Series mobile routers and its cloud-based network management service, LaPrairie and his team at NHP have overcome some of the challenges resulting from great distances, spotty cellular service and interruptions in video uploads. Here's how.
Carrier flexibility
To solve the problem of losing connectivity due to gaps in cellular coverage, each Cradlepoint router utilizes an embedded LTE modem with two SIM slots, providing the flexibility for the department's IT team to remotely set the SIM card to the appropriate coverage area based on the trooper's beat. The router can be programmed to automatically switch from one active SIM to the other in response to fluctuations in signal strength and latency. That way, the trooper has constant connectivity without having to worry about which carrier is covering any given area. The ability to use one platform for all carriers also simplifies the deployment for IT staff.
Remote management
With the "zero-touch deployment" capabilities in Cradlepoint's NetCloud Manager platform, NHP programmers located in Carson City and Las Vegas can remotely deploy and manage updates without user intervention.
"With the Cradlepoint cloud share, we literally get in, make the changes, hit 'send' and the moment that that device powers up it automatically takes those changes," said LaPrairie.
When the vehicle powers up, so does the modem, giving troopers immediate access to the information they need to start their shifts. The troopers responsible for IT can also push bulk updates to all in-vehicle systems at once, saving significant time.
Need for speed
The Cradlepoint solution offers processing speeds of up to 5 gigahertz, which doubled the speed at which NHP was uploading video in the field.
"Being able to upload 5 gigahertz versus 2.4 gigahertz can make the difference between getting a video uploaded or not," said LaPrairie. "With Cradlepoint, we can upload video to the cloud for instantaneous access by our command staff from anywhere."
OFFICER SAFETY
Another important feature of the Cradlepoint solution is that even if the radios don't work, the trooper still has connectivity through the modems.
"If a trooper makes a traffic stop out in the middle of nowhere and they have no radio service, they can instant message dispatch to provide their location, nature of the call and any other pertinent details," said LaPrairie. "It's nice having that feature so they can maintain their own call and not worry that they're going to be out in the middle of nowhere and no one's going to know it."
From the bustling nightlife of Las Vegas to the most isolated corners of the state, every state trooper in Nevada needs the right tools to help them do their jobs safely and effectively. Cradlepoint's rugged in-vehicle network solutions, deployed across NHP's entire fleet, keep NHP troopers connected to the people and information that help them do just that.
Request information from Cradlepoint
Thank You!