New Thin Blue Line and American Flag mics back the badge while improving on-the-job performance
In these turbulent times, clear communication is more important than ever; find out how these patriotic speaker mics can lead to enhanced understanding, faster response times and greater officer safety
---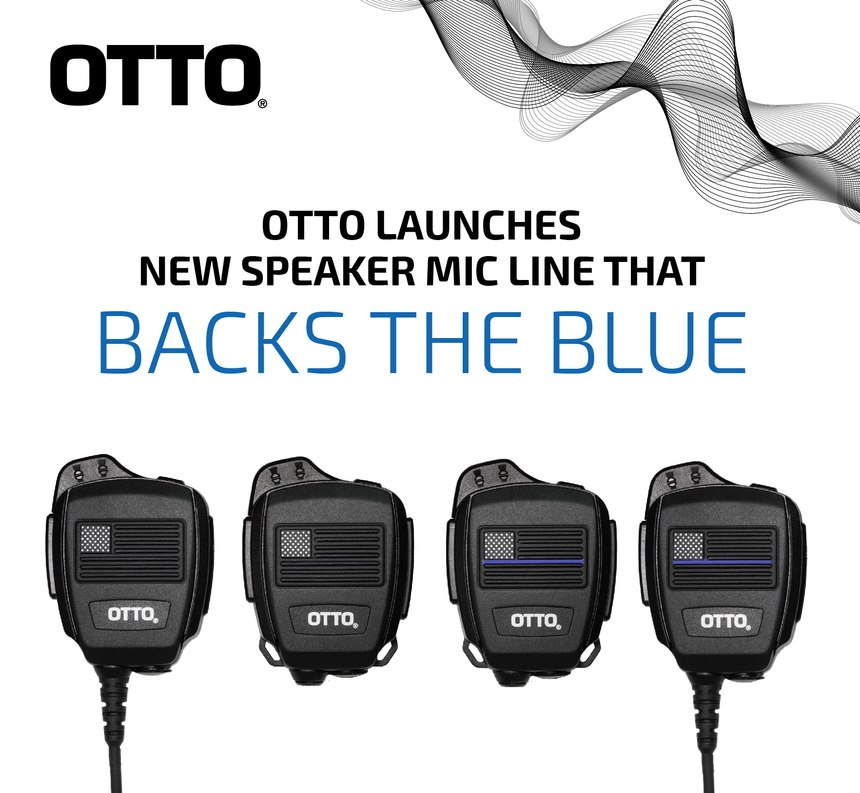 Content provided by OTTO Engineering
A global pandemic, one of the largest human rights movements in history, and political upheaval — 2020 has been challenge filled for everyone, and law enforcement officers in particular. Throughout the summer many peaceful protests took a violent turn leaving officers on the frontline at risk. The New York Post reports since May 2020, "approximately 700 federal, state and local law enforcement officers have sustained injuries, according to Justice Department data."
In these high-tension environments it's more important than ever for law enforcement to have clear communications. During a protest or riot, it's essential that commands and information can be clearly understood and transmitted, even a momentary delay in understanding can negatively impact a situation, potentially putting officers' safety at risk. When speaker microphones fail or lead to unclear commands, pausing action to ask for clarification can be detrimental. OTTO has developed their Revo NC2, noise-canceling line that is ideal for these situations and can improve response times and communications delivering optimal support and safety to officers at the frontline of riots and protests.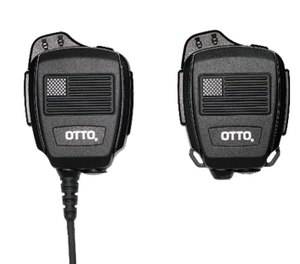 As an American made company, it's important to OTTO to support the men and women that protect our nation daily. OTTO is backing the badge by launching both the wired Revo NC2 and Bluetooth Revo NC2 with their all-new Thin Blue Line and American Flag designs in support of police officers everywhere.
The American Flag version is perfect for the discreet look, displaying the stars and stripes on a black on black mic, and lets officers show patriotism towards the country they swore to protect and serve. 
OTTO's Thin Blue Line design, features the classic American Flag with the Thin Blue Line, for officers who want to wear their blue pride daily. Regardless of which design, OTTO will protect you, while you are protecting your communities.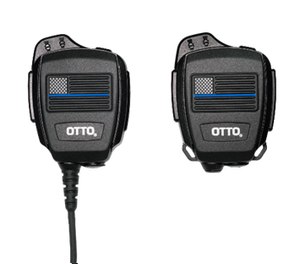 Revo NC2
The Revo NC2 is a wired speaker microphone designed to hold up in every circumstance and deliver clear communications every time. The top-mounted microphone works to cancel out background noise that can muffle or block out transmissions. With a noise-canceling microphone like the Revo NC2, officers have quicker response times to urgent commands because transmissions are heard loud and clear, the first time.  
Deputy J. Ngyuen, said of using the Revo NC2, "The Revo NC2 is one of the best shoulder mics I have seen or used and from what I can tell, is one of the best shoulder mics on the market. The microphone is noise-canceling, and the audio clarity on the speaker is significantly clearer and cleaner than the standard shoulder mic that I was issued by my department.
The noise-canceling abilities of the mic are impressive and could cope with diesel engines idling in the background, vehicles passing by on the interstate at 65+ mph, and stormy conditions. More importantly, the audio is crystal clear, beyond what would be expected from a shoulder mic. Normally audio would be muffled and prone to distortion, making transmissions from fellow officers and dispatch unreadable and require repeating.
The lack of additional buttons makes for less accidental keying-up or changing of radio channels. The recessed volume adjustment makes it near impossible to accidentally change volume. The dust and water resistance are excellent, and withstood sleet, snow, and freezing rain without issue."
Bluetooth Revo NC2
OTTO worked directly with active LEO's to design a Bluetooth mic that took into consideration all the features they've long wanted in wireless mic. The Bluetooth Revo NC2 takes the best parts of the original wired version and amplifies the technology. This speaker mic adds in HD-Voice audio to improve hearing over large crowds, allowing comms to come through with clarity every time. The large, rugged and texturized PTT helps to minimize self-actuating and is easy to find in high stress situations. Officers won't have to worry about their mic dying on the job. OTTO's Bluetooth Revo NC2 has a rechargeable lithium-ion battery that is designed to outlast even the longest shifts. For departments using ESChat or Zello, the Bluetooth Revo NC2 easily pairs to mobile devices and features an optional emergency button for selected radio models and push-to-talk apps.
In these turbulent times, clear communication is more important than ever. Having a speaker mic with outstanding clarity leads to enhanced understanding, faster response times to urgent commands and to greater officer safety. Having a speaker mic that does all that and represents the Blue Line and American pride that comes with being on the front line is even better.
The Revo NC2 and Bluetooth Revo NC2 with American Flag and Thin Blue Line design are now available for pre-order. Show the pride you carry with you, day to day, emergency to emergency, on your chest. Visit www.otto-com.com/products/speaker-microphones for more information.

Request information from Otto Engineering
Thank You!